Analysis
Who Will Be This Year's NL Home Run King?
Aaron Judge is the clear frontrunner to lead the AL in homers, but which slugger will win the NL home run crown in 2023?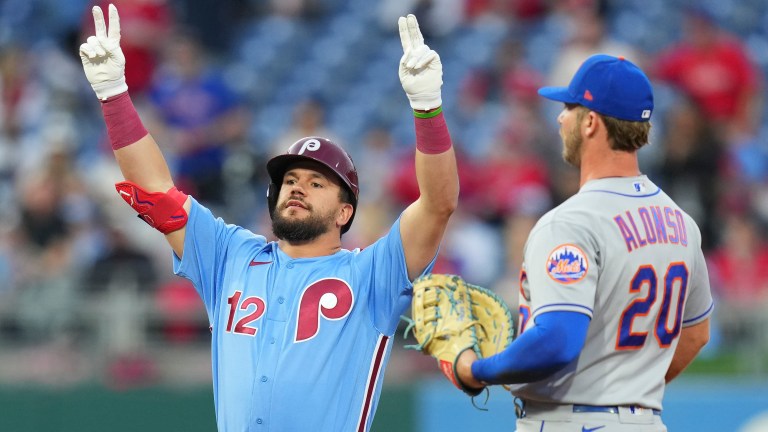 Advanced statistics are great. The sabermetric numbers from sites like FanGraphs, Baseball Prospectus, and Baseball Savant are always teaching us new and exciting things about the game we love. From wRC+ to WAR to xwOBACON, I use advanced stats in my research every day.
But sometimes, I just want to talk about big guys mashing taters.
Home runs are awesome, and leading the league in homers is still one of the most impressive individual accomplishments in North American professional sports. It's why we cared so much about Aaron Judge's home run chase last season; he wasn't ever close to Barry Bonds' record, but one man hitting that many dingers is still a sight to behold.
After his performance last year, Judge is undoubtedly the favorite to lead the American League in home runs once again. But what about over on the Senior Circuit? There isn't one clear favorite, but two sluggers stand out as the biggest home run threats in the league: Kyle Schwarber and Pete Alonso.
Kyle Schwarber
Kyle Schwarber led the National League with 46 home runs in 2022. If he leads the league again this season, he'll be the first NL player to do so in back-to-back seasons since Albert Pujols in 2009 and 2010. And there's really no reason to think he can't.
Over the past two seasons, Schwarber has hit 78 home runs in 268 games. That's an average of 47 per 162. A total like that would have led the NL in eight of the last ten full seasons. Now, perhaps it's overly optimistic to think Schwarber could play all 162 games next season, but even if he only plays 155 like he did last year, that's still a 45-homer pace. That would have led the league in seven of the last ten years.
Pete Alonso
Pete Alonso finished second to Schwarber on the NL home run charts last season. He was one of only three players, along with Schwarber and Judge, to cross the 40-homer threshold. Alonso finished third in 2021, tied for third in 2020, and led the league in 2019, his rookie season. He is the active leader in home runs since his debut. Oh, and to top it all off, he's a two-time Home Run Derby Champion.
Alonso hasn't hit quite as many home runs as Schwarber over the past two seasons, but on the other hand, he's proven himself capable of hitting 50 in a single season – a feat Schwarber has never accomplished. Indeed, no NL player has hit 50 homers in a season since Alonso did so in 2019.
2023 Projections
The Steamer projection system has Alonso and Schwarber neck and neck for the NL home run title next season. Alonso is projected to lead the league with 39 long balls, while Schwarber is right on his tail with 38. The two are even closer according to ZiPS, which has them both projected for 38 home runs.
However, the FanGraphs Depth Charts projections (which combine Steamer and ZiPS using manual playing time estimates) have Alonso coming out on top. These projections think Alonso will play nine more games with 49 more plate appearances.
Meanwhile, systems THE BAT X and Marcel have Schwarber ahead of Alonso, with more homers in fewer PA. Ultimately, what all these projections tell us is that this is going to be a close race. Schwarber and Alonso are the most likely NL home run kings, and if they both stay healthy, this could go either way.
Honorable Mentions
Alonso and Schwarber are the obvious predictions, and if I had to guess one player, it would be one of them. That being said, if I were picking between one of Alonso/Schwarber and the field, I'd pick the field. Baseball is unpredictable, and there is no shortage of National League players who could pop off with an incredible power performance in 2023. Thus, I'd be remiss were I not to mention some of the other sluggers who could wear the NL home run crown this season.
Austin Riley
Riley finished third in the NL last year with 38 home runs. His power has improved in each of the past two seasons, and he could easily take another step forward in 2023.
Fernando Tatis Jr.
If it weren't for his suspension, Tatis would rival Schwarber and Alonso as a top contender to lead the league. Even so, I can't write him off. Tatis led the league in homers in 2021, hitting 42 bombs in just 130 games.
Juan Soto
Soto has never been a major home run threat, but he's just such a good hitter that I wouldn't be surprised if he pulled 40+ home runs out of his back pocket.
Rowdy Tellez
Tellez isn't the same caliber of player as Riley, Tatis, or Soto, but I wouldn't be surprised if he out-homered them all in 2023. He hit 35 long balls last year, and he plays in one of the most homer-friendly ballparks in the league.