Analysis
Looking at Three Potential Landing Spots for Free Agent Josh Hader
Josh Hader is a free agent for the first time in his career. Will he lock down the largest reliever contract in franchise history?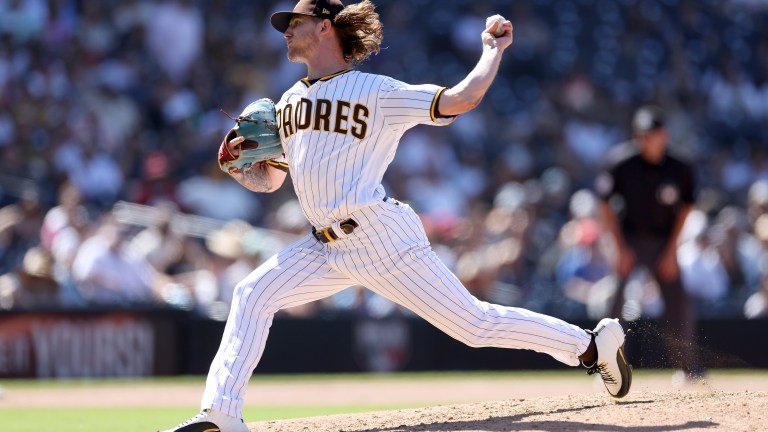 Southpaw Josh Hader is a free agent for the first time in his career, spending the first five and a half seasons with the Milwaukee Brewers before being moved to San Diego at the 2022 trade deadline.
A 19th-round draft pick of the Baltimore Orioles back in 2012, Hader has emerged as one of baseball's top closers dating back to 2018, when he logged his first big league save with the Brewers.
A five-time all-star, Hader has amassed a 2.50 ERA through 349 relief appearances, collecting 165 saves in the process, which ranks second only behind Kenley Jansen since 2018. Since his debut back in 2017, Hader ranks first among relievers in fWAR (11.3) ahead of the likes of Jansen, Edwin Díaz, and Craig Kimbrel and also sits first in K/9 with a 15.0 mark.
This winter, Hader is the clear-cut top arm on the relief pitching market, where he could eclipse the record five-year, $102 million mark that Díaz set for relievers last winter.
A promotional video of his accomplishments and work ethic on the mound is already circulating and has been sent to all 30 MLB teams, as there are likely a lot of teams that will be interested in the hard-throwing left-hander this offseason. The Padres tendered him a qualifying offer, so he will be tied to draft pick compensation should he sign elsewhere.
Texas Rangers
Fresh off their first World Series championship, the Texas Rangers opened up their pocketbooks these past few seasons and are reaping the benefits of their investment.
Signing Marcus Semien and Corey Seager two winters ago and Nathan Eovaldi this last free agent period helped the club contend and win in the postseason. They also made some strong trades in acquiring Max Scherzer, Jordan Montgomery, and Aroldis Chapman, which helped solidify the roster.
Even with these additions, there was one glaring area on the roster – the bullpen, namely in the closer spot (even after the Chapman addition). Texas blew 33 save opportunities last season, tied for the league-worst with the Colorado Rockies, and the relief corps ranked 24th in ERA (4.77) while opponents hit for a .242 average amongst the group.
The relievers fared better in the postseason but still struggled to a 4.07 ERA through 17 playoff games. Which doesn't bode well confidence-wise if the Rangers are looking to repeat in 2024.
Considering Chapman is a free agent, adding Hader to the closer spot on the Rangers drastically improves their bullpen and forms a deadly one-two punch with José Leclerc heading into next season and beyond. Leclerc proved himself as a closer throughout the Rangers World Series run, but bumping him back to his setup role would go a long way in solidifying that bullpen.
The Rangers have the pocketbook to afford the salary Hader is looking for this free agency and a farm system that can afford to lose the draft pick attached to his qualifying offer. Factor in that Texas is looking to repeat and a match between the southpaw and the Rangers just makes a lot of sense for the 29-year-old.
Philadelphia Phillies
It was another strong season for the Philadelphia Phillies, who found themselves in the depths of the playoffs for a second-consecutive season, before again coming up just short of a championship.
The Phillies ranked well bullpen-wise, (seventh – 3.58 ERA) boasting some strong relievers in Kimbrel, José Alvarado, and Seranthony Domínguez. The club found solid production in Jeff Hoffman this season, while getting a late boost from Orion Kerkering that carried into the playoffs, a sign of things to come from the right-hander.
Philadelphia has a lot of work to do this winter as Kimbrel and starting pitchers Aaron Nola and Michael Lorenzen are free-agent eligible as well as Rhys Hoskins, who is on the way out with Bryce Harper taking over at first base for the foreseeable future.
If the Phillies are looking to upgrade in the bullpen, there is no better place to start than with Hader. All signs are pointing to Kimbrel heading elsewhere so the closer's role is there for the taking and Philadelphia can likely afford the contract the left-hander is looking for.
While the bullpen wasn't a downfall for the Phillies in the postseason, improving upon an already solid structure with Hader, who amassed a 1.28 ERA through 61 outings last year, is a solid place to start for Philadelphia.
New York Yankees
Any time a high-profile player hits the free agent market, the New York Yankees are one team that can always find a way to close a deal. Factor in a disappointing fourth-place finish this past season and it wouldn't be surprising to see New York go head-first into the open market with some big deals.
The Yankees don't necessarily need bullpen help at the moment, amassing a league-best 3.34 ERA in the relief corps last year, but two important pieces from the 2023 squad are free agents this winter in Kenyan Middleton and Wandy Peralta.
Also, the club will likely not bring back Jimmy Cordero, who was suspended halfway through the year for violating the MLB domestic violence policy and is also a free agent. There are a few open spots in the bullpen barring Middleton and Peralta returning but the team does have some injured pitchers coming back in 2024 in Scott Effross and Lou Trivino (amongst others).
Currently in the closer role is Clay Holmes, who has done a great job locking down games over the past two seasons (2.70 ERA with 44 saves), but there is no denying that Hader gives this team an ultimate boost at the back end of the bullpen. Moving Holmes to a setup role forms a strong combo to finish out close games, especially if the club also moves Michael King back to the bullpen next year to form an even stronger relief corps (depending on how the offseason goes for the Yankees).
So far this winter, the rumor mill has been churning, linking the Yankees and a few different free agents, namely Cody Bellinger and Yoshinobu Yamamoto, while also potentially trading for Juan Soto, who appears to be available this winter.
It makes sense that the club can show interest in numerous high-profile free agents given their track record and willingness to spend and Hader should not be left out of the mix, as the Yankees are one club that can swoop in and offer enough funds to seal any deal (should they so choose).