Analysis
Dylan Cease Has More to Unlock Before Becoming a True Ace
Chicago's most talented arm leads the AL in both strikeouts and walks.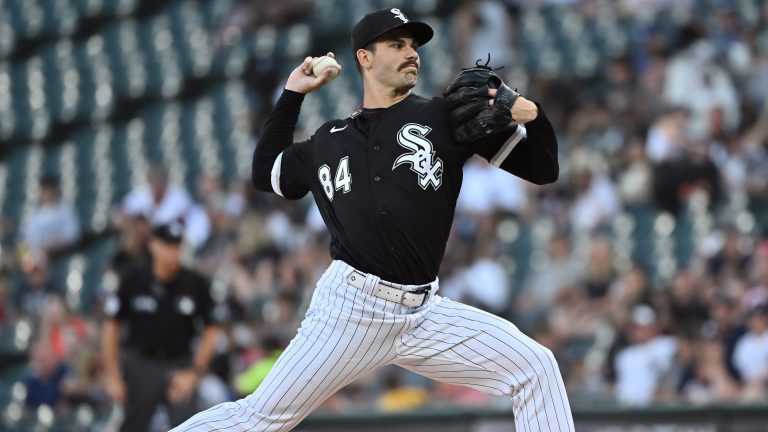 Written by Elijah Evans
Baseball is a game of chasing consistency. The best players in the league are the ones that are able to execute to the best of their abilities regularly.
A common phenomenon for young pitchers in this cycle of baseball is the "boom or bust" mentality; guys who look like aces in some games, and barely make it out of three innings on other ones. Dylan Cease has embodied "boom or bust" thus far in his career. He is developing into one of the most prolific strikeout artists in the league, but has issues that are still holding him back from entering the true upper-echelon of pitchers.
The development has been noticeable since his rookie season, though, and should continue if he can refine the issues holding him back. He came into the league as a flamethrower with disgusting pitches but essentially zero location. Walks were a problem for him coming into the league and have persisted to a significant degree.
However, recent changes in his style of pitching and his location have allowed him to show flashes of becoming a true ace. So, let's take a look at the elements of his game that have helped him become a star pitcher, and also those that need refinement for him to reach that next level of stardom.
The Stuff
When at his best, Dylan Cease is, inarguably, one of the best pitchers in baseball. He pairs a running 97 mile-per-hour fastball with a wipeout slider in the upper 80s, a sharp knuckle curve, and the occasional changeup. The movement he creates on all of his pitches, and how he deploys his arsenal, causes pure chaos for opposing hitters.
This is evident by the fact that his 133 strikeouts are tied for second-most in Major League Baseball with Tampa Bay's Shane McClanahan (123), trailing only the Brewers' Corbin Burnes. He is in the top-tier of pitchers in the art of blowing pitches by hitters, whether it's via the heat of his fastball or the movement of his breaking balls. These gaudy strikeout numbers aren't new for Cease, as he finished third in the American League last year with 226, behind only AL Cy Young Award winner Robbie Ray (248) and the Yankees' Gerrit Cole (243).
One major adjustment that has allowed for Cease to continue these strikeouts while becoming a more effective pitcher in 2022 is the change in his pitch usage. Cease decreased his fastball usage from 46.8% in 2021 to 42.4% in 2022. In addition, his slider usage has increased from 30.6% in 2021 to 38.8% in 2022. When he is able to locate it, his slider is as deadly as anyone's, and the increased usage makes his fastball that much harder to hit when used at a nearly even rate.
Further, both of these primary pitches have simply just been better than they were last year. In 2021, opposing batters hit .264 and .176 against the fastball and slider, respectively. In 2022, batters have hit a drastically lower .216 and .132 against those same pitches. He has learned how to throw the pitches more effectively and efficiently this year, and the usage is certainly a factor. His stuff matches anyone's in this game, but the results for the past few years –and still, at times this year– have not materialized.
Cease's vertical movement is another factor that allows him to so effectively create swing and misses. He has nearly 3 inches more vertical movement on his fastball and slider than the league average. He simply just misses bats because of this and it has led to a significant rise in all of his expected numbers because hitters are not able to barrel these pitches with the drop that they possess. He sits in the top 10 percent of pitchers for almost every expected hitting stat, as he avoids hard contact and his pitches are not often being taken for a ride. He's risen from the 48th percentile of hard-hit rate in 2021 all the way to the 78th in 2022, which is yet another reason for the lack of offensive production against him. Simply put, he's got some of the best pitches in the league, and has the ability to become a true ace.
The Issues
While he has blossomed into a star pitcher this season and has the stuff to become an elite arm, there are a few things holding Dylan back to this point. His ability to throw pitches with movement is at an all-time high, but the location of these pitches is something he still struggles with at times.
His walk issues are still persistent as they've been throughout his career. While he has kept it in check more than in the past, Dylan's walk rate is still hovering around 11%, much higher than the league average. With every great start comes the likelihood that on any given day, he'll lose his location. He'll go a few games with only two or three walks and they don't seem to affect his performance, but then he'll have games like June 4th against Tampa where he walks seven batters and can't finish five innings because of a lack of command and a spiked pitch count.
Cease has reached a point where he's able to overcome these issues and get out of jams, but that does not make the issue less apparent. In games like his last start against San Francisco on July 2nd, he is able to make up for the issues because of how good the stuff is, but often ends up going very short in games. In this game, he threw five innings and only allowed one run, but three walks and numerous deep counts caused him to reach the 100-pitch marker in the fifth inning.
He's had a handful of similar starts where his location can't find its way and he still manages to allow only a run or two. This is not to be ignored, as these exact same starts were the games in which he gave up 5+ runs in previous seasons. However, he regularly is not able to get the breaking ball across for a strike, which causes predictable fastballs or deep counts that raise his pitch count rapidly. Dylan's ability to work through his lack of his location further displays the unreal potential he possesses if he is able to execute his pitches game in and game out.
Another significant point that needs to be addressed is the splits against lefties and righties. Because of how reliant Dylan is on his excellent slider, he often tends to overthrow his fastball when facing lefties. The evolution of his curveball has aided this process, but that pitch has yet to evolve from a wipeout pitch to a consistently located strike-pitch. This leads to Dylan only having a consistent fastball at times when facing left-handed batters.
This is very clearly evident by his splits as left-handed hitters this season, who have hit .265 with a .724 OPS against Cease as opposed to righties who are hitting .161 with a .538 OPS. Those numbers against righties are up there with the undisputed best of the best. To reach the next level of his development, he needs to find another strike pitch that he can utilize against hitters from the left side.
Historically Great…at Times
As already stated, Dylan Cease can be as good as anyone when at his best. In the games where he is able to pound the zone with his fastball and slider early and avoid walks, he is nearly untouchable.
You can call it a random and cherry-picked stat all you want, but it's clear that Cease can be as dominant as some of the greats. In his last two starts in June, Cease struck out a combined 24 batters over the course of 13 innings with only three walks and one run allowed. Not to mention the fact that the run allowed was the only earned run allowed in the month of his way to earning American League Pitcher of the Month for June. This was a month in which he had a seven-walk game against Tampa and six unearned runs allowed against the Dodgers. He is far from perfect and many would argue that his base-level stats are deceiving because of the control issues and lack of lengthy starts, but he is nonetheless getting better. Regardless of the issues that persisted, he finished the month of June with a 0.33 ERA supported by 45 strikeouts. There's a reason why he coined the name "Dealin' Cease" among White Sox fans. This level is something that shouldn't stop and has the potential to become a regular occurrence for Dylan.
Dylan Cease has become one of the most interesting young arms in this league and has a very bright future ahead of him. When he is able to reduce his walks and blowup innings, in addition to the growth of another pitch to employ versus lefties, he is going to be a truly special pitcher. Keep an eye out for this arm as he's on his way to becoming a maximum impact pitcher in Major League Baseball.