Analysis
Which NL Teams Will Most Take Advantage of the Universal DH?
In the first year of the universal DH, these National League teams are most prepared to take advantage of getting an additional bat in their lineup.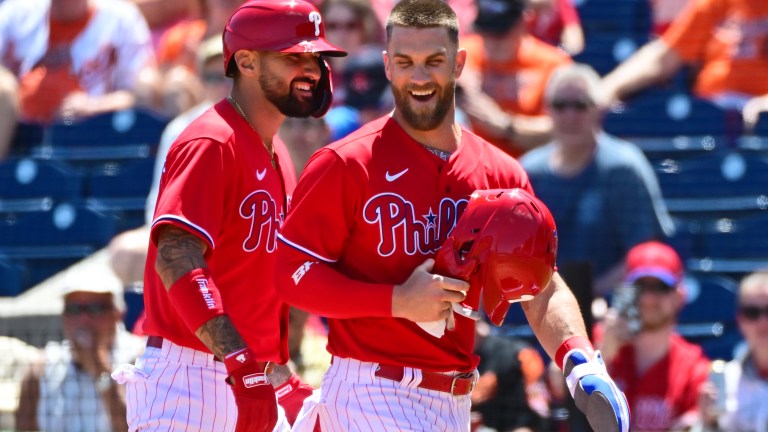 When the 2022 MLB season begins this week, we will see the universal DH instituted for the first time over a full 162-game season. This will mark a drastic change for how the National League game is played, marking an end of a bygone era.
Everyone pour one out for the double-switch.
While the "strategy" of the NL game will now become a thing of the past, we also no longer have to watch pitchers get completely overwhelmed trying to hit. This is surely going to make the game more exciting, putting every team in the sport on a level playing field.
If not for the DH, Juan Soto may not have gotten a single pitch to hit this year. But now that the Nationals have Nelson Cruz in the lineup, he has some security.
Albert Pujols is joining Yadier Molina and Adam Wainwright on the Cardinals 2006 World Series retirement tour, but would he have had a seat on the bus if not for the universal DH?
The National League is undoubtedly going to be more exciting this season with advent of the DH, with teams now having the luxury to carry more big bats in the middle of their lineup. Let's explore which teams are set to most take advantage of this new rule.
Washington Nationals – Nelson Cruz
How could we begin a designated hitter breakdown without mentioning the man who has made a career out of playing this role. Since 2016, Nelson Cruz has started over 100 games at DH every season, playing 689 games altogether at the position during that span. Even at 41 years old, Cruz provides immense value with his ability to hit for power as a team's primary DH.
Cruz is coming off a season where he hit .265/.334/.497, with 32 home runs and a 122 wRC+ splitting time between the Minnesota Twins and the Tampa Bay Rays. Cruz struggled down the stretch in his stint with the Rays, but drastic home/road splits tell us that his statistical decline could have simply been due to hitting in the notoriously difficult Tropicana Park.
At this stage in Cruz's career, it was interesting that he decided to sign with a team like the Washington Nationals who are clearly in a rebuild, but it is great to see Juan Soto get some protection in that otherwise underwhelming lineup.
Cruz is 51 home runs shy of joining the elusive 500 Home Run Club, which he could actually reach this season if everything broke right. More likely, Cruz will have to wait until 2023 before hitting his 500th blast, but a $16 million mutual option for next season indicates that retirement is not yet on the table for this middle-aged slugger.
St. Louis Cardinals – Albert Pujols/Corey Dickerson
Speaking of sluggers over 40 years old who are trying to make history, Albert Pujols is taking his career full-circle as he returns to St. Louis this season 21 home runs away from 700.
Pujols is probably a greater story than he is a player at this stage in his career, but the opportunity to bring back a man who will soon go into Cooperstown with a Cardinals cap on was too great for this franchise to pass up. Not mention the fact that the 42-year-old still does one thing really well.
He mashes left-handed pitching.
Last season, Pujols hit .294/.336/.603, with 13 home runs and a 146 wRC+ when facing lefties. While he is great against southpaws, Pujols can no longer handle right-handed pitching as he hit .180/.233/.266, with just four home runs against pitchers who threw from the same side in 2021.
The Cardinals should use Pujols almost exclusively against lefties this season, which they have the luxury to do based on how deep this team is with good position players. Corey Dickerson was signed this offseason and could take a good number of the at-bats against right-handed pitching.
The left-handed Dickerson has pretty drastic splits himself, as his career OPS is .845 against righties and nearly 140 points lower against lefties. Dickerson hit .277/.330/.419, against right-handed pitching last season.
If the veteran platoon combination of Pujols and Dickerson stalls during the season, St. Louis has the luxury of being able to plug in a pair of their top 10 prospects who are MLB-ready in Juan Yepez and Lars Nootbar into those roles instead.
Philadelphia Phillies – Kyle Schwarber/Nick Castellanos
The Philadelphia Phillies probably need three DH spots in their lineup with the collection of bad defenders they have assembled, but they are going to have to make due with just one.
Philadelphia signed two players who are best suited to be designated hitters when they gave Kyle Schwarber and Nick Castellanos contracts that combined to total $179 million. In doing so, the Phillies added 66 home runs into their starting lineup, as well as two of the 17 players who posted a wRC+ over 140 (min. 450 PA) last season.
The Phillies already had some bad defenders on their roster who could have fit the bill of being a DH, with Rhys Hoskins and Alec Bohm both providing sub-par defense at the corners. The Phillies will likely cycle all of their poor defenders as designated hitters throughout the season, focusing more on getting the most offensive punch possible into their starting lineup.
There is a even a scenario where we could see both Castellanos and Schwarber playing defense in the corner outfield spots, with Bryce Harper playing out of position in center. Rookie Bryson Stott will likely make a big impact for Philly this year and is set to take Bohm's position over at third base.
If this were to happen, we could see manager Joe Giradi toy with a lineup that has Bohm at DH and the three big boppers all playing defense together in the outfield. They might as well lean into their bad defense/all offense approach at this point.
Regardless of how they line it up, the Phillies will be a terrible defensive team this year, but will always have an elite bat penciled into the DH spot in their lineup in 2022.
San Diego Padres – Luke Voit
The San Diego Padres biggest offseason addition, Luke Voit could be a real X-factor for their offense this season. Voit thrived in the Yankees lineup over the last four seasons, hitting .271/.363/.520, with 68 home runs, 182 RBIs and a 137 OPS+ across 281 games played.
The 31-year-old slugger is coming off an injury-plagued season where he played just 68 games and with the addition of Anthony Rizzo, there was no place for Voit to receive regular at-bats anymore. Now he will look to bounce back in a big way in the heart of the Padres lineup.
San Francisco Giants – Maximizing Their Great Depth
Last season, the 107-win San Francisco Giants had 11 hitters who got at least 250 plate appearances that finished the season with a wRC+ over 100. That is a lot of above-average hitters.
Darin Ruf and Wilmer Flores return to the Giants platooning system, with left-handed Joc Pederson set to join the team this year as well. It is far to assume that a combination of those three hitters will account for a lot of the Giants DH at-bats, but San Francisco can also use the position as a way to get some of their aging regulars off their feet, like Brandon Belt or Evan Longoria.
The Giants are one of the smartest-run organizations in the sport under President of Baseball Operations Farhan Zaidi. Adding a DH position gives them another avenue to take advantage of their depth to add even more production to their everyday lineup.
Honorable Mentions – Dodgers, Mets, Marlins
The Los Angeles Dodgers are awesome and can pick between any of their amazing players like Max Muncy, Justin Turner or even Freddie Freeman to be their DH on a given day. They will be able to ascent the roster with young talent, or veteran additions at any time and will likely be flexible with how they use their DH spot. The rich get richer.
The New York Mets are another team that figures to go with a DH by committee approach, with a few very intriguing options at their disposal. Robinson Cano is back on the books this season, as he looks to prove how ageless his swing really is. The Mets also have players in Dominic Smith and J.D. Davis whose careers have stalled a bit since they did not have the luxury of being able to get DH at-bats up to this point. Lastly, the Mets have a top prospect in Mark Vientos who has future 40-home run potential that could make his way to the big leagues as a DH this season.
In the same vein as Dominic Smith and J.D. Davis, the Miami Marlins have a player in Garrett Cooper that could finally get the at-bats he deserves now that they have a DH spot. Injuries have kept Cooper out of the lineup as much as anything, but maybe by playing him at DH the Marlins can keep him on the field. Over the last two seasons, Cooper is leading the Marlins with his 133 wRC+.