Analysis
Which Division is Better: The NL East or The NL West?
Two of the best divisions in Major League Baseball that feature five teams with World Series hopes. Which NL division will be better in 2023?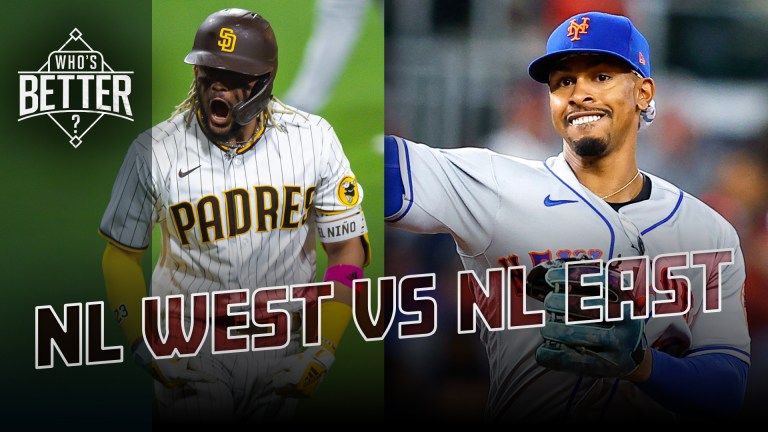 Heading into the 2023 season if there is one thing that is certain it is that the National League looks absolutely loaded this year.
Two 101-win teams return to the NL East, a division that also hosts the reigning National League champions. In the NL West, one team has four of the best players in baseball sharing a single lineup, while the other has won at least 106 games in each of the last three full seasons.
With teams this good, and a new schedule that is more balanced, expect some high win totals heading towards each coast, while the NL Central gets pummeled in the process.
Last year, the NL East's combined record was 413-397, while the NL Central went 377-433. The NL West remained king, finishing 423-387 thanks in large part to the 111-win Dodgers. You have to go back four years to 2019 for the last time the NL West hasn't won the most games of any National League division.
That year, the NL East won the most games, powered by four teams that were at least .500. The Nationals would beat the St. Louis Cardinals in the NLCS, which also marks the last time the NL West has not been represented in the National League Championship Series.
In each of the last three years, a team from each coast met to decide who would make it to the World Series. Chances are that could happen again this year.
Today, we will be comparing the NL East to the NL West to see which division is better heading into 2023. The goal is to find two things. First, which division will win more games this season, and secondly, which division is more likely to represent the league in the World Series.
National League East
Last year, the National League East was decided via the new tiebreaker system, where the Braves took the division by beating the Mets in their season series. Still, two teams combined to win 202 games and the Phillies added in a third playoff team with 87 wins of their own.
We know the NL East has three teams with World Series aspirations this year, with the Braves, Mets and Phillies all looking to bring home a title. This will give this division a great chance to be representing in the World Series, as they have been there three times in the last four years.
When it comes to winning more games than the NL West, a lot of it will come down to the two bottom-dwellers from last season. The Miami Marlins and the Washington Nationals.
Washington Nationals – 2022 Record: 55-107
Over/Under Win Total: 60
NL Champion Odds: +20000
The Nationals are going nowhere this year. After trading Juan Soto at last year's deadline, the Nationals are squarely in a rebuild. For the purpose of this exercise they become very important.
It's Not Gambling Advice, but I would tell you to hammer that under on 60 wins all day!
Washington might run into a few more wins because it's baseball, but make no mistake about it, they will lose over 100 games and I'd bet on them losing at least three more than 100. I just looked at their roster and can make the argument that Corey Dickerson is their best hitter and Trevor Williams is their best pitcher.
The Nationals are an anchor that is holding this division back from winning more games than the NL West. But can the other four teams make up for this overwhelming early deficit?
Miami Marlins – 2022 Record: 69-93
Over/Under Win Total: 74.5
NL Champion Odds: +5500
Here we have arrived at Aram Leighton's pitiful Miami Marlins (he'd totally sign off on me calling them that). Last year, the Marlins featured an unbelievably talented pitching staff led by NL Cy Young, Sandy Alcantara. They failed to win even 70 games.
This year however, the Marlins are really trying to capitalize on this window and pitching depth they have accumulated.
They leveraged their least-controllable starter, Pablo Lopez, to acquire a reigning batting champ. They signed a veteran infielder, fresh off a World Series run, and moved off a veteran shortstop to make way for a reshuffling of their new talent.
This lineup still likely won't be great, but if Jazz Chisolm becomes a superstar out in center field (and really just stays on the field) they could become about league average. With pitching as good as the Marlins have, a league average lineup could be enough to make them a winning team. A lot just has to go right for that to happen.
I'd personally take the over on 74.5 wins with the Marlins, but for the NL East to be better than the NL West, Miami might have to be a .500 team, and I'm not sure that is something I would put my money on.
Philadelphia Phillies – 2022 Record: 87-75
Over/Under Win Total: 89
NL Champion Odds: +800
Fresh off a World Series run, the Phillies went in retool mode this offseason and nabbed one of the biggest fish in free agency. Trea Turner.
Turner makes everyone around him better, pushing Bryson Stott into a far-more favorable role as the starting second baseman, while bumping Kyle Schwarber and everyone else down in the order as a true leadoff man.
The Phillies will miss Bryce Harper to start the season, but Turner can help carry things in his absence. Then when they get their former MVP back, Philly can really take off.
With a rotation that features two Cy Young candidates in Zack Wheeler and Aaron Nola, as well as an up-and-coming lefty in Ranger Suarez, the Phillies can win any series they enter. Add in the emergence of top prospect Andrew Painter and Philly could have a scary rotation.
This team should win at least 90 games and if everything breaks right, might even push for 95.
New York Mets – 2022 Record: 101-61
Over/Under Win Total: 95
NL Champion Odds: +375
Featuring the best odds outside of the Los Angeles Dodgers to win the National League this year, the Mets are starting to look like a juggernaut.
If Justin Verlander and Max Scherzer stay healthy, while Kodai Senga lives up to the hype coming over from Japan, the Mets could be scary good this year. Last year, they won 101 games while getting just 34 starts combined from Scherzer and deGrom.
Imagine if they get 60, or even just 50 from Scherzer and Verlander?
After the offseason spending spree Steve Cohen went on, the Mets might be able to eclipse 100 wins in consecutive seasons for the first time in franchise history. If they can put up a Dodger-like season, the NL East just might be able to win more games than the NL West.
The thing is, this division has two teams capable of putting up such a season.
Atlanta Braves – 2022 Record: 101-61
Over/Under Win Total: 94.5
NL Champion Odds: +500
Vegas like the Mets just a smidge more than the Braves when we look at both their over/under win totals and their NL Championship odds, but these teams really aren't separated by much.
This division race could look like the Dodgers and Giants back in 2021, where the two teams combined to win 213 games. While the Braves lost Dansby Swanson, they added a Gold Glove catcher behind the dish and returned the rest of their stellar starting lineup.
Atlanta has one of the best young center fielders in baseball in Michael Harris II and Ronald Acuna Jr. is a great candidate to have a bounce back MVP-caliber season. Throw in Austin Riley, Matt Olson and Ozzie Albies and you have arguably the best cost-controlled lineup in baseball.
The Braves are winning at least 95 games and they might just take this division for the sixth-consecutive season.
National League West
The National League West has been the Dodgers division to lose for a very long time. Over the past decade, they won this division nine times with 2021's 106-win team being the lone exception. While the Dodgers weren't as active this winter, they are still feared as the best team in this league.
Beyond them though is a team that just beat them in the playoffs. The star-studded San Diego Padres. The Pads will be looking to push the Dodgers off their mountaintop, making this a competitive race up top. What happens beyond that could make the difference though in who wins more games between the NL East and the NL West.
Los Angeles Dodgers – 2022 Record: 111-51
Over/Under Win Total: 96
NL Champion Odds: +350
For the last division, we began with the anchor dragging them down, with this one we will be begin with the machine that usually drags the rest. The Dodgers win 100 games every year. You can basically book that.
How many more games beyond 100 they win will however depend on the other teams in this league who are capable of standing toe-to-toe with them. Namely the Padres.
San Diego Padres – 2022 Record: 89-73
Over/Under Win Total: 94
NL Champion Odds: +550
Juan Soto, Manny Machado, Xander Bogaerts and Fernando Tatis Jr.
Need I say more?
The Padres look like they could be awesome this year and watching them gun down the Dodgers is going to make for excellent theater. The recent addition of Michael Wacha rounds out a rotation that could use the depth beyond their top trio of Yu Darvish, Joe Musgrove and Blake Snell.
Mark my words in print now, on February 17th, 2023, as I make this bold prediction: The Padres are going to win 105 games and beat the Dodgers in the NL West.
San Francisco Giants – 2022 Record: 81-81
Over/Under Win Total: 80
NL Champion Odds: +2500
Of every single team up to this point, this has been the first one where I really scratched my head on the over/under win total. There's this part of me that believes the Giants can be an 85-win team, and another that can't imagine putting any of my actual money on them to even be .500 again.
The Giants went whale-hunting this offseason and their harpoons came up empty. No Aaron Judge. No Carlos Correa. Live to fish and spend another day.
With that said, they actually made some moves that, in a vacuum, I really like.
Michael Conforto and Mitch Haniger were both great buy-low options in free agency, who could pay massive dividends this season. Ross Stripling and Sean Manaea bring quality depth to a rotation that already had plenty of solid veterans and an ace in Logan Webb.
The Giants are a good franchise, so it is hard to bet against them finding a way to be at least moderately competitive. I'd take the over on their win total, but comparing these two divisions, the Phillies are way more of a lock to make it into October.
Arizona Diamondbacks – 2022 Record: 74-88
Over/Under Win Total: 75.5
NL Champion Odds: +5500
If you have been following our Top 100 list closely over the last few years, the Arizona Diamondbacks' roster is like a dream come true. Corbin Carrol leading off, with Gabriel Moreno behind the dish? Talk about future star power.
The D-Backs have one of the most fun lineups in baseball, with enough outfield depth they were able to trade Dalton Varsho and still feature Carrol, with Alek Thomas and last year's rookie standout Jake McCarthy.
That young outfield is complemented by a veteran infield that includes Ketel Marte, Christian Walker, Nick Ahmed and the underrated free agent signing of Evan Longoria. There is no guarantee Longo can stay on the field, but his leadership and production when available could go a long way.
In the rotation the Diamondbacks have one of the best pitchers that doesn't get talked about in Zack Gallen, with Merrill Kelly also representing a plus arm. With the addition of Andrew Chafin to a bullpen that already had Mark Melancon and Joe Mantiply, Arizona has a chance to be a winning team this year.
Another over for me on this one, which means the Rockies have to lose a lot of games.
Colorado Rockies – 2022 Record: 68-94
Over/Under Win Total: 66
NL Champion Odds: +8500
Everyone jumped on Rookies owner Dick Monfort for saying "he thinks they can play .500 ball" yet that would actually be the best outcome for their season.
At the end of the day, somebody has to lose games in this division and this team is simply worse than the other four. I don't believe they are Washington National-bad and similar to last year, I would not be surprised if they avoided a 100-loss season, but the Rockies won't be good.
Will they lose at least 95 games though? I think so, which would have me take the under.
Conclusion
When we look at these two divisions, I believe the NL East is more likely to be represented in the World Series this year, because they have three teams capable of making a run. Answering which division will win more games is far more complicated though.
Let's review everything we have looked into thus far.
| | | |
| --- | --- | --- |
| NL East Team | 2022 Record | Over/Under 2023 |
| Atlanta Braves | 101-61 | 94.5 |
| New York Mets | 101-61 | 95 |
| Philadelphia Phillies | 87-65 | 89 |
| Miami Marlins | 69-93 | 74.5 |
| Washington Nationals | 55-107 | 60 |
| Division Combined Totals: | 413-397 | 413 |
| | | |
| --- | --- | --- |
| NL west Team | 2022 Record | Over/Under 2023 |
| Los Angeles Dodgers | 111-51 | 96 |
| San Diego Padres | 89-73 | 94 |
| San Francisco Giants | 81-81 | 80 |
| Arizona Diamondbacks | 74-88 | 75.5 |
| Colorado Rockies | 68-94 | 66 |
| Division Combined Totals: | 423-387 | 411.5 |
When you view the projected combined win totals of each division, they are separated by less than two games. This really could go either way.
Looking back at my own analysis of each team, clearly I operate from a glass half-full approach, taking the over on the top four teams from each division. In retrospect, maybe I am being too optimistic about the middling teams like the Giants, Marlins and Diamondbacks.
My conclusion would be that the Phillies are the greatest separator between these two divisions, where the top two teams on each side almost cancel each other out, but the disparity between Philly and San Francisco makes the biggest difference.
Still, a good debate could change my mind on this one, so you will have to listen to my full conversation with our "Not Gambling Advice" expert Peter Appel on our new Who's Better Baseball podcast to see which division truly is better heading into 2023.