Analysis
Where Will Blake Snell's Cy Young Take Him in Free Agency?
Now a two-time Cy Young, Blake Snell is the top ace on the market in free agency. The question is: who's willing to shell out the cash?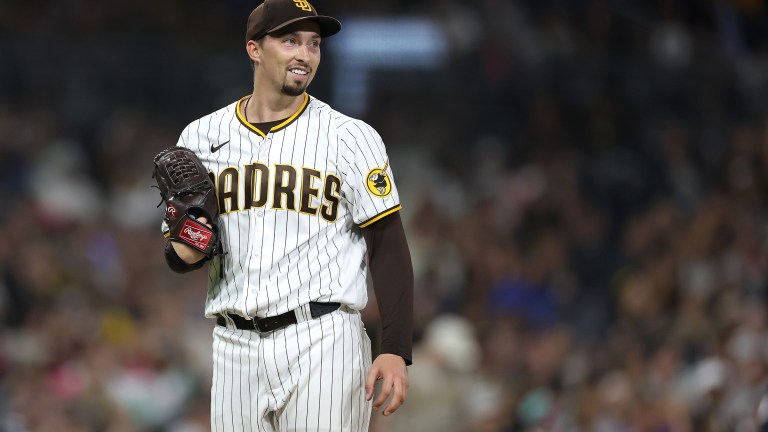 The 2023 Padres season may best be described as the train derailment scene from The Fugitive. It was a total, spectacular disaster with only a few survivors amongst the wreckage. Blake Snell was one of those few survivors — and by the time you're reading this, he will have been named this year's National League Cy Young award winner.
One might argue Snell deserves the honor simply for his confusion about what wRC+ means, but his 2023 stats are also quite good on their own. His 2.25 ERA was first among all pitchers (with the second best being Gerrit Cole's 2.63), a 31.5% strikeout rate that ranked second, a swinging strike rate that trailed behind only Spencer Strider, and second-best mark in win probability added are just some of the many reasons his season was so spectacular.
He also went on a bit of an impressive run when the Padres needed him most, with just an astonishingly low 1.18 ERA from May 31st until the end of the regular season. Few pitchers have ever gone on such torrent stretches like that before, as Colby Olson wrote about back in September.
Hardly anyone could've seen something like this coming, especially considering his incredible run coincided with the team signing Gary Sanchez — a catcher who, after 2022, isn't exactly what you'd call a defensive wizard (but this year was quite good! baseball!).
Of course, things weren't perfect. Snell's walk rate was not just the highest in the majors, but the highest of any starting pitcher since 2000. Will such a trend be sustainable? You may even bring up the Padres elite defense — that featured not just a Gold Glove winner (Ha-Seong Kim) but a Platinum Glove winner (Fernando Tatis Jr.) — that might've covered up for some of his flaws.
Combine that with the fact that 2023 was the second time in his career that he'd pitched more than 129 innings, and there are concerns.
So he's not a perfect free agent, but when is there ever?
Blake Snell's season and overall ceiling make him the top arm on the market this winter. Or at least the top American arm.
There will surely be plenty of teams ready to empty their checkbook for his services. So, in the immortal words of Jed Bartlett, what's next?
Let's quickly dive into some of the possible, or at least most sensical, destinations for the Snellzilla to end up.
Philadelphia Phillies
The Phillies have kicked into maximum overdrive over the last few seasons. They've signed multiple big-time free agents like Trea Turner, Kyle Schwarber, and Nick Castellanos while being a strong contender the entire time. With being just a smidgen away from going back to the World Series this season, combined with owner John Middleton's public "F*** it, we ball" proclamation, the team should be counted on to make a big move.
Their rotation is steady enough with Zach Wheeler leading the charge, but with Aaron Nola set to become a free agent, there's now a spot open for an ace-quality pitcher. Blake Snell, of course, fits that criteria quite well.
San Francisco Giants
The Giants should be considered a possible destination for nearly every free agent. On top of their roster being filled with aging players and a less-than-ideal farm system, their whiffs in last year's free-agent market (e.g. Carlos Correa, Aaron Judge) are still a noticeable stain on the team.
As a result, don't be surprised if they go after a player like Snell with urgency.
Plus, Blake Snell's personality lends itself well to the same franchise that once employed Tim Lincecum. Maybe even the recent hiring of Bob Melvin away from the Padres could play a factor. Don't sleep on them.
Boston Red Sox
The Red Sox strategy these last few seasons has been, at best, confusing. Aside from the Mookie Betts trade, they've spent on some questionable players (e.g. Trevor Story) while letting many other quality players walk away (e.g. Xander Boagerts, Kyle Schwarber). The team has been desperate for consistent, high-quality starting pitching since the release of Avengers: Endgame, and much of it seems to be no fault to anyone other than their own.
Instead of keeping Michael Wacha, they let him sign with the Padres. Instead of keeping Nathan Eovaldi, they let him go be a World Series champion with the Texas Rangers. But the recent hiring of Craig Breslow as their new general manager may be a sign the storied franchise is ready to make a big swing. Bringing Snell back to the AL East where he won his first Cy Young award makes perfect sense.
Cincinnati Reds
There will always be questions about teams like the Reds when it comes to free agency spending. Not too long ago, they even let a decent arm like Wade Miley walk away for nothing. But consider this: the Reds were in contention for a playoff spot and even led the division for a lengthy time despite being in rebuild mode.
Their players are young, and such youth lends to the possibility that signing a major free agent would be achievable in spite of their spending woes. The only players with guaranteed contracts next year are Hunter Greene ($3.3M and Luke Maile ($3M) with retained player salaries of Joey Votto ($7M), Wil Myers ($1.5M), and Curt Casali ($750K) on the horizon. Perhaps a big signing of Snell to solidify their rotation with improvements from their younger players would be an exciting direction.
We just saw the leap that the Diamondbacks made with their crop of young studs, so why not the Reds?
Los Angeles Dodgers
Some often, mistakenly, attribute most of the Dodgers (regular season) success to their sky-high payroll. While it's true this plays a major factor, the Dodgers aren't exactly — outside of the last few seasons with players like Trevor Bauer, Mookie Betts, and Freddie Freeman — known for swiping up the cream-of-the-crop free agents.
But that might be the case for the offensive side of things because while the Dodgers once again had a strong regular season showing, their lack of reliable starting pitching was exposed in the postseason.
As a team, Dodgers starting pitching accounted for an ERA of 4.57 (20th), 4.63 FIP (23rd), 21.6% strikeout rate (tied for 20th), and a -1.15 WPA (23rd best). All of that plus the uncertainty of Clayton Kershaw (free agent and not getting any younger) and Julio Urias (likely headed for a lengthy suspension), the Dodgers could use some help.
The potential return of Walker Buehler (and friend of Just Baseball!) will certainly be huge for their 2024 prospects…but have you considered this team and their offense getting the boost of Blake Snell, too?
Honorable Mentions
Baltimore Orioles: Makes all the sense in the world. But considering the team's recent history of a low payroll and that, in the best season they'd had in more than a decade, their big trade deadline acquisition was Jack Flaherty? Not so sure.
Seattle Mariners: Time for a take…are we overstating the "coming home" factor thing too much? Ever since Lebron James' return to Cleveland, this feels like a constant reasoning for every prediction. Understandable, but with the Mariners already-stacked crop of pitching talent, it seems less likely than others.
New York Mets: With a sugar daddy owner like Cohen, I'm not buying the idea that they're heading for a rebuild…yet. They could easily talk themselves into buying back in as they're not so far removed from winning 100 games.