Analysis
Jorge López Has Found His Home in a Set-Up Role
Jorge López is back, and the Minnesota Twins right-hander might just be the best relief pitcher in baseball.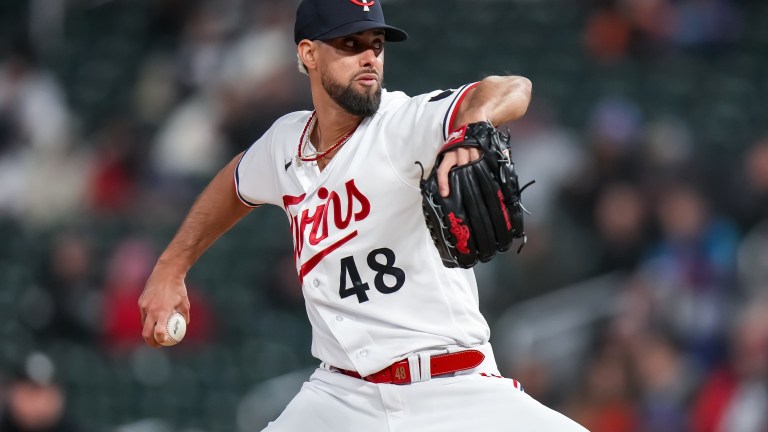 Last season, in the midst of a playoff push, the Twins traded for one of the best closers in baseball. Many thought it was a quintessential move toward a postseason run. The Twins were hoping that Orioles closer Jorge López would shore up their weak bullpen as they fought for a playoff berth. That would not be the case.
When López came over to Minnesota from Baltimore, he struggled to capture his All-Star form. His ERA jumped from 1.68 to 4.37, and he only had four saves compared to his 19 in Baltimore. Chalk it up to a change of scenery or just a plain regression, but López looked like a completely different player.
It is a different story once again in 2023. López no longer looks like the player he was in Baltimore or Minnesota last year. Right now, Jorge López looks like the best reliever in the entire league.
The Set-Up
When López was originally traded last season to Minnesota, he had to relinquish his duties as the closer. Rookie sensation Johan Duran had rightfully earned that role. As a result, López was delegated to a set-up role and would only see six save opportunities. He is once again the set-up man this season, but this time around, he's thriving in the role.
López has appeared in 11 games so far this season and pitched a total of 10.2 innings. In those appearances, he has allowed three hits and zero walks. The only run that has scored against him was an automatic runner in extra innings. He has given up zero earned runs this season. Opposing players are hitting just .083/.083/.111 against Lopez, and only once has he given up an extra-base hit.
We have all seen flashes of the player that Jorge López can be. As I said, López was one of the best closers in baseball last season. It is no secret that he can be special, but I don't know if anyone was thinking he could be this special. So where is this coming from?
If you dive into the stats from last season and the beginning of this season, there are some interesting trends. When López left Baltimore, he was walking just over three batters per nine innings and striking out just over ten per nine. When he went to Minnesota, the walks went up to almost 6 BB/9 and the strikeouts fell to right around 7 K/9. He just wasn't able to get outs the way he had in Baltimore. Lopez would get hit harder and more often after the trade as well.
This year, Lopez has leaned into that contact and tweaked his approach on the mound just a little. His sinker has gone from a pitch that he threw half the time to a pitch that he now throws a third of the time. In turn, he has upped his slider usage from 10.7% to 26.7%. He is sacrificing swings and misses in exchange for swings resulting in weak contact.
By committing to throwing his slider more, López has made his sinker a much more effective pitch. With an average exit velocity of just 85 MPH and a launch angle of negative six degrees, the sinker is incredible. Players who swing at it are driving it straight into the ground.
Moreover, López can still get swings and misses when he needs them. To induce a whiff, he throws his curveball, which currently has a whiff rate of over 40%.
When he isn't throwing his curveball, hitters are not struggling to make contact against Lopez. He is posting the lowest whiff rate of his career. He isn't missing a lot of barrels right now, but it appears he isn't trying to. His in-zone contact rate of 90.7% is the seventh highest in all of baseball. For comparison, Baltimore Orioles closer Félix Bautista has an in-zone contact rate of 65% this season. These are two of the best relievers in baseball, proving there is more than one way to get the job done.
Another aspect of López's approach that is helping a lot is the fact that he is throwing strikes. Over 70% of the hitters López has faced have seen a strike on the first pitch. He is getting into friendly counts immediately and taking advantage. Everyone who has played baseball at any level knows walks are bad and they hurt you. López has literally not walked anyone, and it is incredible. He is one of only two pitchers this season with more than ten innings pitched and zero walks.
López is doing exactly what every little league coach tells their pitchers to do: throw strikes and let your defense do the rest. López's ability to generate such weak contact when doing so is leading to a great deal of success so far this season.
López appears to have fully embraced his role as the set-up man in Minnesota this year. That is great news for the Twins, and it gives them one of the best bullpen combinations in all of baseball. Having potentially two elite closers takes their bullpen from a fringe top-ten unit to on the cusp of top five. Being able to hand a close game over to a pitcher of López's caliber in the eighth inning is a luxury most teams don't have.