Rankings
Top Five Starting Pitchers Having Great Contract Years
These starting pitchers are earning themselves a lot of money by pitching lights-out before becoming free agents this upcoming offseason.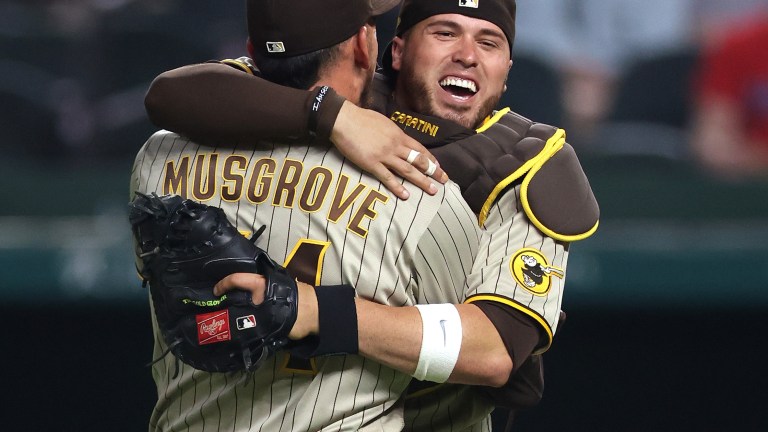 The 2022 free agent starting pitcher class is an interesting one. With a flurry of names set to hit the open market following this season, there are a ton of impact names that will surely improve any team that snatches them up.
A "contract year" in any major sport provides a key indication to what a certain player's market will look like the following year. Bad performance over a contract year decreases a players' chances for a big pay day, and the opposite more than likely increases the lucrativeness of a players' next deal.
With a multitude of options headed to free agency after this season, some have started better than others. So today, let's take a dive into a few starting pitchers that have been off to incredible starts during their contract years, and what the future could hold for each of them.
The Honorable Mentions
Michael Wacha – Boston Red Sox (Age: 30)
Wacha doesn't provide the eye-popping numbers that others on this list will, but he's getting incredible results for a Red Sox team that desperately needed an upgrade at the position coming into the season.
The 30-year-old has pitched to the tune of a 1.38 ERA through his first 26 innings in 2022, the lowest tally of his ten-year career. The drastic difference between his ERA and his 3.93 FIP suggests that luck has been on his side this year, but it seems to be working!
With a career low BABIP of .162, Wacha can still be seen as a reliable back-end starter to eat innings for any ball club. Hitters are hitting under .150 against his fastball, changeup, and sinker in 2022. He won't receive a massive nine-figure in the 2023 offseason but will be seen as a reliable signing once this new market opens.
Mike Clevinger – San Diego Padres (Age: 31)
Mike "Sunshine" Clevinger has finally returned from injury in 2022 after missing the entirety of last season recovering from Tommy John surgery. After being traded to San Diego in 2020, he only threw 19 innings for the Padres before the injury.
Giving up five earned runs in his nine innings this season, his 5.00 ERA doesn't tell the full story. Contrary to Wacha, Clevinger has been rather unlucky this year. His expected ERA of 3.09 and FIP of 4.01 suggest that. With such a small sample size to work with after only two starts, it's unfair to suggest that he'll be poor this year.
Clevinger's fastball provided a -21 run value to the Guardians in 2019, which is pretty insane. When the Padres traded for the right-hander in 2020, he was well-regarded as one of the best arms in baseball. And now, fresh off Tommy John surgery, he seeks to prove himself as a front-line starter, and could be in for a massive pay day if he plays his cards correctly.
Now let's get to our current top five starting pitchers who are earning themselves a lot of money this season.
5. Sean Manaea – San Diego Padres (Age: 30)
The 30-year-old Manaea was acquired in the offseason by San Diego via the Oakland fire sale. Brought in to improve a lackluster Padres pitching staff, he's provided results in his first six starts this season.
Manaea was highly sought after during the 2022 offseason, as he's been incredibly effective since his rookie season in 2016. Alongside Chris Bassitt and Frankie Montas, the three were solid for an Athletics' team that saw the postseason in three of those six years.
But all good things must come to an end, as two of the three were traded this past year. Montas is now the lone star in Oakland, as he's the last remaining trade piece to fall.
While we'll get to Bassitt later in this piece (spoiler alert), Sean Manaea is fitting in well in San Diego.
Striking out hitters at a 25.9% clip, his 3.75 ERA ranks third among Padres' starters, solidifying himself as a stable option in a rotation that has seen much success through their first 32 games.
Manaea's throwing his sinker 62% of the time, and rightfully so. Hitters are hitting .185 against the pitch and are striking out 24.4% of the time. A 34.6 whiff percentage on his primary put away pitch with his slider has led to incredible results as well.
His FIP of 3.46 suggests a tad bit of unluckiness, and he'll continue to clock in solid performances for San Diego.
Following 2022, he'll hit the open market as a free agent for the first time ever. Assuming he doesn't agree to a contract extension this season, he will be one of three key Padres' starters that will have their contracts expired.
Manaea is a solid option for any rotation. And for a Padres' team that screams for consistency, their best option would be to retain him. As a number three starter, possibly pushing a two on a weaker rotation, he provides immense value to any ballclub.
4. Noah Syndergaard – Los Angeles Angels (Age: 29)
Writing this column, I find myself angered. Not at the fact that I must speak about one of my favorite pitchers in baseball with Syndergaard, but the fact that he'll hit the open market come season's end!
"Thor" has been everything the Angels have wanted and needed for years and should be on the Halos' 2023 Opening Day roster without a doubt.
Assuming he's able to stay healthy throughout the campaign with this same type of production, he's in for a hell of a bounce-back year. Syndergaard is another victim of Tommy John, only throwing in two starts last year with the Mets before opting to leave New York on a one-year deal.
He slotted in as the Angels number two behind the great Shohei Ohtani. The strikeout numbers are down from a 24.5% clip to 17.5% in his first five starts. However, he's finding incredible success with his groundball rate. His 49.7% GB rate is the third-highest tally of his career and is a massive reason as to why he's had so much success even without a multitude of strikeouts.
Naturally after suffering Tommy John you see a decrease in velocity. Syndergaard has seen almost a 3 MPH difference in his sinker velo, dropping from 97 to 94. This hasn't slowed him down one bit, as opposing batters are hitting a measly .088 against the pitch and has provided a -5 run value to the Angels in 2022.
As I wrote about just a few days ago pertaining to the Angels' early season success, Syndergaard will be key for this team. If he is able to maintain this level of consistency, Los Angeles might be forced to dip their hands into the bank yet again and pay him what he deserves.
3. Nathan Eovaldi – Boston Red Sox (Age: 32)
Despite the Red Sox early season struggles, Nathan Eovaldi is still churning out solid outings for the club. Since his debut in 2011 with the Los Angeles Dodgers, he's bounced around the bigs, including pit stops in Miami, New York, Tampa Bay, and found himself with Boston in 2019.
Since arriving at Fenway Park, he's posted career-high K rates every single season. Consistently hovering around the 9's in the strikeouts per nine department, he's been a blessing to a Red Sox rotation that's watched ace Chris Sale struggle with injuries.
"Nasty Nate" is seen as another success story for Boston. After being released by the rival New York Yankees in 2016, Eovaldi was dealt to Boston from Tampa Bay at the 2018 trade deadline. He went on to pitch a gem in the AL Wild Card game against the Bronx Bombers last season and was a key contributor towards Boston's ALCS run in 2021.
With free agency looming, he's still shoving in 2022. Striking out 25.8% of opposing hitters, he possesses an effective pitch mix which dices teams during every start. He can dial it up to 97 with his fastball, slow you down with a curveball of which hitters are hitting .172 against, and his splitter is causing the opposition to strikeout 40% of the time.
His 3.15 ERA through 40 innings ranks third among Red Sox starters, including the incredible start that the aforementioned Michael Wacha is off to.
Boston is faced with a tough decision here. Should they continue to struggle as bottom-dwellers in the AL East, or do they trade Eovaldi at the deadline?
General manager Chaim Bloom has already alluded to penny-pinching with stars Xander Bogaerts and Rafael Devers set to hit free agency after 2022. I believe you can also put Eovaldi in this category, as he's been the Red Sox' best pitcher over the past two seasons.
Wherever he lands, Eovaldi will provide top-grade performances for any ball club. He could be in for a massive pay day if this production carries throughout the whole of 2022.
2. Chris Bassitt – New York Mets (Age: 33)
Bassitt was acquired by the Mets earlier this year from the Oakland Athletics to create one of the most dominant pitching staffs we've ever seen. Pairing him alongside Jacob deGrom, Max Scherzer, Carlos Carrasco and breakout star Tylor Megill, the sky's the limit for this staff.
If it wasn't for the revelation of "Cylor" Megill (besides his start two nights ago), Bassitt would be garnering more of the headlines following his first six starts. Aside from an outing against the San Francisco Giants, where he allowed five earned runs, Bassitt has allowed a miniscule five runs in his other five starts. Once deGrom makes his way back to the mound next week, he's easily the best third starter this league has to offer.
Bassitt is posting a career-high in strikeout percentage at 26.2 percent. Hitters are hitting a career-low .195 against him. His 2.45 ERA bests the Mets rotation, even topping his new teammate Max Scherzer.
Some players arrive in New York City and are unable to provide the same production as before, as the lights always shine brighter in the city that never sleeps. Chris Bassitt has not only replicated what he did in Oakland, he's elevated his game to an even higher level with the Mets.
Bassitt ranks in the 97th percentile in average exit velocity against him, with an effective six-pitch mix that includes a sinker, slider, cutter, curve, changeup and a four-seam fastball. Opposing batter are hitting under .160 against both his slider and cutter. His slider specifically, is providing a massive 40% whiff percentage, as 42% of his strikeouts are coming from that pitch.
His level of productiveness points to a massive bag coming his way in the offseason. Merely focusing on this season, Steve Cohen might be forced to open the books to bring back the 33-year-old for a few more seasons.
1. Joe Musgrove – San Diego Padres (Age: 29)
The third Padres pitcher we have covered today, this last guy is really special. Host of The Just Baseball Show, Jack McMullen, wanted to place him as a top-10 starter in all of baseball!
And to be completely honest, I cannot disagree with him.
I spoke earlier on why I was angry during the Syndergaard section, but this one fires me up even more.
In the wake of another year with Yu Darvish not providing to the ace level that we all know he could, Musgrove has stepped up and has been the most dominant pitcher in this Padres' staff.
Pitching to the tune of a career-low 2.05 ERA through his first six starts, he's striking out hitters 27.2% of the time… and is only walking them an absurd 2% of hitters! Seemingly unheard of, Musgrove has been one of the most dominant pitchers in baseball this season.
Musgrove's slider has already provided a -6 run value to the Padres, with hitters hitting .156 against the pitch and gathering whiffs 44% of the time. Ranking in the 95th percentile or above in walk rate, fastball spin rate, and chase rate, he's been dominant.
With Clevinger, Manaea and Musgrove all coming off the books for San Diego following the 2022 season, AJ Preller will have some tough decisions to make regarding the future of this Padres' pitching staff.
But one thing is for certain. There's no way you let Musgrove walk. The contract the 29-year-old will receive in the offseason will be immense, and well-deserved for San Diego's new ace.