Analysis
How Tylor Megill Filled the Massive Shoes of Jacob DeGrom
The Mets rotation has not missed a beat without their ace this season, in large part due to the sophomore breakout of Tylor Megill.
Last season, the New York Mets cratered when Jacob deGrom went down for the year with an injury. After spending a majority of the first half atop the NL East, the Mets collapse came after the trade deadline, allowing the Atlanta Braves to win the division for the fourth-straight year.
DeGrom proved to be more than just an anchor for the Mets, he was the entire ship, carrying his team with an MVP-like performance. Not many pitchers can maintain a sub-1.00 ERA through June, but that is exactly what deGrom did in 2021.
When deGrom got injured again in Spring Training, there was a sense of déjà vu for Mets fans, who had to wonder if once again losing their ace would mean the end of their playoff hopes. The difference this year however is that the Mets were prepared to lose deGrom.
Steve Cohen purchased the ultimate deGrom insurance policy when he signed Max Scherzer to a record-setting three-year, $130 million deal to be the 1B to deGrom's 1A. The Mets also made a trade to acquire Chris Bassitt, giving their rotation one of the best No. 3 starters imaginable.
Scherzer and Bassitt have given the Mets exactly what they could have asked for through their first five starts, as the two veterans have pitched to an identical 2.61 ERA. Yet through the first month of the season, it is Tylor Megill who has really turned heads.
The second-year starter looks to be a much-improved pitcher, as he has taken the opportunity afforded to him by deGrom's injury and has run with it. With increased velocity and a more refined approach, Megill finds himself with the best ERA in a loaded Mets rotation. Giving his team exactly what they thought they were losing when deGrom went down.
The Next Jacob DeGrom?
When it comes to Tylor Megill, there are a lot of similarities to the pitcher who's spot he took this year on Opening Day. Megill was an eighth round pick, selected just one round earlier than the Mets took Jacob deGrom back in 2010. Both were drafted because of their big arms, but they still needed to learn how to became pitchers instead of just being throwers.
DeGrom's ascent to the majors came out of nowhere. Called up as injury replacement who was originally supposed to start out of the pen, deGrom went on to make 22 starts and would win Rookie of the Year. Megill was also called up as an injury replacement, with no clear path to remain in the Mets rotation. Interestingly enough, both pitchers debuted at exactly 25 years and 330 days old.
Like deGrom, Megill wowed Mets brass with his easy transition into the big leagues. Through seven starts, Megill pitched to a 2.04 ERA, with 38 strikeouts in 35 1/3 innings pitched. If he sustained that level of success, maybe Megill too could have entered the ROY discussion like deGrom.
Unfortunately for the Mets, Megill wore down and ended up being part of the reason for their second half collapse. The 6'7″ right-hander pitched to a 6.13 ERA over his final 11 starts, putting his place in the Mets 2022 starting rotation in doubt.
Still, if we really dive into the circumstance behind his season last year, the dip in production is understandable. This is a pitcher whose career-high in innings pitched was 71 2/3 back in 2019. He missed a full season of development due to COVID and then had an innings jump of nearly 60 innings when he threw 130 between the minors and majors last year.
Now Megill has taken what he learned in his first year of MLB action and has refined his approach to make the most out of his high-velo arsenal. Megill was part of the first combined no-hitter in Mets history last Friday, bringing home more national attention, but anyone who has watched him this season has seen the great improvements to his game.
What's Different for Megill in 2022
When analyzing Tylor Megill's arsenal the first thing that has to be mentioned is his height. Megill is more of a power forward than a starting pitcher.
Staring down hitters from his 6-foot-7 vantage point, Megill gets over seven feet of extension towards the plate. This makes his fastball jump even more to hitters, especially as he consistently locates it well up in the zone with rising action.
In 2022, the 26-year-old has added some velocity on the pitch as well. His fastball's average velo of 95.7 MPH is over a MPH higher than his 94.6 average last season. When Megill's fastball is up in the zone at 96 MPH, batters are perceiving that pitch at a velocity closer to 98 MPH. He has topped out at 99.1 MPH this year.
Megill relies heavily on his fastball, as he throws the pitch nearly 60% of the time. With a -4 run value, the fastball is by far Megill's best offering. Opposing batters are hitting just .189 against the pitch and are whiffing at 29.7% rate.
While his fastball got him to the big leagues, it is the improvements in his secondary pitches that are going to allow him to stay here. Megill relied almost exclusively on his fastball as recently as when he was pitching in Double-A to start the 2021 season. He really started to develop a slider he could throw against right-handed batters and a change-up for lefties when pitching at Triple-A and those pitches remained a work in progress when he got to the show.
Now in year two, Megill has a much better feel for his secondaries and it is allowing him to rack up the K's. If we take a look at his release point, it is clear why he has been so tough on opposing batters this season.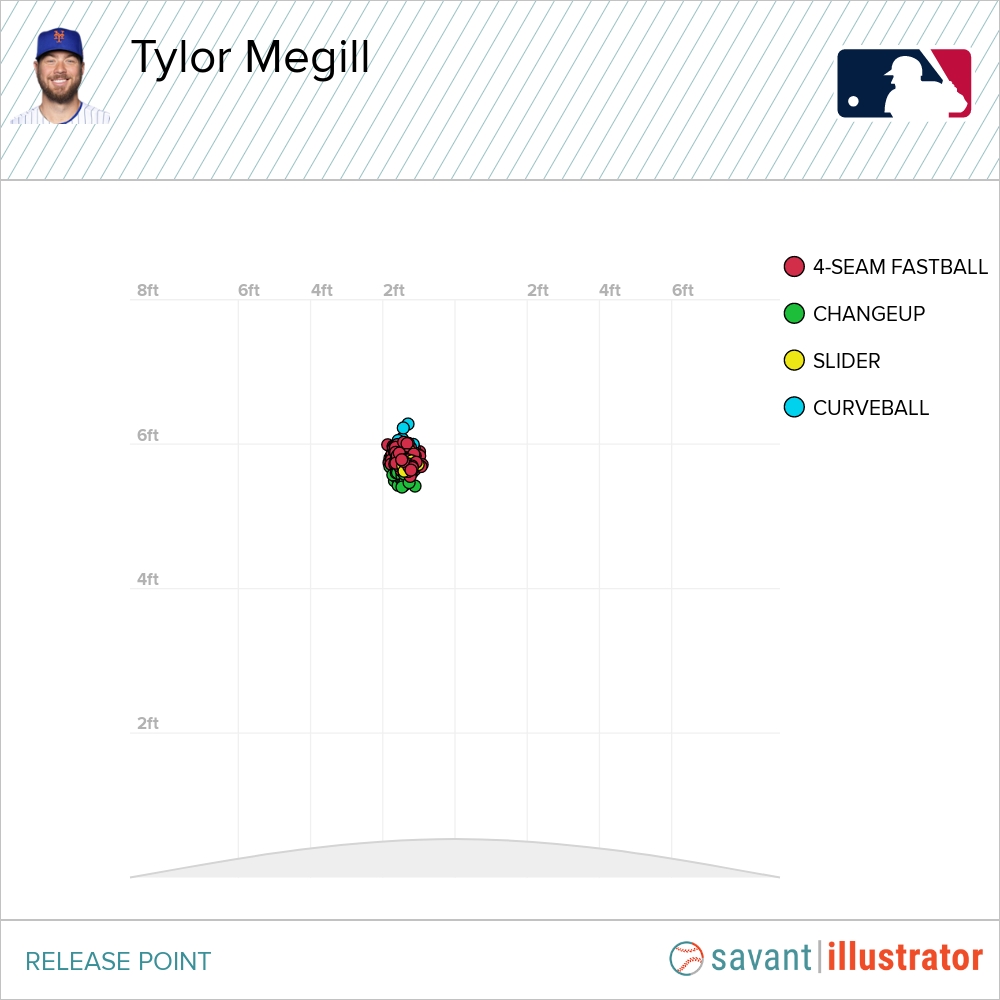 Megill keeps his release point very consistent, making it hard to differentiate between his pitches. Batters have to gear up for the fastball, but have less time to make a decision based on his 7'2″ of extension. His release point is nearly six feet off the ground.
By working his fastball up, he trains the batters eye level to be thinking up in the zone. Then he hits you with the slider down and away and they are swinging right through it. The pitch has a 40% whiff rate this season and is 10 MPH slower than his fastball. Batters are hitting .054 against the pitch.
Megill game plan doesn't change much against lefties. The only difference is that he will use his change-up to work down and away from hitters instead. The change-up has an average velocity of 89.3 MPH, with not nearly as much movement as his slider. Lefties are actually doing pretty well on the pitch, as he has allowed a slugging percentage against of .565.
If there is one area for improvement in the sophomore's game, it is getting a little more consistent with the location of his change-up. The pitch is getting just a little bit too much of the plate compared to his slider, and that is allowing left-handed batters to square him up. He has allowed seven extra-base hits this year, five on the change-up, two on the fastball, none on his slider.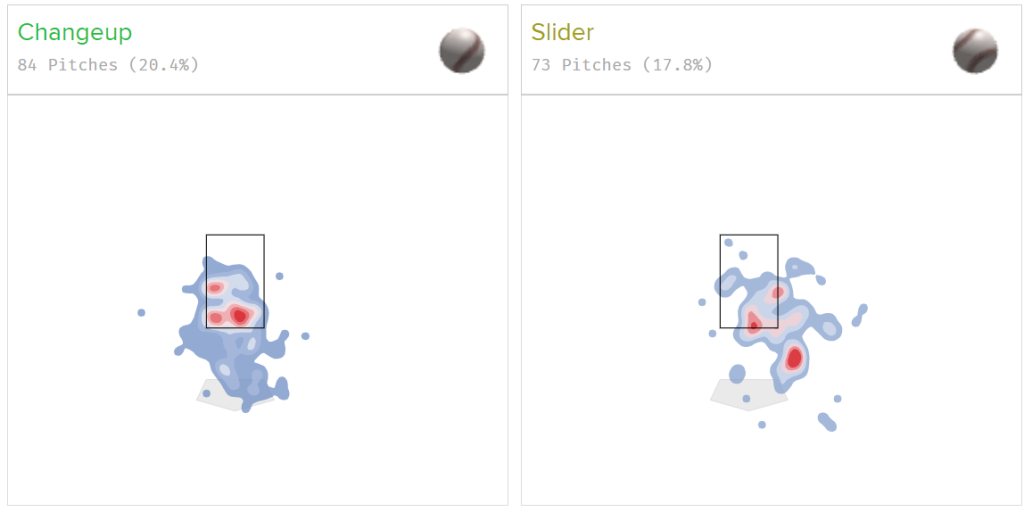 Through five starts this season, Megill is 4-0, with a sparkling 1.93 ERA that is tied with Corbin Burnes and Eric Lauer for the 11th-best mark in MLB. His .182 average against is top-15, as his 0.86 WHIP. In just 28 innings, Megill has already exceeded his fWAR from 18 starts last season.
Considering the fact that Megill entered Spring Training as the Mets sixth starter, that is incredible production. Losing Jacob deGrom was a massive blow when the news first broke, but New York hasn't skipped a beat thanks to the performance of Megill, Scherzer, Bassitt and Carlos Carrasco.
Don't expect Megill to pitch like deGrom for a full season, but getting a month of that is a remarkable win for an organization that has not developed much pitching in recent years. Suddenly, it is not certain that Megill will even lose his rotation spot when deGrom returns off the IL.
The Mets really have an embarrassment of riches right now when it comes to their starter depth. Looking long-term though, there may not be a pitcher on this roster that could be viewed as more of a rotation fixture than Megill. All the credit goes to the late-bloomer who has now seemingly carved out a budding MLB career.