Analysis
Top Five Landing Spots for Jeimer Candelario
The Washington Nationals' third baseman is one of the best hitters available on the trade market.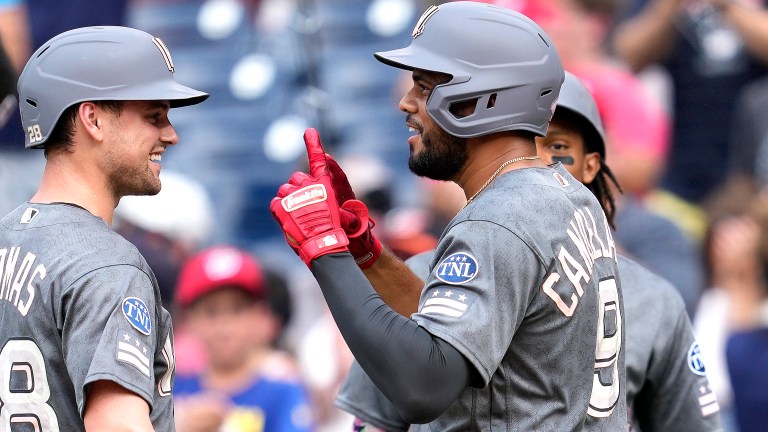 Not including Shohei Ohtani, a trade candidate in a class of his own, Jeimer Candelario might be the best position player dealt before the August 1 deadline.
Candelario had a down year in 2022, prompting the Tigers to non-tender him after the season. Washington signed him to a one-year, $5 million contract over the winter, and the 29-year-old third baseman has bounced back in a big way. He is slashing .257/.335/.486, with 16 home runs and an .821 OPS. Those are the kind of numbers that would improve almost any lineup in baseball.
Candelario suffered a bone bruise in his right thumb earlier this month – briefly raising questions about his trade stock – but he has since proven the injury is nothing to worry about. He has three home runs and a .916 OPS over his last seven games.
There is no clear favorite to land Candelario, but I imagine he'll be suiting up for one of these teams by 6:00 pm on deadline day.
New York Yankees
Between Josh Donaldson and DJ LeMahieu, third base has been a black hole in the Bronx this season. Donaldson has been on the IL most of the year, and thanks to his latest injury, he won't be eligible to return until mid-September.
Therefore, LeMahieu has gotten most of the playing time at third. If he were hitting like his typical self, this wouldn't be a problem, but the 35-year-old has a .672 OPS and an 85 wRC+ in 340 PA.
Top prospect Oswald Peraza has played some third base lately, but he's really a glove-first shortstop. In other words, he won't provide the Yankees with the offensive boost they so desperately need.
The Fit: Like Cinderella's glass slipper
The Yankees need offense, and they have an opening at third base. Plus, GM Brian Cashman should be willing to do whatever it takes not to finish last in the AL East. Candelario makes perfect sense.
Milwaukee Brewers
The third base situation in Milwaukee is nearly as bad as it is in New York. Luis Urías is slumping terribly, and Mike Brosseau is struggling after his breakout season in 2022. New addition Brian Anderson started strong, but he's batting .210 with a 75 wRC+ over his past 60 games.
Overall, the Brewers have scored the second-fewest runs in the National League, and their offense ranks last in wOBA and wRC+.
Moreover, unlike the Yankees, the Brewers play in one of the least competitive divisions. They were gifted with a fantastic opportunity to seize the division crown when the Cardinals imploded, and they need to take that opportunity and run with it. The Reds are only going to get better in the coming years, and the Cardinals won't stay down for long.
The Fit: Like a glove
The Brewers are still the favorites in the NL Central, so they won't be as desperate as the Yankees. However, the fit makes just as much sense.
However, it's worth considering that the Brewers' front office doesn't always act in the team's best interest. Remember when they traded Josh Hader last summer and ended up finishing one game out of a Wild Card berth?
Arizona Diamondbacks
The D-backs have a solid part-time third baseman in 37-year-old Evan Longoria, but their other options are less appealing.
Emmanuel Rivera is a fine defender but a mediocre bat, especially against right-handers. Meanwhile, Josh Rojas has fallen apart at the plate after two straight seasons of above-average hitting, and now the five-year MLB veteran is back at Triple-A.
Longoria has excellent numbers against southpaws, but Arizona could use a third baseman who isn't a liability against right-handed pitching. Neither Rivera nor Rojas can fill that role. Candelario can.
The Fit: Like your trusty pair of sweats
There isn't a wide-open third base job in Arizona, and the D-backs aren't in dire need of offense like the Yankees and Brewers. Then again, this team might benefit from an upgrade like Candelario more than anyone. FanGraphs has their playoff odds just under 50%, and with a little bit of luck, it's not impossible they win the NL West. They need every extra win they can get.
Miami Marlins
The Marlins have made it this far with a winning record, so it looks like they're going to make a real run for a postseason berth. However, if they're going to stave off Wild Card competition from the Diamondbacks, Giants, and Phillies, it would help if they could score some more runs.
The Marlins rank last in the NL in runs per game. Their starting third baseman, Jean Segura, has been one of the worst hitters in baseball. Thus, an upgrade at the hot corner could be just what they need.
On the other hand, Segura has been a reliable bat throughout his career, and he's signed through 2024 (with a club option for 2025). He's also been significantly better over the past six weeks. If the Marlins trade for Candelario, they need to give him regular playing time, which would mean giving up on Segura. Are they ready to make that decision?
The Fit: Like a big car in a small parking spot. It'll work, but it's going to take some effort.
The Marlins need to improve at third base, but they would surely prefer if Segura himself could do the improving. If they trade for Candelario, they'll have to find him regular playing time between first and third.
Minnesota Twins
This one depends on how soon Royce Lewis can return and how productive he'll be when he does. If Lewis is at full strength, the Twins have a third baseman. However, he's only played 23 games this season, and injuries have been a problem throughout his professional career.
After Lewis, the options aren't so great. Jose Miranda was dreadful this year before a shoulder injury landed him on the IL a couple weeks back. Kyle Farmer and Willi Castro are fine utility players, but neither should be an everyday third baseman.
Meanwhile, Donovan Solano can play third on occasion, but his glove isn't strong enough to handle the hot corner with regularity. Candelario, on the other hand, is playing the best defense of his career in 2023.
The Twins could absolutely use an offensive boost to help lock down the division. If the front office has any concerns about Lewis, Candelario could be the bat they need.
The Fit: Like a pair of shoes you ordered online. They're the right size, and yet…
The Twins could really use Candelario in the lineup. At the same time, they'll be hesitant to make a move that could block Lewis.