Analysis
Top Five Landing Spots for Blake Snell
Considering his recent hot streak, it's no wonder Snell has teams salivating at the possibility of acquiring him at this year's deadline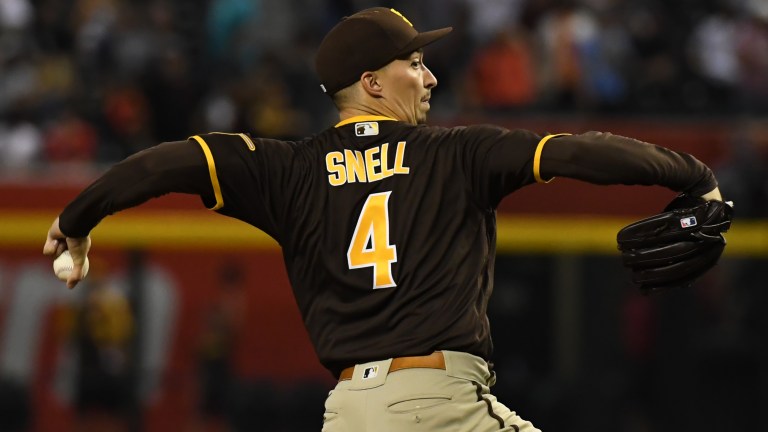 Blake Snell is one of MLB's greatest oddballs. He loves gaming in his spare time, being a fish tank enthusiast, reacting to real-life trades, and — in complete relatability — he has a sense of confusion as to what the hell wRC+ is.
Snell has the energy and demeanor akin to a bag of Doritos riding an electric scooter but in the best way possible. One might even say he's a cousin of Tim Lincecum based on vibes alone, but he's also got the pitching to match, too. 
So far in 2023, he's rocking a 2.67 ERA (currently the best of ANY qualified starting pitcher), a 31.6% K%, and a 2.2 fWAR. He started the year off slow, as per tradition, but he has bounced back in a major way over the last two months or so. Over his last 11 starts, Snell has gone supernova to the tune of a 0.71 ERA and 37.8% strikeout rate, all of which the MLB All-Star voting conglomerate felt wasn't impressive enough, apparently. 
Considering the hot streak, though, it's no wonder Snell has plenty of teams salivating at the prospect of acquiring him at this year's deadline. Despite being a rental, the man is simply en fuego to the maximum Fahrenheit. He's on such a roll, in fact, that he's been arguably about as dominant as he was during his Cy Young-winning 2018 campaign. 
Unlike his previous two seasons with the Padres, where Snell heavily relied on fastball & slider combinations, 2023 has seen an uptick in his curveball and especially changeup usage (up from 5% in 2022 to 17.2% in 2023). Overall, it's made him a much more well-rounded pitcher.
It's only a shame the Padres, as a team, seem to have wasted him.
But alas, that's why we're here. With the Padres flailing and Snell set to become a free agent at season's end, it's possible the team is ready to move on. But to whom, exactly? Well, feel free to observe the following words and find out!
5. Milwaukee Brewers
Hahahahahahahahaha just kidding! It's more likely the Brewers, despite being in first place, trade away their best players and settle for mediocrity as usual. They're fifth-degree black belt masters at kicking the can down the road for all eternity. 
Actually 5. Cincinnati Reds
It's highly unlikely the Reds would choose to go (somewhat) all-in on the 2023 season, but how much would it rule? They have some talented frontline starters in Hunter Greene and Nick Lodolo, but both have dealt with a bevy of injury issues. As a whole, the Reds rank 25th in starting pitcher ERA (4.73), and it's hard to make any noise for contention without a starter you can trust. 
Elly De La Cruz is cool (really cool) and all, but it's exceedingly rare for young breakout teams like the Reds to make a serious dent without making some additions. With a considerable farm system, the Reds make sense for just those specific, and fairly simple, reasons.
In the end, though, the Reds are likely just treating the rest of the season like gravy. Just because they've played some good ball as of late, doesn't mean they can, or even should, be ready to break the bank. Plus, with rumors that they may be willing to move on from Jonathan India, it seems like a longshot despite how irresistibly fun it would be.
4. Philadelphia Phillies
Very quietly, Phillies GM Dave Dombrowski is about as unhinged as Padres GM A.J. Preller. They both have shown a remarkable willingness to break the farm in order to acquire starting pitching, regardless of how already-depleted their system may be. That's what I'd define as "actually trying" — something many other teams should take note of.
In the case of this particular Phillies team, they've essentially been treading water for much of the 2023 season. They don't necessarily excel on either end of the diamond (16th in runs scored, 12th in ERA) but aren't inept either. Well, except for defense, where they're 19th in OAA (-5) and 24th in DRS (-17), but last year's World Series matchup might've proved that defense is for nerds, so who cares? 
Despite the relative mediocrity, though, the Phillies still sport a 53-47 record. With the obvious, albeit dormant (will the real Trea Turner please stand up!), talent on their team, a move for a real frontline starter could help them once the postseason comes around. Aside from Zach Wheeler and his very misleading 3.88 ERA, the Phillies don't seem like a team with a trustworthy rotation thanks to multiple regressions, especially in the case of Aaron Nola.
Considering Snell is a rental, it's possible that prospects like Johan Rojas or Justin Crawford could be enough to land a deal. The Padres have had outfield depth issues for years, and trading Snell to recoup at least some of what they lost over the years wouldn't be a terrible idea.
But also, who knows, maybe the Padres will be petty and refuse to aid Philadelphia after losing to them in last year's NLCS. A pettiness level that I, for one, would admire.
3. Houston Astros
The Astros have had an eerily quiet 2023 season. Not bad, just quiet. After losing Justin Verlander to free agency, Jose Altuve to injury at the beginning of the year, and Yordan Alvarez also to injury, you would think that their dynastic ways would come crashing down. But, because they're the Astros, such a thing has not happened thanks to their seemingly never-ending supply of depth.
Even though this is an article about Blake Snell, a pitcher, the Astros actually don't seem to be in that dire of a need for starting pitching. This is more of a take based purely on the 'Stros just being contenders and their penchant for acquiring the right talent at the deadline. Gerrit Cole comes to mind from a few years back, and I think Snell could be the kind of addition that makes them more daunting than any team in the AL, despite Texas and Tampa having played better up to this point. 
The Astros are a smart organization, and it's possible they can make Snell even better if they were to acquire him. I'd wager that, because of how well their rotation has done, a lower-tier pitcher like Jordan Montgomery would be a fit for them. Plus, with José Abreu being one of the bigger free-agent busts of the offseason, I could see them prioritizing that area more. 
But still, don't rule it out.
2. Baltimore Orioles
Despite investing the same amount of money as I have in my bank account on quality starting pitching, the Baltimore Orioles have been one of the better success stories of any team in 2023.
Adley Rutschman is sick, yes, but the O's have managed to be proficient across the board and play winning baseball better than anyone. They're eerily similar in style to the Cincinnati Reds, yet their current top placement above the stacked AL East division makes them just a tad more impressive. 
But really, while the Orioles have room for improvement all over the place, the biggest question is whether or not they can get a reliable starting pitcher to continue their run. Their bullpen has largely been the reason their overall team ERA has been above water (16th for starters, 6th for relievers), and it's highly unlikely that Tyler Wells and Kyle Bradish will be scaring any above-average teams in the playoffs. 
So, why not Snell? He's got plenty of experience in the AL East from his days with the Rays, so a return there would be as prudent as it would be exciting. Baltimore is also one of the few teams that has the ability to give up some of their best prospects and still maintain a top-five or so farm system. 
It would be a blast, for sure, and given the Orioles' poor track record with developing starting pitching, a trade for Snell for the rest of the season and a possible re-signing once the offseason hits would be outstanding.
But, alas, they're the Orioles — a team more likely to hang onto their farm and kick the can down the road before ever making a strong investment. Even still, an acquisition of Snell could be just what they need to make a run, similar to the Blue Jays trading for David Price back in 2015.
1. Texas Rangers
But let's not forget true believers, the Rangers are the true breakout of 2023. After spending an exorbitant amount of money on players like Corey Seager and Marcus Semien, the Rangers have combined their star power with a strong crop of young players to become quite possibly MLB's best overall team. As a group, their offense ranks first in batting average, on-base percentage, and runs scored.
On the pitching side, they are led by Nathan Eovaldi, who has the 2nd-best ERA among qualified starters behind only, budda-bing, Blake Snell himself! I can see the headline now: "The Texas Rangers now have the top two ERA leaders among starting pitchers; this is the first time that has happened this late into a season since 1983."
Considering how blockbuster-oriented the Rangers have been of late, it feels right, especially if the Shohei Ohtani sweepstakes don't shake out the way everyone expects (hopes?).
The Rangers have gotten some steady seasons from Jon Gray and Dane Dunning as well, but are those guys that a championship-aspiring team can trust to carry them? After ace Jacob deGrom went down with a torn UCL, I'd be shocked to see Texas abstain from acquiring any sort of replacement. Plus, the Rangers are A.J. Preller's old stomping grounds, and they've had trade talks before, so perhaps this is just something destined to happen.
Blake Snell is sure to be a huge get for whatever team acquires him at the deadline (assuming he's truly made available). You could critique his walk rate (13%, the highest of any starter) or bring up that the Padres' elite defense may be covering up some of his mistakes better than most, but the guy is simply on fire. It's incredibly hard to ignore a pitcher on this much of a kill streak who's also had playoff experience.
Either way, just the prospect of his departure from the Padres should make for plenty of conversation and excitement for trade deadline week.