Analysis
Cincinnati Reds Trade Deadline Guide
No one was expecting the Reds to contend this year, but now this is a team who should be looking to buy instead of sell at the deadline.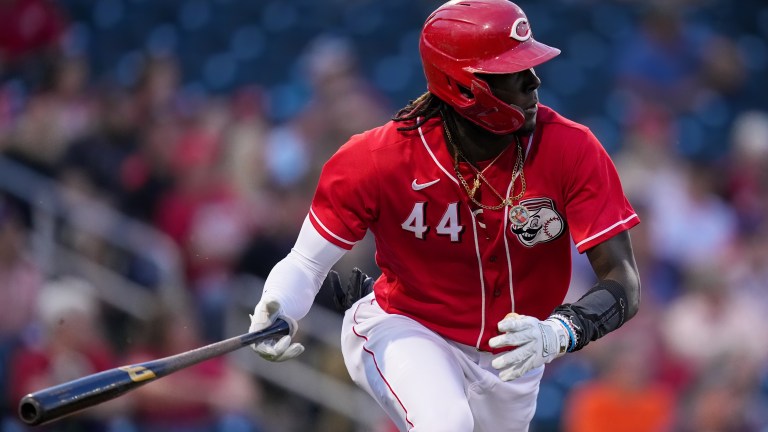 The Reds winning streak is over, but their recent struggles do not mean the end of this magical season. Predicted by many to lose around 100 games, the Reds currently sit in second place in the NL Central and well within striking distance of the Brewers.
We all know about the rookies who have carried this team. Matt McLain, Spencer Steer, Elly De La Cruz, Andrew Abbott, Brandon Williamson, and Will Benson have helped the Reds reach heights even the most optimistic fan would not imagine. However, this team still needs help.
The deadline is panning out to be a strange one. With so few clear cut sellers, you have to wonder how many fringe teams try to buy and sell and how many just cave and sell. The Ohtani and Soto situations might force teams to wait until the last minute before moving assets in hopes that they could be in the mix for one of the big names.
For the Reds, I think some fans might be underwhelmed. I truly do not think they will trade any of their top prospects, or major league starters, for a shot this season. The offseason might be a different story, but I am leaning towards improvement on the edges of the roster or capitalizing on certain roles that cost less in terms of prospect capital.
Team Needs
Bullpen
| | | | | |
| --- | --- | --- | --- | --- |
| | Team | Contract | ERA | FIP |
| Jose Cisnero (R) | Tigers | $2.287 Million (Expiring) | 3.25 | 3.94 |
| Alex Lange (R) | Tigers | $726K (Pre-Arb) | 4.19 | 3.89 |
| Justin Lawrence (R) | Rockies | $722K (Pre-Arb) | 2.57 | 3.87 |
| Kyle Finnegan (R) | Nationals | $2.325 Million (Arb – FA '26) | 3.32 | 4.35 |
| Matt Moore (L) | Angels | $7.55 Million (Expiring) | 2.00 | 4.22 |
| Brad Hand (L) | Rockies | $1.5 Million ($7 Million Club Option '24) | 4.99 | 3.88 |
| Chasen Shreve (L) | Tigers | $1.25 Million (Expiring) | 4.41 | 4.25 |
| Brent Suter (L) | Rockies | $3 Million (Expiring) | 2.81 | 3.42 |
| Sam Moll (L) | Athletics | $725K (Pre-Arb) | 4.58 | 3.13 |
| Tim Hill (L) | Padres | $1.85 Million (Arb – FA ' 25) | 3.98 | 5.24 |
Stats as of 7/19/23
Cincinnati's bullpen has had their fair share of ups and downs, but has also been responsible for playing a vital role in the team being in second place. Lucas Sims in the eighth, Alexis Diaz in the ninth is a great one-two combo that is good enough to not have to address at the deadline.
After that, it's pretty hit or miss.
Buck Farmer, Ian Gibaut, Derek Law, and Fernando Cruz all have had stretches where they look dominate. They have also had stretches that left you wondering if they would make it to the end of the season. Alex Young has been solid, posting a 2.37 ERA and 4.19 FIP while serving as the lone lefty in the bullpen.
While Tejay Antone is getting closer to a return, I think it is irresponsible to simply rely on him being back to dominate after his litany injuries. Considering how cheap most relief pitchers are at the deadline, the Reds should look at add a righty, and a lefty.
Of the names listed, Lange and Lawrence are likely to command the most in a return. I would not be surprised if Moore is also not cheap. However, Lucas Sims will be set to hit free agency after next season. If the Reds wanted to, they could get Lawrence or Lange, strengthen the bullpen this season, and give them room to walk from Sims after next year due to Lange and Lawrence's control.
Not saying I'd take that path, but it does give them options.
The two righties I think make the most sense are Cisnero and Finnegan, and I would lean Cisnero. Both have a good track record and should not cost the Reds too much in trade capital. As far as the lefty, Brent Suter and his expiring contact would look good in a Reds uniform. Shreve and Moll would be fine if you wanted to go even cheaper.
Starting Pitcher
Do the Reds need a starter has been an ongoing debate. Yes, they got through a winning streak with a rotation that an average baseball fan would not recognize. However, I think adding a starter is needed. The current options come with too many questions.
Hunter Greene and Nick Lodolo are both still injured and who knows what they will look like once they return. Lodolo had struggled before the injury, although I do have faith in him being better than he showed this season.
Andrew Abbott has been a breakout this season and his future is bright, but were are talking about a rookie with eight career starts. Graham Ashcraft might have found his groove, but a career 5.37 ERA pitcher across 192.2 innings still leaves me with questions.
Ben Lively has really helped get through some of the teams injuries, but how confident are we in a 31-year-old who had not pitched in the majors since 2019?
Brandon Williamson has shown flashes recently and truly has taken a step forward. We have still seen more bad than good innings from him this season. Luke Weaver, well, I won't waste your time. Connor Phillips is not ready to save the day either.
All this to say, we are relying on too much hope and finger crossing if you truly think this team can be playoff caliber. The Reds have the prospects to go out and get the top available arm, but like I mentioned earlier, I don't think that's the most likely route. Not impossible, but less likely.
| | | | | |
| --- | --- | --- | --- | --- |
| | Team | Contract | ERA | FIP |
| Eduardo Rodriguez (L) | Tigers | $14 Million (Opt-out after season) | 2.70 | 3.28 |
| Lucas Giolito (R) | White Sox | $10.4 Million (Expiring) | 3.96 | 4.57 |
| Lance Lynn (R) | White Sox | $18.5 Million (Club Option $18 M in '24) | 6.06 | 4.97 |
| Michael Lorenzen (R) | Tigers | $8.5 Million (Expiring) | 3.75 | 4.13 |
| James Paxton (L) | Red Sox | $4 Million (Expiring) | 3.51 | 3.94 |
| Mike Clevinger (R) on IL | White Sox | $8 Million (Mutual Option for $12 M in '24) | 3.88 | 4.91 |
| Carlos Carrasco (R) | Mets | $14 Million (Expiring) | 5.35 | 5.96 |
I'm going to guess that Rodriguez and Giolito are in a tier of their own from this list. Players with a track record good enough to still pull a prospect return that might sting. If the Reds wanted to do that for a rental, they will have to outbid some teams. The next tier, Lynn, Lorenzen, Paxton, is more manageable for the Reds.
Lynn's had a rough season, but someone will talk themselves into his experience and previous success. I'd rather focus on Lorenzen and Paxton, both of which are experiencing better seasons.
A deal that included Cisnero and Lorenzen could help the Reds get two pitchers to improve the team, and might make the Tigers more interested as they could bump up the return. It would not be cheap, and might be out of the Reds range for rentals, but makes a lot of sense.
Theoretically, adding Lorenzen could bump one of the lefty starters to a bullpen role during the playoffs (if the Reds make it) helping to solve the second lefty issue.
Paxton has a long list of health issues and I think the Red Sox will absolutely trade him after the first half he had. A similar price to Lorenzen, the veteran lefty should not cost a top tier prospect. If biding at the deadline gets too rich for these two, I have two fallback options.
I don't think either Clevinger or Carrasco are ideal options. Two veterans who come with their own questions, but both should be relatively inexpensive while bringing some experience to the staff.
Lets Get Weird
Do I actually think these options are on the table? No, not really. But for entertainment purposes, let's have some fun.
| | | |
| --- | --- | --- |
| | Team | Contract |
| Hunter Renfroe | Angels | $11.9 Million (Expiring) |
| Randal Grichuk | Rockies | $9.33 Million (Expiring) |
| Paul Dejong | Cardinals | $9 Million (Club Options in '24, '25) |
| Kyle Hendricks | Cubs | $14 Million (Club Option '24) |
| Lane Thomas | Nationals | $2.2 Million (Arb) |
Now that you have stopped laughing (and hopefully not stopped reading), I am sure you see the vision. A righty outfielder, who can fill in in center, is a sneaky need. A righty outfielder of any kind is a need. Renfroe would be fun in Great American Ballpark, Thomas is a lefty masher with control, and Grichuk has always interested me.
Next, Hendricks makes the rare Cubs – Reds swap and eats some innings and adds depth to the rotation. He's had a solid season, and would bring experience without costing much in return. DeJong is somewhat of a Newman replacement with more power. Ok, now let's get back to work.
Who the Reds Could Trade
Of course, in order to acquire good players you have to part with talent. Cincinnati has a deep farm system and what some would call a logjam coming, especially in the infield. Before you say it, I think Jonathan India stays.
I have always felt an offseason move is much more likely than moving him, at his lowest value, at the deadline with fewer possible fits. In fact, I do not see anyone in the starting lineup getting moved.
Two names that stand out as possibilities are Nick Senzel and Jose Barrero. Barrero is young, has a plus glove at short, and comes with the former top prospect tag GM's always seem to target. Similar to your high school crush who always dated the troubled person, "I can fix him" is undefeated.
Barrero does have some value. He could be in the deal for a bullpen arm, or part of a larger trade that pushes the deal over the top. A rebuilding team would be able to give him at bats and a change of scenery. Senzel has finally become the utility guy who starts at times against lefties. His role could potentially be upgraded at the deadline. He's one of the few players on the current roster they could move.
So, who do I think are some prospects who could get moved?
| | | | | |
| --- | --- | --- | --- | --- |
| | Level | 40-Man Roster | Rule 5 Eligible | Pipeline Team Ranking |
| Lyon Richardson (SP) | AA | Yes | – | 26 |
| Christian Roa (SP) | AAA | – | December 2023 | – |
| Michael Siani (CF) | AAA | Yes | – | 19 |
| Ivan Johnson (INF) | AA | – | Eligible | |
| Jose Torres (INF) | AA | – | December 2024 | 22 |
| Blake Dunn (OF) | AA | – | December 2024 | – |
| Rece Hinds (OF) | AA | – | December 2024 | 14 |
| Jose Acuna (SP) | A+ | – | December 2023 | – |
| Austin Hendrick (OF) | A+ | – | December 2024 | 18 |
| Bryce Hubbart (SP) | A | – | December 2025 | 16 |
| Victor Acosta (INF) | A | – | December 2025 | 13 |
| Yerlin Confidan (OF) | A | – | December 2023 | – |
Only players in Low A or higher
If you do not follow the system, you probably think this is a pretty weak list. I think Richardson is top 15 on most prospect lists, for what its worth. A couple of flier prospects and guys with plus tools that need development.
Hinds and Richardson, as a package, could be my top option to bring back a starting pitcher. Richardson has a 2.09 ERA and 2.95 FIP in Double-A and throws high 90s. He has a pitch mix with enough stuff to be a big league arm. Hinds is starting to find his power, but the swing and miss has always been his Achilles heel.
Siani is a fourth outfielder with speed and defense and could fetch a bullpen arm. Of course, there are always the teenagers I did not list that get moved each deadline. Hendrick, a former first rounder, has had a rough start to his career but someone could be interested in taking a chance.
Unless the Reds want to include Chase Petty and/or Edwin Arroyo, I don't think they are big game hunting. Those two could be moved in the future, but I don't feel like this is the deadline they are traded. However, I would not freak out if either is moved. Luckily, the Reds have the great fortune of system depth that makes those moves hurt less.
Roa has to be protected this winter, and I think he's expendable. I am not nearly as high on him as some are, and a package of him plus Ivan Johnson absolutely could get a bullpen arm.
Conclusion
The Reds have a legit chance to win the division. If they are smart, they will have a legit chance to control the division for years to come. They should not just sit on their hands and hope five or six things go their way and hope for the best. That does not mean they need to ruin the system the first year they taste success.
Going out and making the bullpen better by getting another lefty and acquiring another certified big leaguer will not only make a huge difference, but would cost the least amount in trade value. Trade two or three prospects to get another adult in the rotation. Most of the mid-tier prospects have a below 15% chance of making the big leagues, no need to hoard them.
Cincinnati is in a tough spot of trying to contend "early in their window" and not drain the farm system they have carefully built. While I think they can win the division, World Series contenders is far away. Save those all in moves for later down the line.