Analysis
Top 10 MVP Snubs in MLB History
The right guy doesn't always win the MVP award. Here's a look back into some of the biggest MVP snubs in MLB history.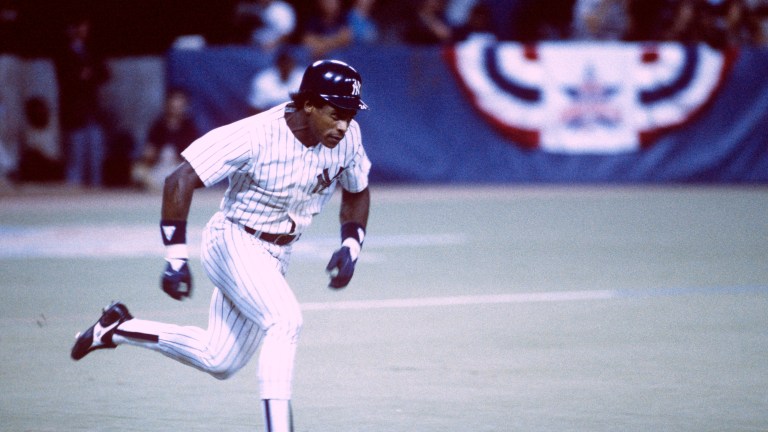 I'll preface the article with this. It's hard to judge the writers who voted on the American and National League MVP before they even knew what statistics like WAR were. Our game has progressed so quickly that I can tell you what an outfielder's jump efficiency is. We, as fans, have access to so much more information than even 10 years ago. Heck, Statcast was developed in 2015.
Does that mean we'll give them a pass? Of course not! As baseball fans, we are cynical, looking for new arguments to get upset about.
I have some rules before we get underway. This won't be an article where you find the most significant discrepancy in WAR between players gunning for an MVP. That's too easy of an exercise and implies that WAR is a stat that perfectly illustrates a player's value on the field. News flash, it's not. No statistic is perfect, so we'll look at the whole picture.
Another rule is team success matters. I don't think it should matter in an MVP race, but this isn't about me. I don't think it's fair to change an essential rule in voting due to my personal opinion. The voters value the team's success heavily when voting, and I don't think we should take that away from them. If we did, it would change these races completely. If a player makes this once, that's it. I want to spread the love to highlight more MVP snubs than focusing on one player. Barry Bonds, Willie Mays, and Alex Rodriguez deserved plenty more MVPs, but this isn't an article about them alone.
Another rule is I think pitchers should be able to win the MVP. They've won them before, so when they have the best season, there is no reason they should be snubbed. These are not in any particular order but are listed chronologically, starting with the earliest MVP snub in 1928.
All bolded numbers imply the player led the league in that individual stat
1. 1928: Heinie Manush vs. Mickey Cochrane
Heinie Manush: 154 G, .378/.414/.575, 989 OPS, 154 OPS+ 241 H, 13 HR, 108 RBI, 16 SB, 7.3 bWAR
Mickey Cochrane: 131 G, .293/.395/.464, .859 OPS, 122 OPS+, 137 H, 10 HR, 57 RBI, 7 SB, 3.4 bWAR
As you can see, Cochrane had absolutely nothing over Manush in 1928. Cochrane was the catcher for the Philadelphia A's, which meant a lot back in 1928. The A's were one of baseball's best teams, rocking a 98-55 record. As stated previously, I'm not trying to find outstanding players on bad teams. Manush was the left fielder for the St. Louis Browns, who finished seventh in wins that season with 82. Manush ended his career with a higher WAR and a higher batting average than Cochrane over 17 seasons. Manush never had an MVP but finished in the top five on four separate occasions. He deserved it in 1928.
2. 1942: Ted Williams vs. Joe Gordon
Ted Williams: 150 G, .356/.499/.648, 1.147 OPS, 216 OPS+, 186 H, 36 HR, 137 RBI, 3 SB, 10.5 bWAR
Joe Gordon: 147 G, .322/.409/.491, .900 OPS, 155 OPS+, 173 H, 18 HR, 103 RBI, 12 SB, 7.7 bWAR
In 1947, the WAR discrepancy between Ted Williams and Joe Dimaggio was more significant. Many people point to that year being the biggest MVP snub for Williams. By that metric, you'd be correct, but the Red Sox weren't nearly as good as the Yankees that year.
In 1942, not only was Williams better in everything except stolen bases, the Red Sox finished second to the Yankees in the American League with a 93-59 record. Williams didn't just have a great year; he led the league in almost every statistical category. With how good the Red Sox were in 1942, there is no explanation for why Williams didn't win the MVP.
3. 1962: Willie Mays vs. Maury Wills
Willie Mays: 162 G, .304/.384/.615, .999 OPS, 165 OPS+, 189 H, 49 HR, 141 RBI, 18 SB, 10.5 bWAR
Maury Wills: 165 G, .299/.347/.373, .720 OPS, 99 OPS+, 208 H, 6 HR, 48 RBI, 104 SB, 6.0 bWAR
This is blasphemous. Yes, Wills stole 104 bases that year, which is mind-boggling to think about, but that's all he had! Willis won the Gold Glove, but so did Mays. The Giants finished ABOVE the Dodgers in the standings on top of all of it.
Mays was quickly the best player in Major League Baseball in 1962. Someone has to explain to me how Willis won this one over Mays. Mays was also snubbed in 1964, but I didn't include it because of my abovementioned rule. He finished sixth that year, and we only include players who finished first, second or third. He also should have won it in 1960, but the Giants weren't very good that year. By the way, Willie Mays is the most well-rounded baseball player in history.
4. 1985: Rickey Henderson vs. Don Mattingly
Rickey Henderson: 143 G, .314/.419/.516, .934 OPS, 157 OPS+, 172 H, 24 HR, 72 RBI, 80 SB, 9.9 bWAR
Don Mattingly: 159 G, .324/.371/.567, .939 OPS, 156 OPS+, 211 H, 35 HR, 145 RBI, 2 SB, 6.5 bWAR
I'm not sure what the writers were thinking in 1985. You'll see why in the next MVP snub. Mattingly had an excellent year offensively and took home the Gold Glove. The only issue is that Henderson had an almost identical OPS, a slightly higher OPS+, and 3.4 more bWAR, all while playing on the same team.
Mattingly drove in 145 runs in 1985, which led all of Major League Baseball and surely made voters happy. Rickey Henderson had 146 runs scored, which also led Major League Baseball. Factor in those 80 stolen bases, and we can see why Mattingly had so many opportunities to drive those runs in. If Henderson wasn't recking havoc on the base paths, those RBI's begin to dry up for Mattingly. Henderson didn't receive a first-place vote, making this even more shocking. Henderson made the Yankees offense go and should have won the MVP in 1985.
5. 1985: Dwight "Doc" Gooden vs. Willie McGee
Dwight Gooden: 35 GS, 24-4, 1.53 ERA, 0.97 WHIP, 276.2 IP, 268 K, 2.13 FIP, 229 ERA+, 13.3 bWAR
Willie McGee: 152 G, .353/.384/.503, .887 OPS, 147 OPS+, 216 H, 10 HR, 82 RBI, 56 SB, 8.2 bWAR
What were the writers doing in 1985? Dwight Gooden had the greatest season from a starting pitcher in the modern era. The only two players to surpass him in WAR in a single season since 1900 were Walter Johnson in 1913 and Babe Ruth in 1923. Thankfully he won the CY Young, but he finished fourth in MVP voting.
I might be able to understand if the Mets were a bottom-dweller, but they finished with 98 wins. They finished second in the National League in wins to Willie McGee's 101-win St. Louis Cardinals. McGee was a great player who led the league in batting average and hits, but that's not enough. Gooden had 5.1 more bWAR and turned in the greatest season from a pitcher of all-time by bWAR since integration. If that's not an MVP, I'm not sure what is.
6. 1987: Tony Gywnn vs. Andre Dawson
Tony Gywnn: 157 G, .370/.447/.511, .958 OPS, 158 OPS+, 218 H, 7 HR, 54 RBI, 56 SB, 8.6 bWAR
Andre Dawson: 153 G, .287/.328/.568, .897 OPS, 130 OPS+, 178 H, 49 HR, 137 RBI, 11 SB, 4.0 bWAR
The WAR difference is almost double, but that's not even all. Tony Gywnn was the definition of a pure hitter in 1987. He had 36 doubles and only 35 strikeouts while leading the league in hits and recording a Major League-leading .370 batting average. Both players won the Gold Glove in 1987, but we can tell by the WAR numbers that Gwynn's defense was far more valuable.
Dawson hit the long ball and drove in runs, but that was about it. The issue is that Gywnn's Padres were the worst team in the National League, which would normally disqualify him from this list. Here's the catch, the writers didn't seem to care about team success this year. Dawson won MVP with his Chicago Cubs finishing last in the National League East. The Padres were the lesser team, but neither was any good. Giving Dawson the MVP because of the long ball is just plain wrong.
7. 1989: Bret Saberhagen vs. Robin Yount
Bret Saberhagen: 35 GS, 23-6, 2.16 ERA, 0.96 WHIP, 262.1 IP, 193 K, 2.45 FIP, 180 ERA+, 9.7 bWAR
Robin Yount: 160 G, .318/.384/.511, .896 OPS, 152 OPS+, 195 H, 21 HR, 103 RBI, 19 SB, 5.8 bWAR
Notice how the only thing bolded for Yount in 1989 is his name? He didn't lead the league in anything relevant. His team wasn't any good, either. The Milwaukee Brewers finished 81-81 in 1989, the eighth-best record in the American League. Saberhagen's Royals finished second in the American League with a 92-70 record. Saberhagen was the best pitcher in baseball by far in 1989. He led baseball in almost every category while leading the league in bWAR. Yount finished eighth in bWAR in the American League for a middling team. Was this just a typo? Bret was robbed.
8. 1995: Greg Maddux vs. Barry Larkin
Greg Maddux: 28 GS, 19-2, 1.63 ERA, 0.81 WHIP, 209.2 IP, 181 K, 2.26 FIP, 260 ERA+, 9.6 bWAR
Barry Larkin: 131 G, .319/.394/.492, .886 OPS, 134 OPS+, 158 H, 15 HR, 66 RBI, 51 SB, 5.9 bWAR
You could argue that Barry Larkin didn't even have the best season on his own team. This was Larkin's first and only MVP, and truthfully he should never have won it. Before we even get to Maddux, Reggie Sanders had a higher WAR, OPS, and more home runs than his teammate Barry Larkin. Sanders didn't play shortstop, which I assume was impactful when voting. Maddux, on the other hand, had a better season.
Maddux was the best pitcher in baseball in 1995 on the best team in baseball. The Braves finished the season with a 90-54 record and won the World Series. Maddux only walked 23 batters in 209.2 innings. That sentence alone should wow you, but for perspective, reliever Jose Mesa walked 17 batters in 64 innings. He led the American League in saves that year and finished third in the AL MVP voting. Maddux also finished third in the National League MVP voting. This was so backward.
PS. Albert Belle deserved the AL MVP over Mo Vaughn in 1995. That year, Vaughn did nothing better than Belle, but it wasn't egregious enough to make this list.
9. 1996: Alex Rodriguez vs. Juan Gonzalez
Alex Rodriguez: 146 G, .358/.414/.631, 1.045 OPS, 161 OPS+, 215 H, 36 HR, 123 RBI, 15 SB, 9.4 bWAR
Juan Gonzalez: 134 G, .314/.368/.643, 1.011 OPS, 145 OPS+, 170 H, 47 HR, 144 RBI, 2 SB, 3.9 bWAR
This might be the worst of them all. Juan Gonzalez should not have finished in the top-10 in MVP voting in 1996. His Texas Rangers won the division, but he had a teammate with a 6.1 bWAR in Ivan Rodriguez. He finished 17th in bWAR in the American League that year, a few spots behind Mariano Rivera.
Gonzalez didn't lead in any offensive category or win a Gold Glove. The Mariners finished second that year and had two worthy MVP candidates. Ken Griffey Jr led the American League in bWAR at 9.7, but I believe Alex Rodriguez had the better year. Rodriguez won the batting title with a better overall slash line playing shortstop. He led the league in doubles with 52 and had a higher OPS+. Gonzalez had the better team; that's why he won. Alex Rodriguez did all of this at 20 years old. Wild.
10. 2000: Pedro Martinez vs. Jason Giambi
Pedro Martinez: 29 GS, 18-6, 1.74 ERA, 0.74 WHIP, 217 IP, 284 K, 2.17 FIP, 291 ERA+, 11.7 bWAR
Jason Giambi: 152 G, .333/.476/.647, 1.123 OPS, 187 OPS+, 43 HR, 137 RBI, 2 SB, 7.8 bWAR
Nice season from Jason Giambi, but context is as important here as any MVP race in history. This was right in the middle of the steroid era when hitters were destroying baseballs across the league. Did you notice that Giambi only led the league in OBP and walks?
The top-four in AL MVP voting in 2000 all hit 40+ home runs, and all hit above .315. Giambi's mashing at first base was not nearly as impactful as Pedro's in 2000. That 291 ERA+ is the highest on this entire list by a lot. Tim Hudson finished 15th in MVP voting in 2000 with a 4.14 ERA. The Oakland A's won their division with 91 wins, but the Red Sox finished second with 85 wins. Pedro Martinez was robbed of an MVP in the greatest season ever pitched.