Rankings
Top 10 MLB Second Basemen for 2022
Just Baseball's rankings of the top second basemen in baseball.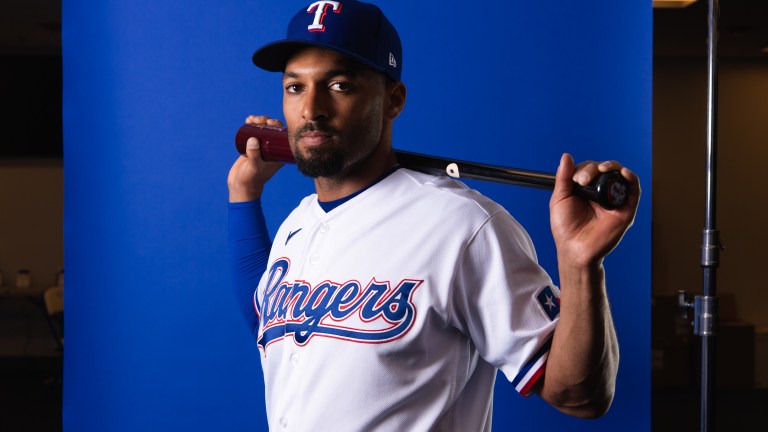 Welcome to our official positional rankings for the 2022 MLB season!
In this series, you'll find our rankings for the best players at each position in Major League Baseball. These rankings are not a measure of performance since 2019; we are projecting the ten best at each position for 2022.
All types of analysis went into these rankings. We look at every advanced analytic we can to make our lists, but we include intangibles not typically found in the numbers. This is not a perfect list, but no list truly is.
The second base position is one of the best positions in baseball. We rewarded offensive prowess but gave an extra bump to well above-average defense.
In prior years, you may have to scrape from the bottom of the barrel. Not this year, as Max Muncy and Trevor Story check-in. Muncy moves to second due to the Freddie Freeman signing, and Story will slide over to second to allow Xander Bogaerts to play at short.
Not only that, but most of the utility players in baseball find their names on this list. Jake Cronenworth, DJ LeMahieu, Ketel Marte, Whit Merrifield, and Chris Taylor's primary position is second base, so they must be added.
We have accounted for defensive and offensive production since 2019, with an emphasis on 2021. The age you'll see next to each name reflects what they will be on Opening Day.
We will use some advanced baseball jargon in this article. You'll see stats such as WAR, OAA, fWAR, DRS, etc. The defensive stats will reflect their time solely at second base. We suggest quickly reading about those stats at the links attached, and as always, please feel free to reach out on Twitter with any questions.
Honorable Mentions
DJ LeMahieu – New York Yankees
Just a whole-ass hitter. Hit .327 in 2019, finished fourth in MVP voting. DJ hit .364 in 50 games in 2020, finished third in MVP voting. Then in 2021, the production dipped. Dealing with nagging injuries, he hit .268 with just ten homers and a flat 100 wRC+. He can re-enter, but he hit the same number of home runs as in 2020, in 100 more games.
Whit Merrifield – Kansas City Royals
Last year, Whit and Starling Marte were the only two players with 40 or more stolen bases. Even more impressive, Whit went 40-44 in the stolen base department. Since the start of 2019, he hasn't missed a game. He led the league in doubles this past year. The reason he's not top-10: he only got on base at a .317 clip last year. A .711 OPS is not top-10.
Chris Taylor – Los Angeles Dodgers
Assuming the Gavin Lux experiment is over in LA, Chris Taylor should have a real position this year. His defensive versatility gives him bonus points; 20 homers and your first All-Star nod this past year help too. Muncy will play a lot of second base, but Taylor should see plenty of time as Muncy plays some DH.
Jean Segura – Philadelphia Phillies
The guy hits. He's a walking .280; he hardly ever swings and misses, sprays it everywhere, and is a solid defender! He's a good second baseman. But we think there are ten GREAT second basemen here.
Tommy Edman – St. Louis Cardinals
One of the 38 different St. Louis Cardinals to take home a Gold Glove in 2021. Edman just played his first entire season of big-league ball. He's underwhelming offensively; a .695 OPS with next to no walks. But he doesn't whiff, he absolutely flies, and he's the gold standard defensively.
The Top 10
10. Jorge Polanco – Minnesota Twins (Age: 28)
2021 Stats: 152 G, .269/.323./.503, .826 OPS, 122 wRC+, 33 HR, 98 RBI, 11 SB, 7.0% BB, 18.3% K, 3.9 fWAR, 3 DRS, -1 OAA
The 28-year-old Polanco has already played in parts of eight seasons with Minnesota, and he's been as steady as they come. Polanco's a career .276 hitter with an OPS just below .800.
As a 25-year-old in 2019, Polanco hit .295 with 40 doubles and 22 home runs. The bat-to-ball dipped in his next full season; his strikeout rate jumped two percent, and his batting average dropped about 25 points. HOWEVER, a career-high 33 home runs and 98 driven in made up for the lack of bloop singles.

Polanco spent the entirety of 2020 as a mediocre shortstop. In 2021, he appeared in 39 games at short but played in 120 games at second while Andrelton Simmons handled his comfort area. Different story in 2022; Carlos Correa will be the shortstop in Minnesota, and the duo of Correa and Polanco has the chance to be one of the most productive and electrifying middle infields in the league.
9. Jonathan India – Cincinnati Reds (Age: 25)
2021 Stats: 150 G, .269/.376/.459, .835 OPS, 122 wRC+, 21 HR, 69 RBI, 12 SB, 11.3% BB, 22.3% K, 3.9 fWAR, -7 OAA, 0 DRS
Jack pegged India as the Rookie of the Year in 2021, and not only did he cash +4100, he was spot on about the talent.

India was the biggest breath of fresh air for the Reds, locking down the leadoff spot this team hasn't had in a decade since Shin-Soo Choo. The 21 home runs are great, and we already know he's a run producer, but I want to add context to his speed and defense.
He rates as a terrible defender, but we have to give him a break. He improved during the season, and he's played a handful of innings in the minors at second base. He had to adjust on the fly, and we saw those improvements as the year went on. He stole 12 bases which is excellent, but he has 20-25 steals in his bag if the Reds ever wanted to run. The Reds stole 36 bases, the lowest in the league, and he had 12 of them. He will be a star for years to come, and I'm not afraid of overrating him; I'm afraid we underrated him.
8. Ozzie Albies – Atlanta Braves (Age: 25)
2021 Stats: 156 G, .259/.310/.488, .798 OPS, 107 wRC+, 30 HR, 106 RBI, 20 SB, 6.9% BB, 18.7% K, 4.2 fWAR, 1 OAA, 1 DRS
The 25-year-old Albies has already accomplished what many hope to have attached to their names for the entirety of a Major League career. The two-time All-Star and two-time Silver Slugger got his first World Series ring and is coming off of the first 30-homer and 100-RBI season of his blossoming career.
After leading the National League in hits in 2019, Albies put up career-highs in nearly every power number in 2021. Ozzie's 77 extra-base hits were the fifth-highest total in baseball last year; he had more than Rafael Devers and Matt Olson and was just one shy of Vladimir Guerrero Jr. and Bryce Harper's 78.
Let's address the splits. Albies has a .250 average and a .752 OPS as a left-handed hitter. Albies has a .339 average and a .947 OPS as a right-handed hitter. To put it plainly, Albies is a replacement-level second baseman against right-handed pitching. He's an MVP front-runner against lefties. At the end of the day, he's a defensive wizard with mucho pop that's durable as all hell.
7. Jake Cronenworth – San Diego Padres (Age: 28)
2021 Stats: 152 G, .266/.340/.460, .800 OPS, 116 wRC+, 21 HR, 71 RBI, 4 SB, 8.0% BB, 14.0% K, 4.4 fWAR, 0 OAA, 5 DRS
The Crone-Zone can do everything on a baseball field, so he checks in at number 7. For our money, Jake Cronenworth is the best swiss army knife in baseball. His primary position is second base, but he can easily slide to short or first base, and if you threw him in the outfield, he'd be totally fine as well.
Cronenworth, across the board, is above average. He hits fastballs, he hits breaking balls, he takes walks, he hits homers, he's an above-average baserunner and of course, a great defender. All that accumulated into the fourth-best fWAR at the position. It's very hard to try to find a hole in his game.
6. Trevor Story – Boston Red Sox (Age: 29)
2021 Stats: 142 G, .251/.329/.471, .800 OPS, 100 wRC+, 24 HR, 75 RBI, 20 SB, 8.9% BB, 23.4% K, 3.5 fWAR, 9 DRS, -7 DRS (Shortstop Defense)
New digs, in more ways than one. Full transparency: we concocted this entire list, put together the honorable mentions, and before we hung up the phone, had the epiphany that we left Trevor Story off.
Trevor Story has appeared in the field 733 times in his six-year career. He has appeared at shortstop all 733 times. While once considered a time-buyer for third overall pick Brendan Rodgers, Story turned into a two-time All-Star and two-time Silver Slugger recipient.

While the entirety of his career with the Rockies was great, there was a clear dip in production in his contract year last season. In his last three full seasons, here are the trends:

Home Runs: 37, 35, 24
RBIs: 108, 85, 75
Batting Average: .291, .294, .251
OPS: .914, .917, .801

He lowered his strikeout rate to a career-best, but his line drive rate was at a career-worst. A chance to not have the stressors of a contract year may be his biggest blessing. If he can get back to peppering balls into the gap, pumping 25-30 balls out of the yard, and playing exceptional defense at a new position, it'll be hard for him not to climb on this list.
5. Brandon Lowe – Tampa Bay Rays (Age: 27)
2021 Stats: 149 G, .247/.340/.523, .863 OPS, 137 wRC+, 39 HR, 99 RBI, 7 SB, 11.1% BB, 27.2% K, 5.2 fWAR, -7 DRS, -4 OAA
Coming off one of the best seasons from a second baseman, this Tampa Bay Ray is entering his prime, and we can't wait to see it. Brandon Lowe is the fifth-best second baseman in the game.
Lowe was second in home runs at the position and number 1 in wRC+ as a 26-year-old, but it was no fluke. He was on pace for 44 HR in 2020, recording an even better wRC+ at 152. He's an offensive weapon that does strike out a lot, but he takes his walks to counteract that.
He's also an above-average base runner on top of one of the best bats at second base. Brandon Lowe finished with a 5.2 fWAR, higher than Bo Bichette, Kyle Tucker, and Freddie Freeman. That's the type of player Brandon Lowe is.
4. Ketel Marte – Arizona Diamondbacks (Age: 28)
2021 Stats: 90 G, .318/.377/.532, .909 OPS, 139 wRC+, 14 HR, 50 RBI, 2 SB, 8.3% BB, 16.0% K, 2.9 fWAR, 0 DRS
Congratulations to certified bag-securer Ketel Marte on the greatest achievement of his life, being the fourth-best second baseman in baseball, per Just Baseball.
We, too, would like $76 million over the next five years, but Marte is objectively more electrifying than we are. The 28-year-old had injuries hamper his 2021 campaign, but he was sensational in the 90 games he did play. Ketel hit .318 with an OPS north of .900, clubbed 14 home runs, and accumulated 2.9 WAR with a 139 wRC+.
During his age-25 season in 2019, Marte was named to his first All-Star team and finished fourth in National League MVP voting, hitting .329 with 36 doubles and 32 home runs.
Traditionally, he's split time, a la Chris Taylor, between the outfield and second base. In 2019, he played 96 games in center and 83 games in second. In 2021, 71 games in center and 20 games at second. The soon-expected promotion of Alek Thomas should make him a full-time second baseman, with Corbin Carroll not astronomically far behind. The argument could be made that Marte was the most enticing trade chip at last year's deadline with how team-friendly his contract was. Ketel Marte has found a home in Arizona and at second base, and he's an absolute star.
3. Max Muncy – Los Angeles Dodgers (Age: 31)
2021 Stats: 144 G, .249/.368/.527, .895 OPS, 140 wRC+, 36 HR, 94 RBI, 2 SB, 14.0% BB, 20.3% K, 4.9 fWAR, 2 DRS
It may seem jarring seeing him in the second base ranks, but with the addition of Freddie Freeman to an already loaded lineup, Max Muncy becomes the third-best second baseman in baseball. It should be noted he did record over 30 games played at second base in 2021.
Muncy is one of the best bats in baseball. Period. He doesn't hit for a high average, but he walked 14% of the time, good for 8th-best in the sport in 2021. Oh, and he hit 36 home runs with 26 doubles. His 136 wRC+ last year would have placed him first out of all second basemen in 2021.
In summary, Max Muncy rakes, and he turns it up a notch higher come playoff time. The only knock on Muncy is defense, as he rates below average at the position, and he's coming off Tommy John. Still, he'll be totally fine and a top-three second baseman in 2022.
2. Jose Altuve – Houston Astros (Age: 31)
2021 Stats: 146 G, .278/.350/.489, .839 OPS, 130 wRC+, 31 HR, 83 RBI, 5 SB, 9.7% BB, 13.4% K, 5.2 fWAR, -3 DRS, 5 OAA
A seven-time All-Star and five-time Silver Slugger might have been dethroned by our top dog's prodigally powerful season, but Jose Altuve is still fully on the fast track to Cooperstown. The 2017 American League MVP has won three batting titles and is a career .308 hitter with a .821 OPS.

Last year, the batting average tapered off. His .278 clip was the lowest he's put up in a full season in his entire career. With that being said, he walked more than he ever has in his career, and his 31 home runs tied his career-high, which he also hit in the 2019 season.
Altuve's game is changing. He stole 56 bases as a 24-year-old in 2014; he stole five this past year. But what he may be losing in athleticism, he's making up for in his approach. A 72-point jump from batting average to on-base percentage in 2021 was the highest disparity of his career, and the 31-year-old will still be the leader of one of the best teams in baseball.
1. Marcus Semien – Texas Rangers (Age: 31)
2021 Stats: 162 G, .265/.334/.538, .872 OPS, 131 wRC+, 45 HR, 102 RBI, 15 SB, 9.1% BB, 20.2% K, 6.6 fWAR, 11 DRS, 7 OAA
Marcus Semien put up the best offensive season of any second baseman last year and the former shortstop also took home a Gold Glove. His career-year was rewarded handsomely in free agency, as the Rangers landed Semien on a seven-year, $175 million deal.
He led the position in home runs, extra-base hits, and fWAR en route to a top-three AL MVP finish in 2021. Semien also set the record for the highest amount of home runs by a second baseman in MLB history.
Since 2019, he has a 15.4 fWAR. That's the best fWAR in the sport, beating out Juan Soto by a full win and a half.
Compared to his position, he's been five wins better than second-place DJ Lemaheiu in that span.
A former shortstop turned elite defensive second basemen, he finished second in DRS at the position and sixth in OAA to take home the hardware. Forget second basemen; he's one of the best players in the game.