Rankings
Top Five MLB Designated Hitters for 2022
Just Baseball's rankings of the top designated hitters in baseball.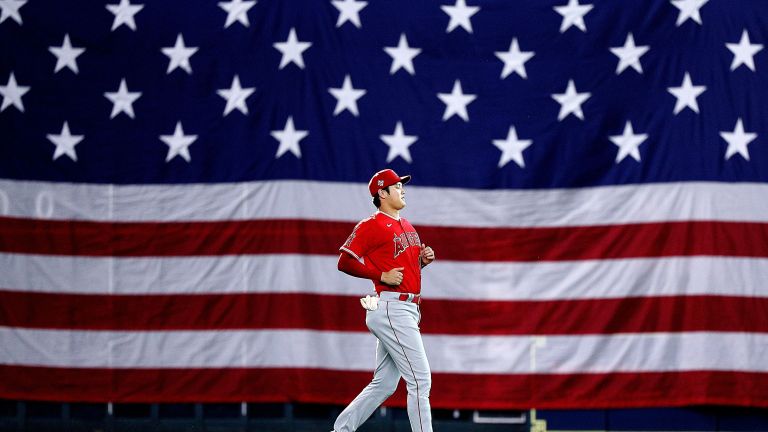 Welcome to our official positional rankings for the 2022 MLB season!
In this series, you'll find our rankings for the best players at each position in Major League Baseball. These rankings are not a measure of performance since 2019; we are projecting the 10 best at each position for 2022.
All types of analysis went into these rankings. We look at every advanced analytic we can to make our lists, but we include intangibles not typically found in the numbers. This is not a perfect list, but no list truly is.
There aren't many primary designated hitters. The top of the list is loaded, but there is a steep drop-off after the fifth spot. Everyone who made this list is still a solid player, but the Top Five have separated themselves offensively in our mind. Due to the offensive nature of the position, we are strictly evaluating the bat for this year.
We will use some advanced baseball jargon in this article. You'll see stats such as WAR, OAA, fWAR, DRS, etc. The defensive stats will reflect their time solely at shortstop. We suggest quickly reading about those stats at the links attached. Please feel free to reach out on Twitter with any questions.
Honorable Mentions
Franmal Reyes – Cleveland Guardians
The Franimal just embarked on his third full big league season, with homer totals of 37 and 30 in his two first full seasons. He can't hit for squat right now, but he'll get over his .355 OPS.
Luke Voit – San Diego Padres
Another guy that can't hit right now! 22 bombs in 56 games led Major League Baseball in 2020. A trade was welcomed, the power numbers aren't there through his first dozen games, but he's walking 20% of the time right now!
Andrew McCutchen – Milwaukee Brewers
Our other options here were Miguel Cabrera and Daniel Vogelbach. I think we chose the best of the three. Cutch Daddy hit .222 last year, but hit 27 jacks!
The Top 5
5. Nelson Cruz – Washington Nationals (Age: 41)
2021 Stats: 140 G, .265/.334/.497, .832 OPS, 122 wRC+, 32 HR, 86 RBI, 3 SB, 10.6% BB, 16.7% K, 2 fWAR, 0 DRS, 0 OAA
Nelson Cruz had his first full season in 2009, and ever since then he's continued to hit nukes, and in 2022, he's still doing it. Cruz signed a one-year deal with the Nationals at 41 years old, and he'll probably play again next year. From 2014 to 2019, Cruz averaged 41 home runs a year, he was on pace for 48+ in 2020, and he hit 32 bombs as a 40-year-old last year. Cruz has never been a boom or bust guy. He has a career average of .273, and has five seasons hitting over .300.
Nelson Cruz is a DH at his core. He's a bigger guy with no speed or defensive ability, but man can he barrel up a baseball.
4. J.D. Martinez – Boston Red Sox (Age: 34)
2021 Stats: 148 G, .286/.349/.518, .867 OPS, 128 wRC+, 28 HR, 99 RBI, 0 SB, 8.7% BB, 23.7% K, 2.9 fWAR, 2 DRS, -2 OAA
JD is one of the more underrated pure hitters in big league ball. Over the course of his 12-year career, if you average out JD's numbers over 162, he's hitting. .289 with a .881 OPS, 38 doubles, 34 homers, and 107 driven in. Last year, he led the American League in doubles and belted 28 jacks. In his first year in Boston, he had a .330/.402/.629 slash line with 37 doubles, and 43 homers, leading the AL with 130 RBI's. He'll never match it again, but if he keeps pumping out .290 clips with nearly 30 homers and 100 driven in, he'll never leave this list.
3. Giancarlo Stanton. – New York Yankees (Age: 32)
2021 Stats: 139 G, .273/.354/.516, .870 OPS, 137 wRC+, 35 HR, 97 RBI, 0 SB, 10.9% BB, 27.1% K, 2.4 fWAR, 0 DRS, -2 OAA
Giancarlo Stanton checks in at number three as one of the most menacing power bats in our game.
Since Statcast started tracking in 2015, Giancarlo Stanton owns the two hardest balls ever tracked at over 122 MPH. There really is no debate about who hits the ball the hardest in baseball, it's Stanton and it's not even that close.
Of all the balls hit over 120 MPH since 2015, he has over 85% of them. His 35 home runs last year marked the fifth time he's reached that height in his career, and he even hit .273 with a .354 OBP. Stanton has been one of the better postseason players in recent memory as well. His 185 wRC+ in the postseason dwarfs his career regular-season wRC+ of 141, even though both of those numbers are elite. Stanton has a lot more barrels to make in his career as he's just 32 years old.
2. Yordan Alvarez – Houston Astros (Age: 24)
2021 Stats: 144 G, .277/.346/.531, .877 OPS, 138 wRC+, 33 HR, 104 RBI, 1 SB, 8.4% BB, 24.2% K, 3.8 fWAR, -1 DRS, 0 OAA
Among DHs in 2021, Yordan Alvarez was second in wRC+, RBIs, Isolated Power (ISO), Slugging%, and WAR. All-in-all, he was a 3.7 fWAR player as a DH last year, with 33 homers, 104 driven in, and a 93 mph average exit velocity on batted balls. Ignore the counting stats in the power department for a moment. In 240 career big league games, Yordan's hitting .288 with a .369 OBP. He gets base hits, he gets on base, he hits line drives at a 38% clip and pulls the ball less than 30% of the time.
And a nice way to bounce back from the COVID-IL? A multi-homer game. The king is back.
1. Shohei Ohtani – Los Angeles Angels (Age: 27)
2021 Stats: 155 G, .257/.372/.592, .965 OPS, 152 wRC+, 46 HR, 100 RBI, 26 SB, 15.0% BB, 29.6% K, 2.3 fWAR, 0 DRS, 0 OAA
Did you really expect anyone else but Shohei Ohtani at number one?
This list ranks DHs so I'll refrain from mentioning he's one of the best pitchers in the American League. First, he led the position in home runs last year at 46. DHs are supposed to hit the ball hard, and Ohtani was in the 97th percentile in hard-hit rate and average exit velocity.
Not only is he the best home run hitter on this list, but he's the only one who stole more than one base, and he stole 26. He also hit eight triples, how many DHs you know are out here hitting triples like that. Ohtani does things we've never seen before on a baseball field, and we can't wait to see what this season has in store for us.