Analysis
Top 10 MLB Players Who Could Get Traded at the Deadline
Shohei Ohtani, Dylan Cease and Blake Snell headline the list of the top 10 best players who could be dealt at this year's MLB Trade Deadline.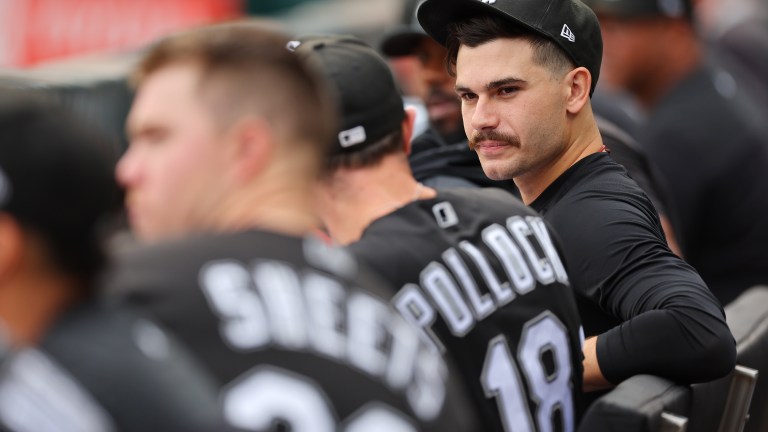 The MLB Trade Deadline is less than two weeks away, putting the pressure on every team in baseball to win now and prove they are contenders. Inevitably there will be teams that lose, who decide that 2023 is not their year and great players could be on the move.
Obviously the Shohei Ohtani sweepstakes is a story one to itself, but there are a lot of other really good players who could hit the market. In the National League in particular, you have three playoff teams from last year who have all nearly fallen out of the race, as the New York Mets, San Diego Padres and St. Louis Cardinals have been major disappointments.
These teams could sell, putting players on the market we never would have dreamed of on Opening Day. Who are the best 10 players who could be dealt at this year's deadline? Read below to find out.
Honorable Mentions: Juan Soto, All the Cardinals, Jeimer Candelario and Lucas Giolito
Our list of honorable mentions includes two guys who will definitely great traded, one who maybe should and a team that could be a live wire at this deadline.
We will begin with the biggest name and the guy who probably won't get traded. Juan Soto.
The reason to trade Soto is simple. With this season looking like a wasted year and Soto only under contract for next season, now would be the time to get value back for a player like this, who could be a free agent within the next 24 months. This circumstance is different though.
San Diego dealt for Soto just last season and traded an absolute haul to get him. It would be pretty surprising to see them punt on the experiment this soon, unless they are sure he isn't ever going to re-sign long-term. If dealt though, he could be the best player moved (depending on Ohtani).
Now to the two players who will be traded. Jeimer Candalerio is in the midst of a breakout season with the Washington Nationals. He's hitting .259/.334/.485, with 15 home runs and a 119 wRC+. Set to hit free agency after this season, the Nats are surely going to cash this trade chip.
Lucas Giolito is in a similar boat with the Chicago White Sox. He is set to hit free agency after the season and has been extremely solid in the White Sox rotation. His 3.96 ERA was inflated by his last start, where he gave up eight runs against the New York Mets.
Giolito has been hearing his names in rumors though, so it would not be surprising if that was looming over him in this latest performance. He will be dealt, it's just a matter of where.
Last from our honorable mentions, we get to the St. Louis Cardinals, which is actually where we begin our top 10 as well.
The Cardinals are open sellers and anyone could be on the move. Theoretically, the Cardinals could trade Paul Goldschmidt or Nolan Arenado, and deal the biggest star at this deadline. More likely, it is someone from the combination of Dylan Carlson, Tyler O'Neill, Tommy Edman or Paul DeJong who could be moved. All good players, none stands out enough to be in our top 10.
10. Jordan Hicks, St. Louis Cardinals
2023 Stats: 40.2 IP, 3.76 ERA,1.50 WHIP, 3.00 FIP, 12.84 K/9, 5.09 BB/9
Contract Status: Rental
We kick things off with a guy who can touch 104, Jordan Hicks. While the overall numbers and track record isn't quite there for Hicks, the stuff is too tantalizing to pass up on.
The Cardinals are going to be able to get a legit prospect back for this rental reliever, because a contending team will view him as the lockdown arm they have been missing in the back of their bullpen.
9. Eduardo Rodriguez, Detroit Tigers
2023 Stats: 14 GS, 83.2 IP, 2.69 ERA, 0.97 WHIP, 3.15 FIP, 9.47 K/9, 1.94 BB/9
Contract Status: Opt-out after 2023, opt-in three-year, $49 million
Eduardo Rodriguez has pitched himself off the Tigers roster with an outstanding second season in Detroit. The Tigers are going to move him, since he can opt out of his contract and should do so after posting a career-year.
The problem for teams trading for E-Rod is that contract however. On one hand, if Rodriguez performs well, he will opt out and is just a great rental. On the other though, if E-Rod were to pitch poorly or even get hurt, he could opt in. This is not going to scare teams away from Rodriguez, but they do have to know they are assuming more risk than they would with other rentals on the board.
8. Jordan Montgomery, St. Louis Cardinals
2023 Stats: 19 GS, 109 IP, 3.14 ERA, 1.23 WHIP, 3.49 FIP, 8.34 K/9, 2.39 BB/9
Contract Status: Rental
While Rodriguez has pitched slightly better than Jordan Montgomery this year, I put them in this order because I know exactly what I am getting if I trade for Montgomery.
Here's a lefty who has been durable, making every start this year and eclipsing 109 innings pitched. He has been very effective and already has the experience of getting traded at the deadline once, having done so just last year.
Montgomery might the best plug and play starter on the board, because so many boxes are checked off where it feels like a sure-thing that teams will be trading for a starter that will give them consistent innings down the stretch of the season.
7. Josh Hader, San Diego Padres
2023 Stats: 36 IP, 1.00 ERA, 0.97 WHIP, 2.40 FIP, 13.50 K/9, 4.75 BB/9
Contract Status: Rental
While the San Diego Padres can talk themselves out of trading Juan Soto, I find it hard to believe they can do the same when it comes to Josh Hader.
Hader was acquired at last year's deadline, with the idea being that the Padres would have a lockdown closer for two shots at the World Series. Now they are sitting 6.5 games back and have the chance to regain some of the value they gave up by trading Hader's last few months of team control.
Now a five-time All-Star, after making the team again this season, Hader has been the most consistently dominant closer in baseball over the last seven years. After pitching to an unsightly 5.22 ERA last year, Hader is back to his unhittable ways, currently sporting an ERA of 1.00.
6. Cody Bellinger, Chicago Cubs
2023 Stats: .311/.367/.527, 12 HR, 35 RBI, 12 SB, 138 wRC+
Contract Status: 2024 Mutual option for $12 million, $5.5 million buyout
Cody Bellinger bet on himself with the structuring of his contract with the Cubs and is about to pay off in a big way. Not only will Bellinger become a free agent after this season, he also could collect an extra million dollar bonus if he wins Comeback Player of the Year.
The 28-year-old is certainly in the running, as he has been great this season.
Bellinger plays good defense in center field, and can shift over to either right or first base given whatever a contending team needs. He has played in all of the big games and bring more power and speed to any ball club who acquires him.
Unless a team surprises us and puts a star on the table that we are not foreseeing (like a Soto), Bellinger stands to be the best position player moved at the trade deadline.
5. Max Scherzer, New York Mets
2023 Stats: 17 GS, 94.2 IP, 3.99 ERA, 1.18 WHIP, 4.42 FIP, 10.17 K/9, 2.47 BB/9
Contract Status: $43.3 million player option for 2024
This is one of the most complicated cases in our top 10, as Max Scherzer holds a full no-trade clause and a $43.3 million player option for next season. There is also every chance the Mets won't even put him on the market, valuing his ability to help them make a push over the next few months and be their ace along with Justin Verlander again next season.
Still, Scherzer was traded just two deadlines ago and it could certainly happen again.
He would get to pick, or at least sign off, on the destination and the Mets would have to eat a lot of money on the deal. At the end of the day, this is still a first-ballot Hall of Famer we are talking about, who should draw interest from any contending team who can afford him.
4. Marcus Stroman, Chicago Cubs
2023 Stats: 20 GS, 118.2 IP, 2.88 ERA, 1.09 WHIP, 3.39 FIP, 7.66 K/9, 3.19 BB/9
Contract Status: $21 million player option for 2024
Similar to Scherzer, Marcus Stroman has a player option for next season, but one he is almost certainly going to opt out of. Stroman has been excellent for three years running now and has truly become one of the most consistent starting pitchers in the game.
There should be a bidding frenzy to get his services in free agency, as a veteran pitcher who relies on his movement and pitchability to consistently get outs year-over-year.
The only reason he is not higher on this list is because the two starters ahead of him simply have better stuff. With that said, there might not be a safer pickup at this deadline than trading for Marcus Stroman.
3. Blake Snell, San Diego Padres
2023 Stats: 20 GS, 108 IP, 2.67 ERA, 1.28 WHIP, 3.56 FIP, 11.92 K/9, 4.92 BB/9
Contract Status: Rental
When Blake Snell took the mound for his 10th start of the season, he was sporting a 5.40 ERA. Since making that start, Snell has literally cut his ERA in half, becoming arguably the best starting pitcher in baseball over that stretch.
In his last 11 starts, Snell has pitched to a 0.71 ERA, giving up just five earned runs across 63 innings pitched. The 30-year-old left-hander has struck out well over 13 batters per nine during that span.
Set to hit free agency after this season, Snell is adding a lot of money to his bank account with the way he is pitching right now. He has already said he doesn't want to move, but that doesn't mean the Padres will hold onto him.
It just comes down to how much the Padres believe they can make a run this year. Snell and Hader are two pieces who could net them a massive return, without taking away from their ball club in 2024. We will see how they feel about their team depending on what they do with these two stud lefties.
2. Dylan Cease, Chicago White Sox
2023 Stats: 20 GS, 107.2 IP, 4.18 ERA, 1.34 WHIP, 3.77 FIP, 10.78 K/9, 3.76 BB/9
Contract Status: Arbitration 2 in 2024
Other guys are pitching better than Dylan Cease this year, but no one holds more trade value. This is a 27-year-old who has two years of control beyond this season and just finished up as the Cy Young runner-up last year.
Cease has seen his numbers tail off this season, but most teams will take one look at his slider and decide it is worth the gamble. There are plenty of teams like the Baltimore Orioles, Arizona Diamondbacks and Cincinnati Reds who have been stockpiling assets in a rebuild for some time and are finally contending this year.
Trading for Cease would allow one of those teams to try to win-now, while knowing you are not mortgaging the future for a guy who will bounce in a few months. Cease can be a team's ace of the future, as he presently is with the White Sox. We will see if Chicago is ready to go into a bit of a rebuild if they cash their best trade piece and deal Cease now.
1. Shohei Ohtani, Los Angeles Angels
2023 Batting Stats: .306/.397/.678, 35 HR, 76 RBI, 11 SB, 185 wRC+
2023 Pitching Stats: 18 GS, 105.1 P, 3.50 ERA, 1.12 WHIP, 3.98 FIP, 11.88 K/9, 3.93 BB/9
Contract Status: Rental
There is no need to spend too much time on Shohei Ohtani, when I wrote an entire article on him being the best rental in the history sports a few days ago. If dealt, this will be the best player who has ever been traded. It will be fascinating to watch what the Angels decide to do.