Analysis
Three Franchises Are Seeking to End World Series Droughts
The underdog Cleveland Guardians, Seattle Mariners and San Diego Padres are each looking to break longstanding World Series droughts in 2022.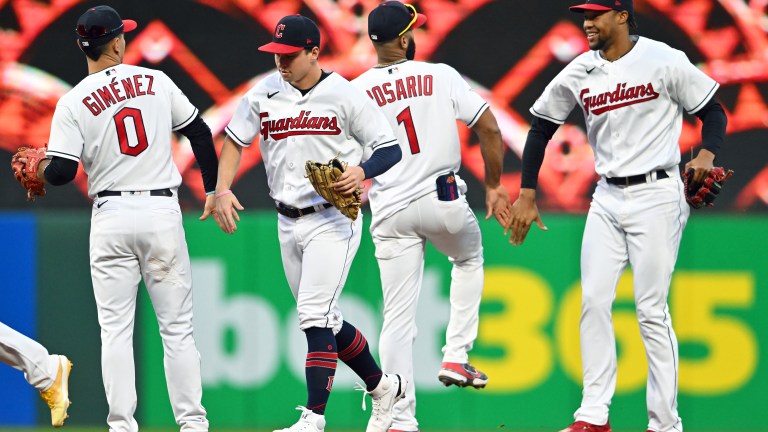 The best way to classify fans as "long-suffering" these days is: if you saw your team win a World Series in HD, complaining is unnecessary.
Of the eight teams left in the 2022 postseason, there's the defending champion, the 2020 winner, the winner from five years ago, the Phillies (whose wait isn't able to obtain a learner's permit), and the Yankees (who won their 27th title in '09 so it's about time they give others a chance to catch up).
Then there are the three looking break spells that have lasted decades. For two specifically—it's lasted the entire lifespan of the franchise.
Cleveland Guardians
Anybody who witnessed Cleveland's last professional baseball title also lived through a universe without color television. Under its previous team name, Lou Boudreau's club captured the 1948 World Series over the Boston Braves.
They returned six years later, boasting a 111-win season, only to fall short against the New York Giants. Not only did Cleveland fail to reach the Fall Classic for 41 seasons, it sunk into oblivion (except when Hollywood wanted to poke fun at them).
By the early 1990s, the franchise was respectable again. By 1995, led by Albert Belle, Kenny Lofton, Manny Ramirez, and Jim Thome, they were elite—and would remain a perennial postseason participant into the next century.
Unfortunately, Cleveland experienced bouts of heartbreak that became the city's sports trademark—especially in their World Series losses to Atlanta in '95 and the Marlins in '97.
Cleveland fell to Florida in a decisive seventh game that went into extra innings. The same fate would befall this star-crossed organization in 2016 when the Cubs quenched an even longer (and more 'celebrated') dry spell.
San Diego Padres
The two instances in which the Padres made it as far the World Series, they had the unfortunate reward of going up against historically great teams. In 1984, San Diego won its first National League crown only to do what most did that season—lose to the Detroit Tigers.
Fourteen years later, the New York Yankees capped one of the greatest seasons ever with the Padres as mere props in their inevitable championship run.
The common thread in these two pennant winners was the player who remains synonymous with this franchise more than 20 years after his retirement and over eight years since his passing. Tony Gwynn, a San Diego native, spent his entire career as a Padre and is the franchise's (brown and) gold standard.
For a club that's never won a World Series since its birth in 1969 and didn't have a no-hitter until just a year ago, it hasn't lacked talent. Dave Winfield, Trevor Hoffman, Rollie Fingers, and Roberto Alomar each played a portion of their Hall of Fame careers in this part of Southern California.
With a front office insistent on bold moves both in the winter and at the trade deadline, the city is seeking an end to a season as perfect as its weather.
Seattle Mariners
It's not simply a World Series title drought. The Mariners have been absent of a Fall Classic appearance in its 46-year history. Their fans though are understandably thrilled to merely be in the postseason, much less win it all. It took more than two decades for the M's to finally be a playoff team again.
That span was spent mostly in irrelevance, tucked away in the Pacific Northwest and out of sight from the baseball landscape. The same status held true for their first 18 years.
But not when Ken Griffey Jr. was around. His presence transformed the Mariners. Suddenly, baseball had its focus on Seattle. Griffey, Randy Johnson, Edgar Martinez, Alex Rodriguez, and later Ichiro Suzuki were more reasons to tune in to the M's—in the regular season and beyond.
In 1995, led by Griffey and Martinez, they saved baseball in Seattle and paved the way for funding on a new stadium with their thrilling five-game victory over the Yankees in the ALDS.
With that, it seemed the Mariners' best days were ahead them. But they never got any further. The '96 club set a major-league record for home runs…and missed the playoffs.
The '97 team broke that homers record again yet couldn't get past the Division Series.
The 2001 squad tied a modern-era wins record (116), only to end up defeated in the LCS and being the last Mariners team to play meaningful October baseball until now.