Analysis
The Seattle Mariners Are Built for Postseason Success
The Mariners' postseason drought is more than twice as long as any other team's. Here's how they can thrive when they get there.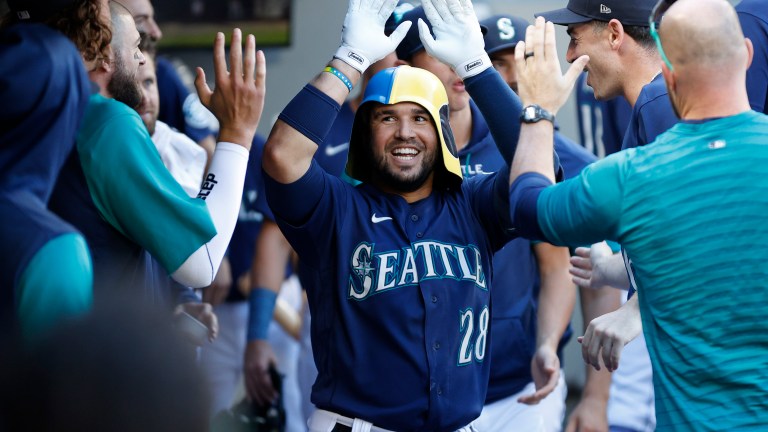 All but set to break baseball's longest active postseason drought of two decades, the Seattle Mariners have their eyes on much more.
Since July 1, Seattle has been one of MLB's best teams, going 40-18 while outscoring opponents by 66 runs. After becoming a nationwide favorite in 2021 thanks to an unexpected run to 90 wins, General Manager Jerry Dipoto was aggressive in the offseason, inking the reigning AL Cy Young winner Robbie Ray to a five-year, $115 million deal while also trading for Eugenio Suarez, Jesse Winker, and Adam Frazier.
However, the two most impactful additions for the Mariners came from within the organization. The team's top prospect, Julio Rodriguez, broke camp with the Mariners, and top pitching prospect George Kirby was not far behind.
A Rocky Start
After going just 21-28 through the first two months of the season, skeptics of the Mariners improbable 2021 run became more apparent. There was concern that Dipoto bought high on career years from Robbie Ray and Jesse Winker, as both struggled out of the gate. Mitch Haniger went down with an injury yet again, as did Kyle Lewis, and Jarred Kelenic seemed to have lost all the momentum he built up at the end of last season.
The bullpen, which had looked so solid last season, seemed to be falling apart. Casey Sadler went down with Tommy John surgery at the start of the season and Drew Steckenrider–the team's closer last year–was a shell of himself before being sent down to Triple-A Tacoma.
Things started to turn around in June. Robbie Ray looked much more like the ace he was paid to be and Logan Gilbert continued to blossom. At the same time, Julio Rodriguez went nuclear. The 21-year-old not only asserted himself as baseball's best rookie, but quickly became one of the game's most dynamic players.
The Mariners won eight of ten games to close the month out and kept the momentum rolling into the All-Star Break. With the expanded playoffs and things trending in the right direction, Dipoto decided to push all of his chips forward.
Just ahead of the trade deadline, Dipoto went out and got another ace in Luis Castillo from the Reds, having to part with top hitting prospect Noelvi Marte along with highly regarded teenage shortstop prospect Edwin Arroyo and a pair of pitching prospects.
Castillo has been dominant since joining the Mariners, pitching to a 2.70 ERA in 43 1/3 innings with 51 strikeouts and just 10 walks.
Sneaky Postseason Rotation
The acquisition of Castillo gave the Mariners two frontline starters. While Ray received the big payday and has pitched well in the second half (3.22 ERA), Castillo easily could be the Game One starter of their postseason series.
Following Castillo would be Ray and then either Logan Gilbert or George Kirby. Gilbert was lights-out to start the season before hitting a bit of snag in the middle of the year. The second-year righty has settled back in of late and still boasts a strong 3.23 ERA on the season while tying Ray for the team lead with 161 2/3 innings pitched.
If rookie George Kirby continues his hot streak on the mound, he may have a strong case as a presumptive Game Three starter in the postseason. Since his blow-up start against the Blue Jays on July 8th, Kirby has shoved. In his last eight starts, Kirby has pitched to a 2.18 ERA and 1.42 FIP along with a ridiculous 47-5 strikeout-to-walk ratio.
Fortified Bullpen
Despite the bullpen looking a bit different than the Mariners brass may have envisioned heading into the season, the team has gotten stronger in that department as the year has gone on. In the second half, the Mariners bullpen ranks top-five in all of baseball in: ERA, FIP, fWAR, WHIP and batting average against.
Electric 23-year-old Andres Muñoz–acquired in the Austin Nola trade–has been one of the best relievers in baseball since returning from an injury that wiped out his 2021 season. A 2.73 ERA, 0.96 WHIP and 40% strikeout rate paints a picture of pure dominance and he has not slowed.
Somehow, Muñoz has not even been the best reliever for Seattle this season. Erik Swanson has been near-unhittable in his fourth season, sporting a 1.07 ERA and 1.68 FIP in 42 innings with 55 strikeouts and just seven walks.
After Matt Brash fought command issues as a starter, the Mariners decided to move the highly regarded prospect to the bullpen where his 70 grade slider and lively fastball have played up. As a reliever, Brash has pitched to a 1.69 ERA in 21 1/3 innings while punching out 33% of batters.
While all seven different Mariners have picked up multiple saves this season, none of the aforementioned relievers are actually the team's closer. That title belongs to Paul Sewald who has converted 18 of 22 save opportunities with a 2.41 ERA and 0.71 WHIP.
The Mariners have also received solid relief contributions from Penn Murfee, Matthew Festa, and Diego Castillo.
Do They Have Enough Offense?
Seattle ranks towards the middle-of-the pack at best in most offensive categories, but their offense has also been one of baseball's more consistent. The third highest walk rate behind the Dodgers and Yankees helps, as even the underachieving hitters in the production department this season like Jesse Winker, J.P. Crawford, Carlos Santana, and Dylan Moore all have walk rates above 10%.
AL Rookie of the Year favorite Julio Rodriguez might be the most feared hitter in the lineup, but the Mariners don't really have a hole in their lineup. Seattle's roster features 10 hitters with a wRC+ above 100 (minimum 100 plate appearances), as well as three hitters with more than 20 homers (Julio Rodriguez, Eugenio Suarez and Cal Raleigh) with Ty France three homers away from joining them.
All eight teams ahead of the Mariners in wRC+ currently hold a playoff spot, and only three of them have a team ERA better than Seattle: the Dodgers, Yankees and Astros. Yes, the three betting favorites to win the World Series.
How Can They Do It?
Between the Astros and the Yankees once they presumably right the ship, it is going to be tough to make it out of the American League, but the Mariners have the ingredients to go toe-to-toe with just about any team.
A postseason staff of Castillo, Ray, Kirby and Gilbert is one of the best we'll see in the postseason paired with a bullpen that has been among baseball's most dominant in the second half in just about every facet.
As is the case for every team that makes a run in the postseason, the Mariners will need someone who is not one of their superstars to step up on the big stage. A finally healthy Mitch Haniger, streaky J.P. Crawford and Jesse Winker or even All Star Ty France–who has had a dreadful second half–all fit the bill.
It goes without being said that Julio Rodriguez will have to continue being the dynamic player that he is, but his game changing speed is perhaps the most underrated aspect of his game and something that every playoff team covets on their October roster.
With as much bullpen depth as any team in the league, a strong rotation and an offense that can carry its weight, it would be silly to think that this Mariners team is satisfied with putting an end to the postseason drought.