Chris Sale is Back
After missing nearly two years, Chris Sale returns in a time of need for the Red Sox.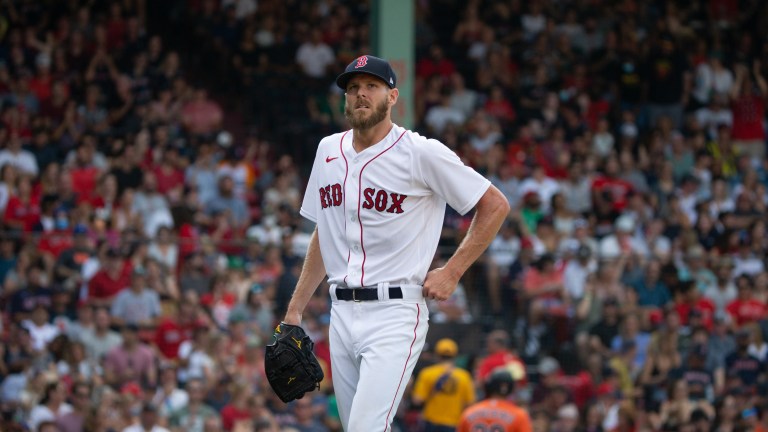 Chris Sale looked like his vintage self on Saturday afternoon. After carving his way through minor league lineups for 35 strikeouts in five rehab starts, Sale dominated against an Orioles lineup filled with barely above replacement level talent. He exited after five innings and 89 pitches, allowing only two runs, six hits, no walks while striking out eight. It was the perfect first challenge for Sale, who hadn't pitched since August 13th, 2019, and a much needed spark for a Red Sox club who is 13-15 since the All-Star break. There are plenty of positives to take from this afternoon's start. Let's get into it.
Elevated Fastballs for the Win
With any return from Tommy John there are concerns with losing velocity, but any concerns were wiped away as Sale averaged 93.4 MPH. The pitching approach was obvious from the start. Sale attacked with fastballs up in the zone, throwing it 53% and getting 10 whiffs on 22 swings.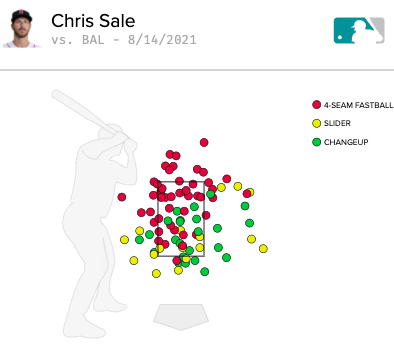 Sale struckout Anthony Santander to end the first inning on a 96 MPH fastball. It was a filthy offering with 16 inches of arm side run and showed the potential of Sale's velocity. Walking off the mound, Sale was as nonchalant as ever. It's back to business as usual for the big lefty and the fans could not get enough. Their king is back.
Even as Sale entered the fifth inning, he showed no signs of tiredness as his fastball continued to sit at 93 MPH. If anything, Sale looked his sharpest in the late innings and should be primed for over 100 pitches next time out against the Texas Rangers; another lineup that sale can dominate to get his confidence sky high.
Varying Speeds and Movement
Speaking of confidence, Sale was aggressive with all of his pitches this afternoon throwing 60 of 89 pitches for strikes and throwing each offering on the first pitch. He threw nine first pitch fastballs, six first pitch change ups and five first pitch sliders, not giving batters any easy swings to begin at-bats.
Sale has a unique ability to vary speeds and movement within each pitch type. He threw fastballs on Saturday ranging from 89-96 MPH, sliders from 74-81 MPH, and changeups from 84-89 MPH.
Batters are never sure what is coming at them because each pitch tunnels off the fastball and even the fastball could be thrown at 90 MPH or 96 MPH. Sale also varies movement on his pitches especially his slider. In Saturday's start, he threw sliders with vertical break ranging from 44-53 inches and horizontal break ranging from 1-13 inches. It's no wonder that Sale makes batters look so foolish at the plate. Even if they recognize the spin as a slider out of the hand, there is no consistency to the movement for hitters to predict pitch location based on spin.
Cheap Home Runs…No Problem
Sale ran into some trouble in the third inning as he gave up back to back home runs to Austin Hays on a hanging changeup and Trey Mancini on a middle-middle fastball. The home run to Hays only traveled 314 feet and barely went over the Green Monster. Only in Fenway can you hit a homerun with a .120 expected batting average. The home runs were the only hard hits the Orioles could muster as Sale settled back in and struck out Pedro Severino to end the inning. Soft contact was the name of the game as Orioles hitters averaged 77.5 MPH exit velocity on batted balls.
Expectations for Sale
From 2016-2019, Sale ranked seventh with a 3.16 ERA, third with 22.7 WAR and first with 28% walk minus strikeout rate, so expectations are undoubtedly high for Sale the rest of the season. Although he faced a banged up Baltimore lineup, all signs point to Sale returning to his ace-like ways and a start against a Rangers lineup that ranks second to last in wRC+ should give Sale all the confidence in the world. His return comes at a perfect time as the Red Sox attempt to close the four game gap the Rays hold over first place.