Analysis
The Boston Red Sox Need A Healthy Chris Sale In 2023
The Boston Red Sox roster underwent some changes this past offseason but they look to gain Chris Sale back for the 2023 season.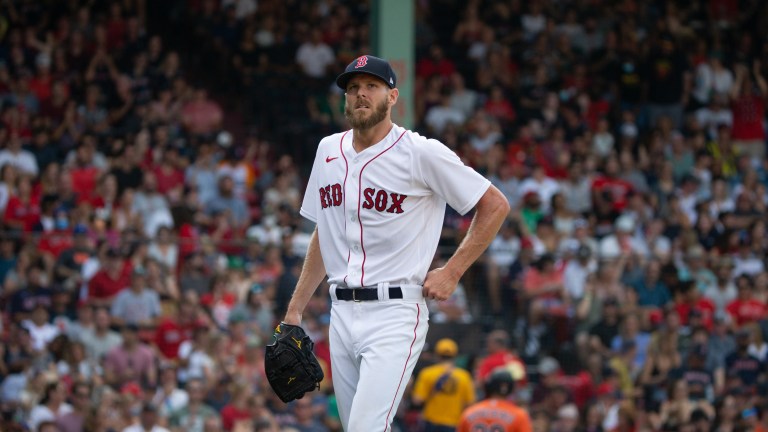 Last season, the Boston Red Sox finished last in a stacked AL-East division, finishing with a 78-84 record, 8.0 games back of a Wild Card playoff spot. The Red Sox squad suffered a few key injuries, with infielder Trevor Story missing some time on the injured list while a mix of players ranging from Michael Wacha, Garrett Whitlock, and Nathan Eovaldi also missing time on the IL at some point in 2022.
None of those injuries compared to losing left-hander Chris Sale, as Boston's ace only made two starts last season, posting a 3.18 ERA through 5.2 innings. He suffered a stress fracture in his rib cage while pitching during the lockout with his alma mater, Florida Gulf Coast University. He later made his debut for the Red Sox on July 12th against the Rays, going five innings.
His next start didn't turn out so well, as a comebacker from Yankees outfielder Aaron Hicks broke Sale's pinkie finger on his throwing hand, putting him back on the IL. Fast forward to early August and the final blow was dealt, as the Florida product broke his right wrist in a freak bike accident, officially ending his season.
Chris Sale Enters 2023 With a Clean Bill of Health
The past few seasons have been tough for the former White Sox starter, as he underwent Tommy John surgery in early 2020 and missed the whole campaign, returning on August 14th and making nine starts on the year.
Since 2019, Sale has made just 36 starts and owns a 4.09 ERA through 195.2 innings, posting a 3.43 FIP and a 118 ERA+. While injuries have limited him on the mound, he still has the ability to strike out opposing batters, posting a 12.6 K/9 while limiting the free passes to 2.3 BB/9.
Heading into 2023, the Boston Red Sox roster has undergone some pretty significant changes. Gone are a few key players in Eovaldi, Xander Bogaerts, Matt Strahm, and J.D. Martinez, while the front office has added a few new pieces in the form of RHP Kenley Jansen, 3B Justin Turner, RHP Chris Martin, OF Masataka Yoshida, and OF Adam Duvall. They also extended 3B Rafael Devers to a 10-year deal worth $315 million and will have Sale back and ready to go to begin the season, although they will miss Story to start the year due to an elbow injury.
Looking at the projections for the southpaw, Steamer is predicting he will appear in 26 games and post a 3.47 ERA through 147.0 innings. Overall, the Red Sox will likely be hoping for more from their star pitcher in terms of outings and innings, but considering the amount of time he has missed these past few years, 26 starts might be a safe number for the 2023 season.
Where Do the Red Sox Stand in the AL East
In a stacked AL East division, having a healthy Sale back will be a big boost for Boston and they will need him at his best this season, especially after losing Eovaldi, Rich Hill, and potentially Michael Wacha (the right-hander remains unsigned).
Those three combined to make 69 starts last season, which is a big chunk of change removed from the rotation, but the Red Sox will enter 2023 with a potentially healthy James Paxton, along with a supporting cast of Nick Pivetta, newly signed Corey Kluber, and a mix of Whitlock, Bryan Bello, and Josh Winckowski.
With all this in mind and the influx of younger talent combined with Paxton's health concerns, the club needs Sale to return to form in 2023, otherwise, it will be tough to compete in the AL East even with the added benefit of playing fewer games within the division given the new schedule changes.
The biggest question mark will be whether Sale can return to form in 2023 and stay on the field, hopefully avoiding the freak injuries that limited him last year. If he can come near what Steamer is projecting for him in 2023, the Red Sox could be a team that surprises many in the AL East next season.