Analysis
The Tale of Two Chris Sales
After years of being marred with injuries, the Boston Red Sox ace is back on the mound and hoping to build off his first good start of 2023.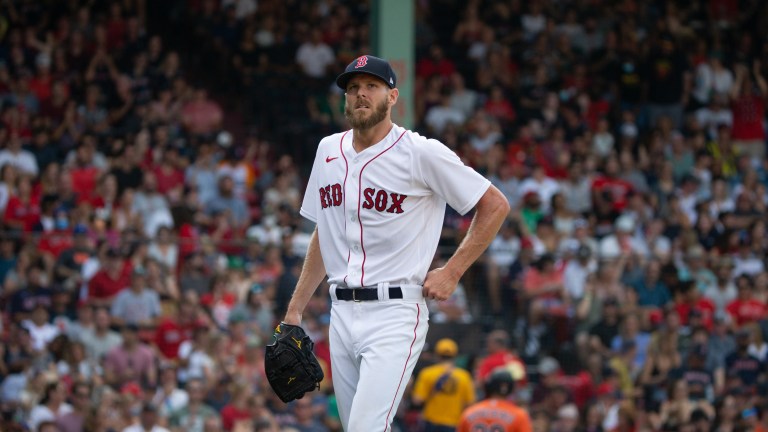 Throughout his career, Chris Sale has been known as one of the most dominant pitchers in baseball. An intense presence on and off the field, Sale expects the best of himself.
The past few seasons for Sale have been a roller coaster. He hasn't been fully healthy since 2018 and has only 11 appearances over the last three years. This season, Sale is finally healthy and ready to reestablish himself as an ace pitcher. But he didn't get the start to the season he was hoping for.
Over his first three appearances he gave up 15 earned runs over 12 innings, allowing 18 hits, five home runs and seven walks.
He's back physically, but mechanically he's off. His velocity is down and his command is off. He can't find the zone and when he does, he hanging the ball. He throwing balls in the strike zone only 50 percent of the time and 10 percent of those are over the middle of the plate.
His fastball has become his most hittable pitch. Opponents are 13-for-26 off of it with four home runs.
"A lot with him is just getting fastball command back under control," pitching coach Dave Bush told The Boston Globe. "Getting his fastball back in the zone consistently sets up the rest of the mix."
His slider, usually one of the filthiest in baseball, has been off too. Although he has 12 strike outs with it, the horizontal movement has dropped from 14-15 inches down to 11.5 inches.
The Red Sox went 2-1 during Sale's first three starts, but that doesn't matter to Sale. He told MLB's Ian Browne, "I've just got to be better. That's what I'm here for."
Sale has always been the first to criticize himself after a bad outing. He wears his emotions on his sleeve and never shies from showing his frustrations. He uses that frustration and as a motivator, always promising to be better.
"[I have] all the confidence," said Sale. "That's who I am. I'm going to continue to work. I'm going to continue to grind. Just got to figure it out before someone else does first."
That work seemed to come to fruition Tuesday night against the Twins. Sale looked like his vintage self on the mound. Earning his first quality start this season, Sale struck out 11 batter over six innings, allowing only one run off three hits.
He found that control he'd been missing in his previous starts. Even when he ran into trouble, he was able to pitch his way out, something he wasn't doing in his previous starts.
"This is what we've been working for, for nights like tonight," Sale said after the game. "It's who I expect to be. It's who I need to be."
The Twins couldn't catch up to Sale's fastball and the slider moved how it is supposed to. It was he first time in years Sale has looked like himself.
"I know who I need to be for this team and what that's going to take," Sale said. "I can't be who I was. I gotta be who I was tonight, and I gotta continue to build off of that."
Sale showed that somewhere inside of him, he still has it. Red Sox fans can breathe a sigh of relief for now, but should proceed with caution. Questions of consistency and durability continue to surround the pitcher.
If he's going to build off of this start, he has got to stay healthy. A slew of baseball and non-baseball related injuries have kept him from pitching on a regular basis for years. It's hard to find your mechanics when you can't throw a baseball.
Now that he is back at full strength, he needs to take every precaution to stay that way.
Sale is fiercely determined. If he's able to put in the work, he'll find his groove, and it couldn't come at a better time for the Red Sox.
The team, much like Sale, looks outstanding in one game and mediocre in the next. A dependable Chris Sale could go a long way in steadying the ship. There is still work to be done, and Sale knows that, but his latest start was a big step in the right direction.
"It doesn't stop now," Sale said. "This is one start, just like all the other ones were one start."