Analysis
The Guardians Have a Frontline Starter in Triston McKenzie
Triston McKenzie has oozed with arm talent since his high school days in South Florida. Now, it's starting to blend with a mature presence on the mound.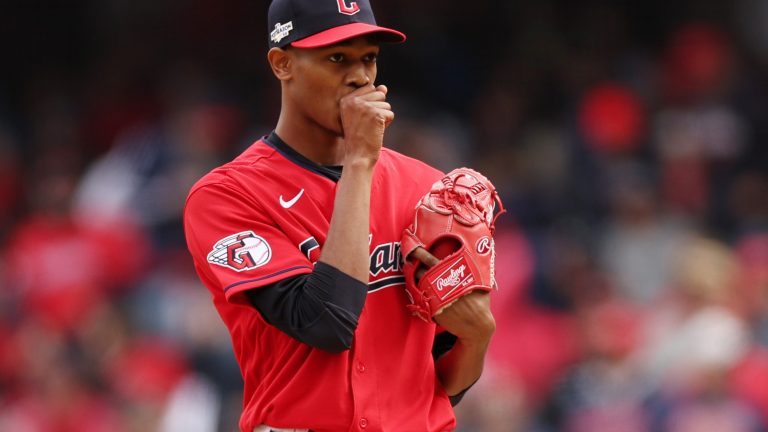 The Guardians have been tantalized by Triston McKenzie's upside ever since they selected him in the first round of the 2015 MLB Draft out of Royal Palm Beach High School in South Florida. At 17 years old, McKenzie was one of the younger players in his class, but already towered at six feet, five inches tall.
With his big frame and long levers, there was hope that McKenzie would grow into big-time velocity. While he sits more in the 92-94 mile-per-hour range with his fastball, it is his vastly improved command that has him looking like a frontline starter for the Cleveland Guardians.
The 25-year-old showed off his improved pitchability throughout the entirety of the second half, sporting a 2.70 ERA in 90 innings while walking just 17 batters. McKenzie's 5.9% walk rate this season was halved from his 2021 mark. He kept that momentum rolling into the postseason when he joined Shane Bieber, Bartolo Colon, and Trevor Bauer as the only Cleveland pitchers to pitch at least six innings while giving up one run or less and striking out eight or more in a playoff game.
It was also McKenzie's first playoff start.
Spinning and Winning
McKenzie's curveball has been viewed as a plus pitch since his prospect days. The pitch has so much depth that it was often difficult to consistently land for a strike. While still a great put-away pitch, McKenzie was forced to lean on his fastball and less-effective slider more frequently.
After spotting the curve for a strike just 58% of the time last year, McKenzie saw that figure jump by 7% while increasing his usage of the pitch. McKenzie's improved ability to spot his curveball has forced hitters to pull the trigger more frequently rather than labeling it as an auto-take. As a result, chase rates have jumped by more than 7% on his curveball, helping it play up as an out pitch as well.
At 22% pitch usage, McKenzie's curveball held opponents to a .120/.137/.203 slash line with 85 strikeouts in 161 plate appearances. Even more ridiculous, righties were just 3-for-61 with 37 strikeouts against the pitch this season.
Dominant Fastball
Even without elite velocity, McKenzie's fastball boasts more than 20 inches of induced vertical break, helping it play phenomenally at the top of the zone. Much like his curveball, McKenzie has located his fastball much more effectively, showcasing impressive command to all four quadrants.
The shape has always been there for McKenzie, but developing east/west confidence in the pitch has helped it reach another notch of dominance. By run value, McKenzie's fastball was the 14th-best in baseball, behind names like Justin Verlander, Dylan Cease, Julio Urias, Zac Gallen, and other proven arms.
Beyond the ideal shape of the pitch, McKenzie hides the ball well with his over-the-top release point, making it difficult to differentiate from his curveball. The two pitches pair extremely well off of each other, as his curve from a high release point drops like a hammer while the fastball looks like it is taking off through the top of the zone.
McKenzie will get plenty of chases at the letters with his heater, but he has a ton of zone confidence in the fastball as well. You'll see his battery-mate Austin Hedges often go back and forth from being set up inside on a hitter to away from him within the same at-bat. The way that McKenzie is able to spot his fastball to all four quadrants allows Hedges to call his best game and pick hitters apart.
After allowing an OPS of .839 on his fastball last year, McKenzie held opposing hitters to a .643 OPS on the fastball this season while landing it for a strike 5% more frequently.
Slider Tweaks
The slider has always been the third pitch for McKenzie. He has used it with moderate effectiveness as a big leaguer, but compared to his curveball and fastball, the pitch left a bit to be desired. The right-hander tightened up his slider this season, seeing a one mile-per-hour jump in velocity while also locating it more effectively.
While the slider is not a whiff machine like his other two offerings, it gives McKenzie a weak contact inducer that he can go to early in counts. Much like the rest of his arsenal, McKenzie saw a 6% jump in strike rate on the pitch. McKenzie loves going to his glove-side with his slider, breaking away from right-handed hitters.
A breakout season for McKenzie is not over yet, as he is slated to get the ball in Game 3 of the ALDS against the Yankees. Regardless of the outcome of that game, it is clear that things have started to click for the talented 25-year-old.
While McKenzie has enjoyed career-best marks in most areas, we probably have not seen close to the best from the former first-round pick. Mckenzie figures to be a huge part of the Guardians future and has already become the wingman to Cy Young winner Shane Bieber. It may not be too long before McKenzie takes the reins as the team's ace, and that's no slight of Bieber.