Analysis
MLB Best Bets Today: Predictions, Odds for Athletics vs. Guardians, Reds vs. Cardinals for June 10, 2022.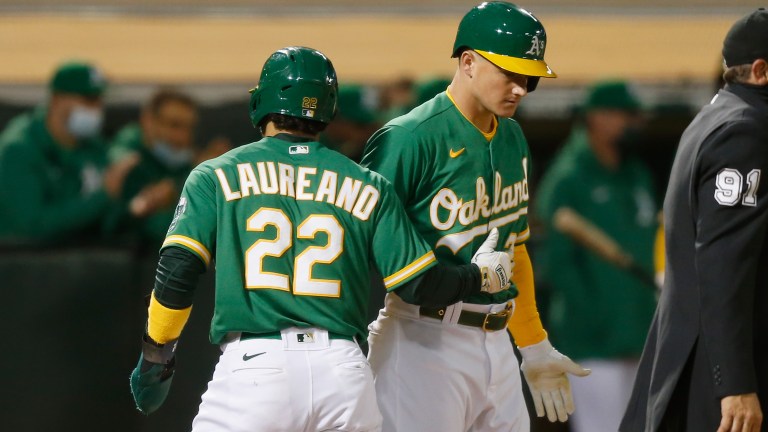 Garbage day yesterday. I bet on previously banned teams, and it came back to bite me.
We took the Yankees through the first five innings, and Gerrit Cole had one of the worst starts of his career. The Yankees ended up winning the game and covering the spread. We were just on the wrong side.
We took the Brewers through the first five, and those damn Phillies got to us again.
We did take Diamondbacks ML and the Rockies ML as big underdogs, but they weren't official picks, but you could find extra picks on my Twitter.
Big bounce-back day. Let's get into it.
2022 MLB Regular Season Record: 91-75 (55%) +10.15 units
Subscribe to my New Gambling/Fantasy Baseball Podcast: Not Gambling Advice
Oakland A's @ Cleveland Guardians: 7:10 PM EST
Paul Blackburn (RHP, Athletics) [5-2, 2.62 ERA, 1.06 WHIP, 58.1 IP, 44 K, 14 BB]
Triston McKenzie (RHP, Guardians) [3-5, 3.10 ERA, 0.86 WHIP, 58 IP, 49 K, 16 BB]
We head to Cleveland for the second game of a four-game set. The Guardians won 8-4 yesterday, rallying after the sixth inning without their manager Terry Francona. This matchup today should not feature that amount of run-scoring.
Triston McKenzie will get the ball for Cleveland, who's throwing more strikes than ever and is finding the most success he ever has. He's always had loads of potential; it's just his command has been in question.
While he does have 16 walks this season, his WHIP at 0.86 is fantastic, one of the lowest in the AL for pitchers that qualify.
McKenzie's only real issue this year has been the home run ball. He's allowed nine this year in 10 starts, which isn't all bad, but we'd like to see the number come down. I don't see the A's connecting on any home runs today, as the A's have the worst slugging offense of any team, especially against right-handed pitching.
While Progressive Field is an average park in terms of offense, the wind will also be blowing in today. That should bode well for sinkerballer Paul Blackburn.
Paul Blackburn is a groundball pitcher, rocking a high 51.2% GB rate and a low FB rate at 18.0%. Blackburn has only allowed three home runs this season and is in the 68th percentile in xSLG.
Blackburn has been fantastic on the road this season. In 31.2 innings on the road, he's 4-0 with a 1.14 ERA. At home, he's 1-2 with a 4.39 ERA in 26.2 innings. Mckenzie's splits are the opposite of Blackburn's, as he's been better pitching at home this season.
I expect both starters to turn in six innings of solid performance before the bullpens do the cleanup duty. The Guardians have the third-best bullpen ERA in baseball, and Emmanuel Clase did not pitch yesterday.
The A's bullpen is in the bottom five of ERA, but a lot of that destruction has come at the hands of Lou Trivino, who has a 9.20 ERA after allowing four earned runs yesterday while only getting one out.
The only concern here is the A's bullpen. If the A's can shoulder the load after Blackburn, we should see an easy hit on the under. Even if they allow a few runs, I still think we can keep it in striking distance.
As of now, 93% of the money is on the over, yet the total has gone from 8 to 7.5. That's a clear showing that the under is the right play. I'm taking it.
The Pick: Cleveland Guardians vs. Oaklands A's Under 7.5 (-110)
1.1 Units to Win 1 Unit.
___________________
Cincinnati Reds @ St. Louis Cardinals: 8:15 PM EST
Luis Castillo (RHP, Reds) [2-3, 3.55 ERA, 1.12 WHIP, 33 IP, 34 K, 12 BB]
Andre Pallante (RHP, Cardinals) [1-0, 1.23 ERA, 1.47 WHIP, 29.1 IP, 20 K, 14 BB]
We head to St. Louis for the first game of a three-game set. The Reds finished up a four-game series against the Diamondbacks and now have to travel from Cincinnati to St. Louis without an off-day. The Cardinals were swept in Tampa and now have to travel from Florida to their home without an off-day. Not only is that a recipe for slow bats, but we have an excellent pitching matchup.
Luis Castillo toes the rubber for the Reds today, who's been electric in his return from injury. His velocity is down a tick from last season, but he's still averaging over 96 MPH on his sinker and fastball, and his changeup and slider are still disgusting.
Castillo is one of the better pitchers in the National League, and he's better while pitching on the road.
The Cardinals have a great offense, but it's at its best against left-handed pitching. They have the 15th best OPS as a team against right-handed pitching. In the last three weeks, they rank 17th in wRC+ against right-handed pitching at home.
Luis Castillo has plenty of experience against the Cardinals, and it's been excellent. In 182 PA against the Cardinal's current roster, he's held them to a .250 batting average and a .238 xBA. He has a 23.1% K rate with a .392 xSLG. Harrison Bader and Tommy Edman are the only hitters in the lineup with any real success against Castillo.
Opposing Castillo will be Andre Pallante, followed by a Cardinals bullpen that is well-rested after Miles Mikolas pitched all eight innings for them yesterday.
Pallante has recently transitioned into a starter's role but doesn't tend to go very long. He typically goes 3-4 innings and hasn't allowed more than one run in a start since he transitioned.
The Reds' offense has been solid lately, but they should be without two key starters. Nick Senzel is day-to-day with a back injury, and Tyler Stephenson will most likely hit the IL.
According to ballparkpal, Busch Stadium is projected to be the second-lowest run-scoring environment on the slate today. We have wind blowing in, leading to an 8% decrease in projected runs. According to baseball savant, Busch Stadium is also the fourth-worst ballpark for offense.
I'll be on the under with all of these factors in play.
The Pick: Cincinnati Reds vs. St. Louis Cardinals Under 8 Runs (-110)
1.1 Units to win 1.0 Units
______________
I've written up a quick guide with critical terms and helpful tips.