Analysis
The Best Bargain Contracts in Major League Baseball
Yordan Alvarez and Sandy Alcantara headline a list of the best players in baseball, who are signed to the most team-friendly contracts.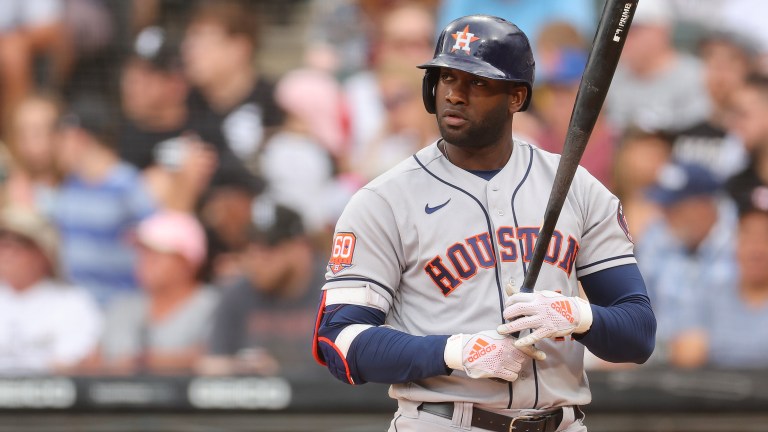 This offseason we have seen a lot of money get spent around the game of baseball. With a new Collective Bargaining Agreement in place, the league has seen one of it's most active and fruitful free agent periods in a long time when it comes to players getting paid.
Some deals will ultimately prove to be better than other, but ultimately signing players to long-term deals is never an exact science. We can guess what contracts will be better than others, but until the games are played, we really will never know.
As we look around baseball, identifying the best contracts in the game comes down to the value teams are getting, compared to the dollars spent on the given player.
Today we will look at the top three most valuable position player contracts in MLB right now, as well as the top three pitcher contracts. Let's start with the bats.
3. J.T. Realmuto
The Phillies backstop has been one of the best catchers in baseball for quite some time now. His first four years were solid, but he really broke out in his last year in Miami in 2018, where he was an All-Star and won his first Silver Slugger.
Following that season he was traded to Philadelphia, where he would enjoy one of the best years of his career earning a Gold Glove and Silver Slugger. He was also an All-Star and finished 14th in MVP voting. In 2021 Realmuto signed a five-year, $115 million dollar deal with the Phillies.
His AAV (average annual value) is around $23,875,000. While this is a lot of money, that is the price of doing business when we are talking about arguably the best all-around catcher in baseball.
With two Gold Gloves and three Silver Sluggers to his name, Realmuto has been a massive addition for the Phillies on both sides of the ball. Although he is the most expensive catcher in baseball, the production is there and he is far better than the second-highest paid catcher Salvador Perez, earning just $3 million less than Realmuto.
In terms of the Phillies payroll, which is a star-studded lineup, he is just the fourth-highest paid player behind Bryce Harper, Trea Turner, and Zack Wheeler. He is also paid about the same as star hitter Kyle Schwarber. To get this kind of value for the 34th most expensive contract in baseball is just about as good as it gets. Not to mention Realmuto's contract expires in 2025 when he turns 35, perfect timing as he will likely start to regress.
2. Jose Ramirez
The Guardians switch-hitting third baseman Jose Ramirez is a super star. He is a four-time All-Star and four-time Silver Slugger, has finished in the top-six in MVP voting in five of the last six years and somehow the Guardians will only have to pay him $14 million in 2023, which ranks as just the 88th highest contract in all of baseball.
Newly acquired international star pitcher Kodai Senga of the New York Mets, who has never thrown one pitch in the MLB, will earn more in 2023 than Jose Ramirez. Ramirez signed a seven-year $141 million deal that will keep him on the Guardians through the 2028 season where he will turn 35.
The Guardians currently have the 25th-highest team payroll in all of baseball and Ramirez won't even make the most on the team in 2023. While the Guardians will have to pay him more money each year of his contract, the most they will ever have to pay him is $25 million in 2028. This number is well worth it for one of the best hitters in all of baseball. As it stands right now $25 million in 2028 would only make him the second-highest paid at his position and tied for 15th in all of baseball.
1. Yordan Alvarez
Yordan Alavarez has the best contract in all of baseball from a team perspective. Alvarez is undoubtedly a top-three hitter in MLB and despite being pretty bad in the field, his value is still sky high, especially considering more often than not he is the DH for the Astros.
Alvarez has been dominant at the plate from the very start of his career in 2019, when he won Rookie of the Year after slashing .313/.412/.655, with 27 home runs as just a 22-year-old. Last season was his best season where he earned his first Silver Slugger, was an All-Star and finished third in MVP voting.
It is very safe to say that Alvarez is a generational talent, which is why it is shocking that in 2023 he will only earn $7.8 million, just the ninth-highest on the Astros. He recently signed a six-year, $115 million deal that will keep him in Houston through 2028 when he turns 31. In 2028, the Astros will have to pay him $26.8 million, which is just the 13th-highest in baseball. This is very low considering his top end production. Now let's look at our top three pitching contracts:
Top Three Bargain Pitchers in Baseball
3. Luis Castillo
For the first five years of his career Luis Castillo had been an average pitcher on an awful Cincinnati Reds team. However, this past season he took the league by storm posting a 3.07 FIP (14th in all of baseball), 10.0 K/9 (11th in all of baseball), 6.8% barrel rate (19th in all of baseball), and a 3.7 fWAR (19th in all of baseball).
It quickly became clear this season that Castillo is a budding star. Shortly before the deadline the Reds traded him to the Mariners to assist in their long-term rebuild. Meanwhile he posted fantastic second half numbers to help the Mariners make their first playoff appearance in 21 years.
Castillo signed a five-year $108 million deal that will make him a Mariner through the 2028 season when he will turn 35. In 2023 he will earn $11.4 million, making him just the 113th most expensive player in baseball. A number that is far too low for a player of his caliber. 2028 will be the most expensive year of his contract where the Mariners will owe him $25 million. That will make him the third most expensive starting pitcher that year as of right now. However, if he continues at the pace he is on, it is well worth it for an extremely young and talented Mariners team.
2. Freddy Peralta
Freddy Peralta is just 26 years old and has been great for the Brewers for the past couple of years now. He broke out in 2021 earning his first All-Star appearance posting phenomenal numbers finishing top-15 in all of baseball in WAR, top 10 in FIP, ERA, and top 3 in K%. Unfortunately he suffered a few injuries during the 2022 season, leading to just 78.0 IP which is just over half as many innings as he pitched in 2021.
That said, he was still able to post great numbers when he was on the mound. Peralta is locked up through the 2026 season, where he will turn 30 years old.
However, he has a club option beginning in 2025. He will only be paid $3.7 million in 2023 making him the 235th most expensive player in baseball, an absolute steal for the Brewers. If they decide to pick up his option in 2025 and keep him through 2026, they will owe $8 million during that two-year stretch. If he continues to progress he should be valued as a top end pitcher in baseball and to pay him less than $5 million for another two seasons is as valuable as it gets.
1. Sandy Alcantara
The reigning NL Cy Young winner currently holds the best contract among pitchers in all of baseball. Since his rookie year in 2017 he has been an above-average pitcher. 2019 was his breakout year where he made his first All-Star appearance posting impressive numbers that for the most part went unnoticed due to the Marlins being one of the worst teams in baseball with a 57-105 record.
He continued to perform well in 2020 and 2021, again largely going unnoticed. However, it was impossible to miss the ridiculous stats he posted this past season leading to his first Cy Young award. Below is how he compared to the rest of the league: 4th in fWAR (5.7), 1st in complete games (6), 1st in IP (228.2), 9th in WHIP (0.98), 8th in FIP (2.99), 5th in ERA (2.28), 7th in HH% (26.5%), 4th in Barrel% (5.2%), 312th most expensive contract ($3.8 million).
For the insane value he provided the Marlins this may be one of the best contracts of all time. Alcantara is locked up through the 2027 season where he will turn 31 years old. However he has a club option in the final year of his contract.
Alcantara is on a five-year $56 million deal that will pay him $6.3 million in 2023, $9.3 million in 2024, $17.3 million in 2025 and 2026, and lastly $21 million in 2027 if they pick up his option. If he continues to perform just a fraction as well as he did in 2022 he should be paid as one of the top pitchers in baseball. In the most expensive year of his deal (2027) he will only be the seventh most expensive starting pitcher and the 30th most expensive player among all positions. This contract represents arguably the best bargain in baseball.