Analysis
The Worst Contracts in Major League Baseball
Checking in on some of the game's worst financial commitments and what makes them so detrimental.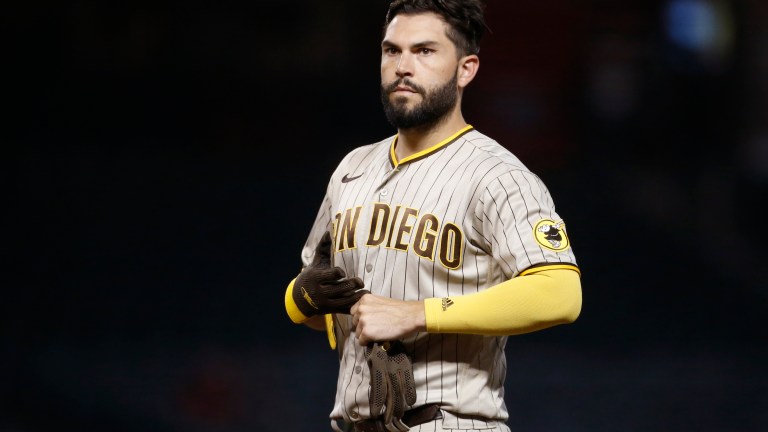 Bad contracts. Nothing can cripple, or at least handicap, a franchise for years like that of overpaying the wrong player(s). Sometimes, all it takes is one bad move to lead to a domino effect of destruction within an organization (ex: the Orioles shelling out $161 million to Chris Davis in 2016).
There are many brutal deals throughout the game today, but we've picked seven especially rough monetary arrangements to hone in on.
HM: Giancarlo Stanton – New York Yankees
This list wouldn't be complete without at least including Giancarlo Stanton as an honorable mention. Unlike the players we'll be getting into later in this article, Stanton is still a highly productive MLB hitter. He finished top-20 in baseball in home runs (35) and wRC+ (137) in 2021.
However, as a primary DH, he provides little to no defensive value (combined -1 DRS over the last three seasons), and he's injury prone: Stanton has played in just 338 of a possible 546 regular season games (61.9%) in four years with the Yankees. For someone still due an egregious $189 million in guaranteed money through 2027, that's just not going to cut it. If his bat falls off even a little in the coming years, this contract will become a nightmare.
5. Jason Heyward – Chicago Cubs
Signed prior to the 2016 season, Heyward jumped from the Cardinals to the rival Cubs via an 8-year, $184 million pact. Through his first six seasons (2010-2015), Heyward proved to be an elite defender with a solid bat. However, the offense fell of a cliff the moment he stepped onto Wrigley Field. Since 2016, Heyward has five seasons with a wRC+ of 100 or less, and three seasons under 90. Even his defense has gone from elite to good in recent years.
Moreover, the 32-year-old outfielder still has $44 million left on his contract over the next two years. With all that being said, Heyward did at least contribute defensively to the Cubs' drought-ending 2016 World Series championship (finished top-25 in MLB in DRS that season). That's what kept him at number five on this list.
| | |
| --- | --- |
| Career fWAR | |
| Prior to Current Contract | 25.2 (6 seasons) |
| During Current Contract | 8.1 (6 Seasons) |
4. Robinson Cano – New York Mets
This one is a disaster for so many reasons. For starters, the only reason the Mets even have Cano is because of their stunning decision to deal uber-prospect Jarred Kelenic, as well as Justin Dunn, to Seattle for him and Edwin Diaz back in December of 2018.
Secondly, Cano was suspended for the entire 2021 season due to his second run-in with PEDs (although that did save the Mets from paying him $20.25 million, so maybe it was actually a win for them). New York still owes the 39-year-old $40.5 million over the next two years, while the Mariners still owe him the remaining $7.5 million of his guaranteed $48 million.
It does need to be mentioned, however, that Cano was a 142 wRC+ hitter last time we saw him over 182 plate appearances in the COVID-shortened 2020 season. Plus, the National League is fully expected to add the designated hitter whenever the 2022 campaign gets underway, which should benefit the aging Cano. However, way too much has already gone wrong in this marriage and the chances of Cano being relevant over the next two seasons feels like a pipe dream.
3. Miguel Cabrera – Detroit Tigers
It pains me to include one of the best hitters in baseball history in this article, but there's simply no way around it. Cabrera, like many other greats before him (Pujols, Rodriguez, etc.), is being paid for past production. When Miggy signed his 8-year, $240 million extension before the 2016 season, he was widely regarded as one of the best players in the game. He was a two-time MVP (2012 and 2013) and 10-time All Star in his first 13 MLB seasons.
Unfortunately, he hit a wall barely after the ink dried on his new deal. While 2016 was another All-Star campaign for the future Hall of Famer, it would be his last. Since 2017, Cabrera has hit just 56 combined home runs and posted a wRC+ under 100 three times. Additionally, Cabrera is still due another $80 million guaranteed, meaning the Tigers will feel the ramifications of this deal for several more years.
| | |
| --- | --- |
| Career fWAR | |
| Prior to Current Contract | 65.6 fWAR (13 Seasons) |
| During Current Contract | 4.6 fWAR (6 Seasons) |
2. Eric Hosmer – San Diego Padres
In a move that seemed like a massive overpay from the day it was signed, Eric Hosmer's eight-year, $144 million contract with the Padres is aging about as poorly as expected. Through four years in San Diego, Hosmer has a combined fWAR of 0.5. He has also posted a wRC+ of 102 or less in three out of four seasons.
A ground ball king at the plate, Hosmer ranked 115th out of 132 qualified hitters in ISO in 2021 (.126), and had the second-highest ground ball rate in the game (55.5%). That's not acceptable offensive production from the first base position.
The returns have been so disappointing that the Padres were rumored to be willing to attach a high-end prospect to Hosmer in order to dump his contract via trade last summer. Ultimately, there were no takers. Hosmer was signed in 2018 to symbolize that San Diego was committed to fielding a winning ball club after years of disappointment.
Instead, the $59 million he's still owed is getting in the way of the Padres' dreams. Don't take my word for it, just look at what resident Pads' fan Javi Reyes has to say…
| | |
| --- | --- |
| Career fWAR | |
| Prior to Current Contract | 10.4 (7 Seasons) |
| During Current Contract | 0.5 (4 Seasons) |
1. Patrick Corbin & Stephen Strasburg – Washington Nationals
Individually, each of these contracts are among the five worst in baseball currently. The fact that the same team is on the hook for both of them earns the Nationals our top spot. Still owed a combined $257 million ($175 million to Strasburg, $82 million to Corbin), these two deals could keep the Nationals from being competitive for years.
Last season, Patrick Corbin was quite possibly the worst pitcher in baseball. His 5.89 ERA was easily the worst among the game's 39 qualified pitchers, and 124th out of 129 pitchers with at least 100 innings. He also served up a National League-high 37 home runs.
Over the last two years, he has 5.50 ERA and 1.51 WHIP. Yes, Corbin helped the Nationals to the club's first title with a 3.25 ERA back in 2019, but it's hard to accept the rest of his contract being an unmitigated disaster.
As for Strasburg, injuries have derailed his career. He has pitched just 26.2 innings over the last two years, and it's hard to see things improving in that department as he enters his mid-30s. I truly hope I'm proven wrong, but history suggests that won't be the case.
Just like Miguel Cabrera, he was paid for past production, and was given a tip of the cap for his 2019 World Series MVP performance. Loyalty is commendable, but it doesn't always help you win down the road. The Nationals are learning that the hard way.