List
Peter Appel's Top 100 Players in Major League Baseball for 2023
The definitive list of the top 100 players in Major League Baseball right now heading into Opening Day in 2023.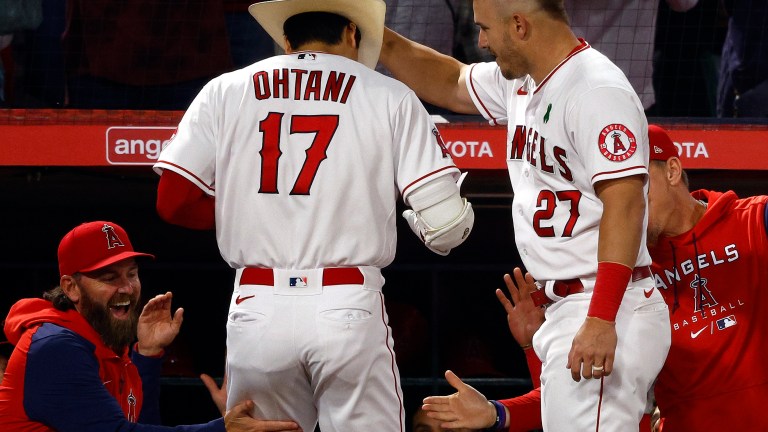 Welcome to my flawless top 100 list for the 2023 season. One must remember it's flawless, in my opinion. My way of ranking players may differ from yours, and that's okay!
The game of baseball is different from any other sport, but at the same time, we can draw similarities from the game of football.
How does one compare a defensive end to a quarterback? Well, the quarterback is the most critical position in football, so that's typically not a fair comparison. Comparing a cornerback and a wide receiver is much more challenging. And yet, we see plenty of lists comparing the two on a top 100 list.
Baseball is different from any sport due to the role of the player. It isn't easy to correctly evaluate a hard-throwing closer's worth to that of a speedy outfielder. If we wanted to rank each player by WAR accurately, I would point you toward that leaderboard.
What's the fun in that? This list is subjective, but I believe these are the top 100 players in baseball moving forward to 2023.
I had the privilege of interviewing Joe Posnanski, the inspiration behind this list. He created the Baseball 100, a list of all-time top 100 baseball players. He used Tom Tango's WAR calculations, among other stats, to list the greatest players in baseball history. As one can imagine, his list isn't a WAR leaderboard. I used my formula to create this list. If I told you the formula, I might have to kill you. That's an ode to Mr. Krabs from Spongebob, not a threat, just so we are clear.
My favorite quote from the interview with Joe is, "By the numbers, Ichiro didn't compile the stats to be a top 100 player. But how is Ichiro Suzuki not one of the most impactful players in baseball history?"
Ichiro compiled 3,000 hits in his career, but he had over 1,000 in Japan before he came over as a 27-year-old. He wasn't a top 100 player in MLB history in WAR or most statistics, but Joe felt he was a top 100 player. That's his opinion, and I love him for that.
An all-time list is different than a current list. Their careers are over, while some players on this list are just starting. You may see some players that don't have the service time compared to others, but they rank higher on this list.
I'm looking forward to 2023, while appreciating the player's career, I value consistency over a long period. That's greatness, in my eyes. Some players on this list haven't had the privilege to develop a career yet, but if they appear on this list, I believe they have an incredibly bright future ahead of them.
With all of that said, I'm a numbers guy. I believe that the analytics and traditional stats all tell a story about a player. Some players are due for regression based on some of our more advanced metrics, yet they find a way to perform at a high level. Some players have had bad luck, but the numbers indicate better days ahead.
Another note; I'm optimistic about health. I weighed each player's injury concerns with a "glass half full approach". I also didn't dock a player if they are scheduled to miss time this season. Bryce Harper is a perfect example; just because he's due to miss a chunk of the season doesn't mean I'm dropping him on this list. With all that said, I value consistency, so if a player has been injured for multiple seasons in a row, I rank them accordingly.
This is my list. Feel free to disagree, and I welcome any criticism. Here's my Twitter page; my DM's are open. I welcome your hateful messages.
Just know I'll fight to the end of time to prove my list is flawless.
Top 25 MLB Players in 2023
1. Shohei Ohtani (RHP/DH) – Los Angeles Angels
2. Mike Trout (OF) – Los Angeles Angels
3. Aaron Judge (RF) – New York Yankees
4. Mookie Betts (RF) – Los Angeles Dodgers
5. Bryce Harper (DH/RF) – Philadelphia Phillies
6. Juan Soto (RF) – San Diego Padres
7. Ronald Acuna Jr. (RF) – Atlanta Braves
8. Sandy Alcantara (RHP) – Miami Marlins
9. Fernando Tatis Jr. (SS/OF) – San Diego Padres
10. Jacob deGrom (RHP) – Texas Rangers
11. Manny Machado (3B) – San Diego Padres
12. Nolan Arenado (3B) – St. Louis Cardinals
13. Jose Ramirez (3B) – Cleveland Guardians
14. Francisco Lindor (SS) – New York Mets
15. Freddie Freeman (1B) – Los Angeles Dodgers
16. Corbin Burnes (RHP) – Milwaukee Brewers
17. Paul Goldschmidt (1B) – St. Louis Cardinals
18. Jose Altuve (2B) – Houston Astros
19. Trea Turner (SS) – Philadelphia Phillies
20. Yordan Alvarez (DH/LF) – Houston Astros
21. Julio Rodriguez (CF) – Seattle Mariners
22. Corey Seager (SS) – Texas Rangers
23. Carlos Correa (SS) – Minnesota Twins
24. Justin Verlander (RHP) – New York Mets
25. Kyle Tucker (RF) – Houston Astros
Top 26-100 Players in 2023
26. Austin Riley (3B) – Atlanta Braves
27. Max Scherzer (RHP) – New York Mets
28. Rafael Devers (3B) – Boston Red Sox
29. Xander Bogaerts (SS) – San Diego Padres
30. JT Realmuto (C) – Philadelphia Phillies
31. Alex Bregman (3B) – Houston Astros
32. Zack Wheeler (RHP) – Philadelphia Phillies
33. Pete Alonso (1B) – New York Mets
34. Vladimir Guerrero Jr. (1B) – Toronto Blue Jays
35. Dylan Cease (RHP) – Chicago White Sox
36. Adley Rutschman (C) – Baltimore Orioles
37. Carlos Rodon (LHP) – New York Yankees
38. Gerrit Cole (RHP) – New York Yankees
39. Michael Harris Jr. (CF) – Atlanta Braves
40. Julio Urias (LHP) – Los Angeles Dodgers
41. Max Fried (LHP) – Atlanta Braves
42. Aaron Nola (RHP) – Philadelphia Phillies
43. Bo Bichette (SS) – Toronto Blue Jays
44. Shane Bieber (RHP) – Cleveland Guardians
45. Wander Franco (SS) – Tampa Bay Rays
46. Jeff McNeil (2B) – New York Mets
47. Spencer Strider (RHP) – Atlanta Braves
48. Marcus Semien (2B) – Texas Rangers
49. George Springer (RF) – Toronto Blue Jays
50. Luis Castillo (RHP) – Seattle Mariners
51. Matt Olson (1B) – Atlanta Braves
52. Brandon Nimmo (CF) – New York Mets
53. Andres Gimenez (2B) – Cleveland Guardians
54. Will Smith (C) – Los Angeles Dodgers
55. Framber Valdez (LHP) – Houston Astros
56. Shane McClanahan (LHP) – Tampa Bay Rays
57. Byron Buxton (CF) – Minnesota Twins
58. Daulton Varsho (OF/C) – Toronto Blue Jays
59. Tyler Glasnow (RHP) – Tampa Bay Rays
60. Sean Murphy (C) – Atlanta Braves
61. Cristian Javier (RHP) – Houston Astros
62. Zac Gallen (RHP) – Arizona Diamondbacks
63. Dansby Swanson (SS) – Chicago Cubs
64. Edwin Diaz (RHP) – New York Mets
65. Willy Adames (SS) – Milwaukee Brewers
66. Bryan Reynolds (OF) – Pittsburgh Pirates
67. Tommy Edman (SS) – St. Louis Cardinals
68. Emmanuel Clase (RHP) – Cleveland Guardians
69. Steven Kwan (LF) – Cleveland Guardians
70. Jose Abreu (1B) – Houston Astros
71. Bobby Witt Jr (SS) – Kansas City Royals
72. Matt Chapman (3B) – Toronto Blue Jays
73. Devin Williams (RHP) – Milwaukee Brewers
74. Luis Arraez (2B) – Miami Marlins
75. Nico Hoerner (2B) – Chicago Cubs
76. Willson Contreras (C) – St. Louis Cardinals
77. Alek Manoah (RHP) – Toronto Blue Jays
78. Jeremy Pena (SS) – Houston Astros
79. Luis Robert (CF) – Chicago White Sox
80. Ketel Marte (2B) – Arizona Diamondbacks
81. Alejandro Kirk (C) – Toronto Blue Jays
82. Kevin Gausman (RHP) – Toronto Blue Jays
83. Tim Anderson (SS) – Chicago White Sox
84. Logan Webb (RHP) – San Francisco Giants
85. Corbin Carroll (OF) – Arizona Diamondbacks
86. Gunnar Henderson (3B/SS) – Baltimore Orioles
87. Cedric Mullins (CF) – Baltimore Orioles
88. Starling Marte (RF) – New York Mets
89. Clayton Kershaw (LHP) – Los Angeles Dodgers
90. Brandon Woodruff (RHP) – Milwaukee Brewers
91. Kris Bryant (LF) – Colorado Rockies
92. Triston McKenzie (RHP) – Cleveland Guardians
93. Kyle Schwarber (LF) – Philadelphia Phillies
94. Harrison Bader (CF) – New York Yankees
95. Jazz Chisholm (CF) – Miami Marlins
96. Ryan Helsley (RHP) – St. Louis Cardinals
97. Anthony Rendon (3B) – Los Angeles Angles
98. Vinnie Pasquantino (1B) – Kansas City Royals
99. Ozzie Albies (2B) – Atlanta Braves
100. Cal Quantrill (RHP) – Cleveland Guardians