Analysis
San Diego Padres Trade Deadline Outlook
Fernando Tatis Jr. will be the Padres biggest addition in the second half, but who else can they add through trade at this year's deadline?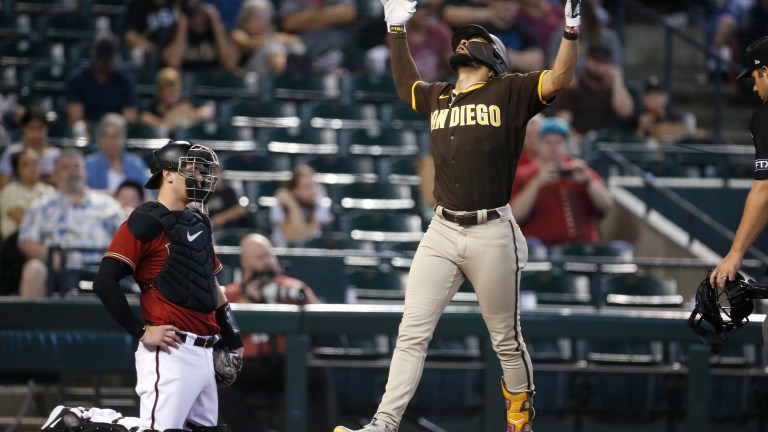 It's weird to come to grips with the idea that the Padres, helmed by trigger-happy general manager AJ Preller, have had a relatively quiet go of things over the last year in terms of transactions. There's a good reason for that, of course, as they've traded a treasure trove of assets faster than Katt Williams running from the cops in Atlanta. The result has been an unorthodox roster, to say the least, and the fifth-highest payroll in baseball with plenty of glaring weak spots.
Nevertheless, she (the Padres) persisted. Even with a more depleted farm system and some life-sucking blackholes (Eric Hosmer), the Padres hold a splendid 54-44 record heading into the waning moments of the trade deadline.
Has the team done enough to prove their window for contention is very much open, or will the wheeling-and-dealing king remain in hibernation?
Let's talk about the biggest storylines to watch out for over the next week.
Will Fernando Tatis Jr. Be Enough of a Trade Deadline "Addition"?
Even with all of the Padres' blemishes, you have to commend them for performing as well they have without their best player. Fernando Tatis Jr., motorcycle superfan and last year's third-place finisher in the MVP race, is making progress in his injury recovery and is expected to be back fairly soon. The Padres offense, obviously, is in need of a spark.
While their batting average and on-base skills have been fairly decent, the team ranks 25th in home runs and 26th in slugging percentage. The combination of Manny Machado's MVP-caliber season and their situational hitting has kept them in the fold thus far (by FanGraphs clutch statistic, the Padres rank fourth in baseball), but can they afford to count on that continuing?
That's where Tatis comes in.
While it may seem like a cop-out, Tatis' return to the Padres lineup would be as big addition as nearly any team in baseball could make at the deadline. The question, of course, is going to be how the Padres utilize him. With shortstop Ha-Seong Kim proving to be a splendid defender in the infield, the team may look to deploy him in the outfield as they did towards the tail-end of 2021. It all depends on what moves they choose to make.
Improving the Outfield
Alright, enough dodging questions now. Aside from the potential addition of Fernando Tatis Jr., the Padres very much are looking to improve their outfield depth.
Outside of the admirable bounce-back season from Jurickson Profar (115 wRC+, 2.2 fWAR), the outfield for the Padres has been pure rubbish. Trent Grisham has become one of the greatest liabilities at the plate (.191/.289/.339 with a 83 wRC+) for a contending team in all of baseball.
On top of that, they're relying heavily on Nomar Mazara and recent call-up Esteury Ruiz — who may very well develop into a fine player, but he's still just a rookie — to keep them afloat. As the cherry on top, fan-favorite Wil Myers remains on the injured list and, whenever he does make his return, saying his impact would be minuscule is putting it lightly.
So, who the heck should the Friar Faithful be looking at to cheer them up?
The obvious name that comes to mind is former top-prospect-turned-bust-then-turned-good-again, Andrew Benintendi (.322/.390/.401 with a 128 wRC+). Benintendi's contact skills have always been there, but it may behoove the Padres to look for a bat with some power upside (his .080 isolated power mark ranks fourth-worst among qualified outfielders).
Ian Happ of the Cubs (.282/.367/.445 with a 127 wRC+) is another name to keep an eye on and is reportedly someone the Padres are interested in a bundle with Wilson Contreras, as a treat.
But if the Padres aren't able to get some of those top options that plenty of other teams will be targeting, fear not!
Ramón Laureano (.230/.310/.407 with a 109 wRC+) of the perpetually-rebuilding A's could be an interesting option that likely won't cost much and could be a decent replacement for Trent Grisham if he's sent elsewhere. And if you're a believer in scraping the true bottom of the barrel, Robbie Grossman is having a truly atrocious year (.205/.310/.278 with a wRC+ of 74) but has seen success in the past thanks to his superb eye at the plate. Grossman would also cost next-to-nothing and may be a simple case of a player with nowhere to go but up.
Does the Bullpen Need Improvement?
Once the absolute strength of the team, the Padres bullpen is a reminder of how weird constructing it can be. Their pen currently ranks 15th in ERA (3.89), but is eighth in FIP (3.74) and fWAR (2.9). It's not as much a question of the bullpen needing an overhaul, but rather the recent struggles of closer Taylor Rogers.
From April to May, Rogers rocked a 1.64 ERA with 26 strikeouts over 22 innings pitched. He may not be an elite strikeout machine, but he got the job done for a team that played plenty of close games. But from June to now, Rogers' ERA rocketed to an unsightly 6.62 with plenty of blown games and mean tweets sent his way. But interestingly enough, Rogers' FIP is an excellent 2.16 (22nd among qualified relievers) over that stretch, which may suggest that some positive regression is ahead, even if it's looked ugly recently.
This is all to say that the Padres may look to upgrade their bullpen with some lower-tier guys, not necessarily your David Robertson or David Bednar types. On top of those underlying numbers addressed above, the Padres also have some reinforcements potentially heading their way:
Much like the return of Fernando Tatis Jr., perhaps this trade deadline for the Padres bullpen will also have to do with getting back healthy players.
On top of Pomeranz and Suarez, the team could hope for Austin Adams to return late down the line for a playoff run, as well as Pierce Johnson. If the Padres do end up making a move, some guys to target may be the steady Alex Colome of the Rockies, Joe Jimenez of the Tigers, or even the slew of Marlins players that reportedly may be made available.
Is Juan Soto Actually a Possibility?
It's the question everyone's wondering. It's such a universal question, in fact, that it's actually become a bit tiresome. But alas, the sports business demands that we try to crank the engagement up, so Juan Soto trade rumors are a must. In fairness, though, the possibility of the Padres making the splash of the summer is at least somewhat conceivable.
The combination of the Padres' lackluster outfield, their farm system with some highly desirable young talents (CJ Abrams, Robert Hassell, Jackson Merrill, James Wood, MacKenzie Gore, etc.), and AJ Preller's penchant for making big moves have resulted in a flurry of rumors. The possibility of a lineup featuring Fernando Tatis Jr., Manny Machado, and Juan Soto is juicy as hell and hard to resist. The question, as always, would be how much it costs — especially given the two and a half years of club control that Soto will come with.
Considering that the Padres have been desperate to keep up with their NL West rival Dodgers, the Padres may very well decide that their window for contention is right now. This isn't a sentiment I personally share, but it's clear by the Padres moves over the last few years that they want to win now.
But will the theoretical package for Soto, given all the areas the team has to address, make sense?
If the Padres were to torch their farm, their wiggle room would decisively shrink for many years to come — as well as the cost, which would put them over the luxury tax. This isn't the NBA; a single superstar doesn't automatically vault you into championship contention (just ask the Angels).
On the other hand, Juan Soto is a destroyer of worlds. If there was ever a player to completely go all-in for, we haven't seen one of his value in ages. Padres fans have been survived through some rough years, so prospect-hugging may not exactly be their ideal scenario.
What are they going to end up doing? Well, it's the Padres, so who the hell knows.