News
San Diego Padres Extend Yu Darvish to Six-Year Deal
Entering his last year before free agency, the Padres decided to lock up their ageless ace, signing 36-year-old Yu Darvish to a six-year deal.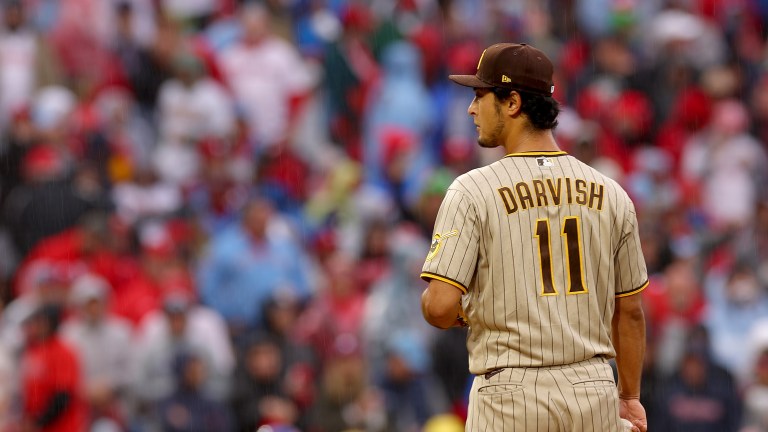 The San Diego Padres aren't letting their ace out of sight any time soon. After extending San Diego Joe Musgrove to a five-year, $100 million deal midseason last year, the Padres have given out another nine-figure contract to an incumbent starting pitcher.
Yu Darvish was traded to the Padres prior to the 2021 season. In his two years with the Padres, Darvish has made 60 starts and pitched to a 3.61 ERA across 361 innings. Set to hit free agency after the 2023 season, the Padres decided to extend their control of Darvish by giving him a $108 million deal.
Darvish's last contract was also a six-year deal, which he signed with the Chicago Cubs prior to the 2018 season for $126 million. Now five years later Darvish signs a new six-year deal, which will keep him under contract through the 2028 season, in which he will turn 42 years old.
Despite his age, there is no signs of slowing down for Darvish. He is just a few years removed from finishing as the Cy Young runner-up for the shortened 2020 season and pitched to a tidy 3.10 ERA last year. Still able to rack up Ks with the best of them, Darvish has narrowly missed 200-strikeout seasons in each of the last two years, falling one shy in 2021 and three shy in 2022.
While he still averaged 95 mph on the fastball last season, Darvish has worked more off the cutter over the last three years and relies on his movement more than his velo to get outs. The Padres believe that type of arsenal should continue to age gracefully for years to come.
With Darvish and Musgrove locked up, all eyes now to turn to 30-year-old free agent to be Blake Snell. The left-hander is maybe the most ignitable of the three, but his inconsistencies may lead the Padres to let his final year play out without an extension. They could then extend him the qualifying offer before trying to negotiate a new deal next offseason.
For now though, that trio will once again join forces to try to pitch the Padres into the playoffs and go on a deep run once there.