Rankings
Ranking the Best Starting Rotations in the MLB Postseason
Starting pitching is of the utmost importance in the postseason. Which teams boast the best stable of arms?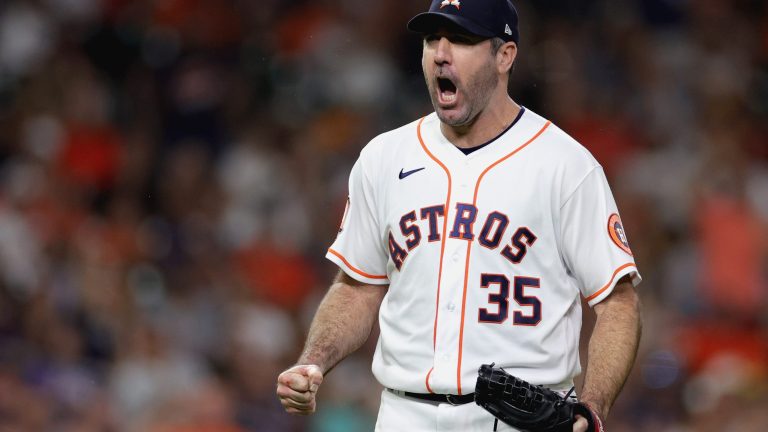 As the old saying goes, "a team is only as good as the next day's starting pitcher." In the postseason, the importance of having both top-end talent and depth within a starting rotation is taken to a new level.
If pitching wins championships, here's who's got the best chances to ride their starting rotation to a World Series title.
1. Houston Astros
Probable Rotation: Justin Verlander (1.75 ERA), Framber Valdez (2.82 ERA), Cristian Javier (2.54 ERA), Lance McCullers Jr. (2.27 ERA)
How is the rotation with two future Hall of Famers headlining it not the top dog, you ask?
Well, first, Justin Verlander is a first-ballot Hall of Famer in his own right. Second, the depth in this rotation is not only better than the Mets', but it's better than the Astros' last year when they went to the Fall Classic. Verlander was absent while recovering from Tommy John surgery, while Lance McCullers missed the majority of the postseason with a forearm issue and Cristian Javier was being utilized out of the bullpen.
Also of note: rookie right-hander Hunter Brown will, in all likelihood, take on the Javier-type swingman role this postseason. In Brown's first 20.1 career innings, he's struck out 22 hitters and allowed just two earned runs.
2. New York Mets
Probable Rotation: Max Scherzer (2.29 ERA), Jacob deGrom (3.08 ERA), Chris Bassitt (3.42 ERA), Taijuan Walker (3.49 ERA)
Now to the rotation with two first-ballot Hall of Famers headlining. Scherzer has been healthy for the majority of the season, with a blip from an oblique issue during the summer months. deGrom made a valiant return in the middle of the summer, but sputtered to a 4.50 ERA over his final five starts of the regular season.
The Mets rotation tapers off drastically after the front two. Chris Bassitt has been an innings-eater this season, but has had a tendency for things to spiral quickly if he doesn't have his typical stuff. The question then becomes, "what happens in Game 4?"
3. Los Angeles Dodgers
Probable Rotation: Julio Urias (2.16 ERA), Clayton Kershaw (2.28 ERA), Tony Gonsolin (2.14 ERA), Tyler Anderson (2.57 ERA)
Even with the absence of both Walker Buehler and Dustin May for the overwhelming majority of the year, the Dodgers still finished with the best Starter ERA in Major League Baseball. Much of the credit on that front should go to the duo of Tony Gonsolin and Tyler Anderson, who combined for a 31-6 record and a 2.39 ERA in 309.0 IP.
Julio Urias not only solidified himself as one of the best left-handers in all of baseball, but he should convincingly finish as the runner-up in NL Cy Young voting behind Marlins ace Sandy Alcantara.
Oh, Clayton Kershaw's here too. Time for more legacy talk.
4. Tampa Bay Rays
Probable Rotation: Shane McClanahan (2.54 ERA), Tyler Glasnow (1.35 ERA), Drew Rasmussen (2.84 ERA), Jeffrey Springs (2.46 ERA)
As weird as it sounds, the first two names mentioned may be the two biggest question marks of the four. While McClanahan carved his way to the starting nod in the MLB All-Star Game for the American League, he's sputtered to a 4.20 ERA in 10 starts since the break, with a shoulder impingement sprinkled in.
Glasnow is as much of a wild card as any arm in the postseason. Logging just 6.2 IP over two appearances since coming off of a rehab assignment to complete his rehab from a torn UCL, his production (and limit) are entirely unknown.
The bonus for Tampa is knowing they can rely on steady production all season long from both Rasmussen and Springs, who took massive steps forward in their respective careers. What a world.
5. Atlanta Braves
Probable Rotation: Max Fried (2.48 ERA), Kyle Wright (3.19 ERA), Charlie Morton (4.34 ERA), Jake Odorizzi (5.24 ERA)
Max Fried is as steady of a postseason performer as Major League Baseball has had over the last several years. Kyle Wright won 20 games this season in a career year.
The No. 3 and 4 spot is where things get mighty tricky. Established playoff superstar Charlie Morton has had his worst year since his final year in Pittsburgh in 2015. Jake Odorizzi has been brutal since coming over from Houston at the deadline.
This rotation would be higher on this list if NL Rookie of the Year candidate Spencer Strider was fully healthy. Unfortunately, an oblique issue and an IL stint have his contributions listed as more of a question mark than an exclamation point.
6. Seattle Mariners
Probable Rotation: Luis Castillo (3.17 ERA), Robbie Ray (3.71 ERA), Logan Gilbert (3.20 ERA), George Kirby (3.39 ERA)
How many times can we call a rotation underrated before they're no longer underrated? I think we may be hitting that point with Seattle.
Luis Castillo has been fantastic since being dealt at this year's trade deadline. He's solidified himself as an ace, and he'll be given the chance on Friday to oppose Alek Manoah in a true "ace-off". Robbie Ray, after a rough start to the first season of his new five-year deal, finished the year by eating innings and missing bats.
Two exceptional young arms have Seattle primed to contest anyone in Gilbert and Kirby. If Castillo and Ray can get through Toronto in two games, manager Scott Servais should feel comfortable going to Gilbert and Kirby in the first two games in Houston.
7. New York Yankees
Probable Rotation: Gerrit Cole (3.50 ERA), Nestor Cortes (2.44 ERA), Jameson Taillon (3.91 ERA), Luis Severino (3.18 ERA)
Gerrit Cole may be the biggest X-Factor in the entirety of the postseason. While Cole has been one of the most consistent superstar pitchers in baseball over the last several years, the big moment seems to eat him up on occasion.
If Cole's outings in the ALDS against the winner of Cleveland and Tampa Bay look like his blow-up start in last year's American League Wild Card Game, the Yankees are in immense trouble.
8. Philadelphia Phillies
Probable Rotation: Zack Wheeler (2.82 ERA), Aaron Nola (3.25 ERA), Ranger Suarez (3.65 ERA), Noah Syndergaard (4.12 ERA)
The dynamic duo at the top will need to be on their A-game in order to get by the Cardinals in St. Louis in the NL Wild Card series. Wheeler and Nola have both proven to be bonafide innings-eaters. But, the question remains: how deep can they go before turning it over to a historically suspect bullpen?
If the Phillies and Cardinals split the first two games, Ranger Suarez' Game Three start will test the depth of this rotation, with deadline-acquisition Noah Syndergaard likely lined up to stat Game One of a division series.
9. San Diego Padres
Probable Rotation: Joe Musgrove (2.93 ERA), Yu Darvish (3.10 ERA), Blake Snell (3.38 ERA), Mike Clevinger (4.33 ERA)
Musgrove has shaken what seemed to be a post-extension hangover with a couple of nice starts to end his career year. Snell has unlocked a version of himself that we haven't seen since his Cy Young season in 2018. Darvish, the model of Forrest Gump's "box of chocolates" metaphor, has been the most consistent he's been since he left Texas.
The question mark will be the health of Mike Clevinger, who traveled separately to New York while dealing with a non-COVID related illness. It's an uphill battle to get by Scherzer and deGrom, but if they do, their depth will be tested.
10. Toronto Blue Jays
Probable Rotation: Alek Manoah (2.24 ERA), Kevin Gausman (3.35 ERA), Jose Berrios (5.23 ERA), Ross Stripling (3.01 ERA)
The Blue Jays take noticeable steps down the ladder with each turn. Right-hander Alek Manoah should be a top-five finisher in American League Cy Young voting. Kevin Gausman has impressed in his first season in Toronto, but is a clear-cut No. 2 starter behind Manoah and his ace-like aura.
Ross Stripling has been one of the most underrated starters in baseball this year. But, will the Blue Jays trust Stripling, or give the ball to Jose Berrios, who had one of the worst years among qualified starters in all of Major League Baseball?
The seven year, $131 million-dollar man may be handed the ball on narrative alone, which would be the objectively wrong decision.
11. Cleveland Guardians
Probable Rotation: Shane Bieber (2.88 ERA), Triston McKenzie (2.96 ERA), Cal Quantrill (3.38 ERA), Bullpen
The top end of this rotation is world-class, with Shane Bieber overcoming a nagging shoulder issue and Triston McKenzie taking a massive step forward in his journey to becoming a star. Cal Quantrill has danced around damage better than anyone in baseball this season, and his confidence should be sky-high headed into the postseason.
The rotation is docked because of a lack of a No. 4 starter in the rotation. The Guardians could turn to a struggling Aaron Civale or any assortment of young arms Cody Morris, Kirk McCarty, or Xzavion Curry. This may be a "we'll cross that bridge when we get there" decision for Terry Francona.
12. St. Louis Cardinals
Probable Rotation: Jose Quintana (2.01 ERA), Miles Mikolas (3.29 ERA), Adam Wainwright (3.71 ERA), Jordan Montgomery (3.11 ERA)
Jose Quintana's 2022 season has been a pure revelation, posting a sub-3.00 ERA for the first time in his career. His 2.01 ERA in over 60 innings in St. Louis has made him the lead man in the Cardinals' quest for one final trophy for Yadier Molina and Albert Pujols.
The glaring issue here is talent, as weird as it seems. Adam Wainwright has not pulled the rabbit out of his hat like he has in years prior, which limits their top-end production mightily.