Analysis
Rangers Ready to Rumble With New-Look Pitching Staff
The Texas Rangers further strengthened their staff on Sunday, picking up Jordan Montgomery and Chris Stratton from the St. Louis Cardinals.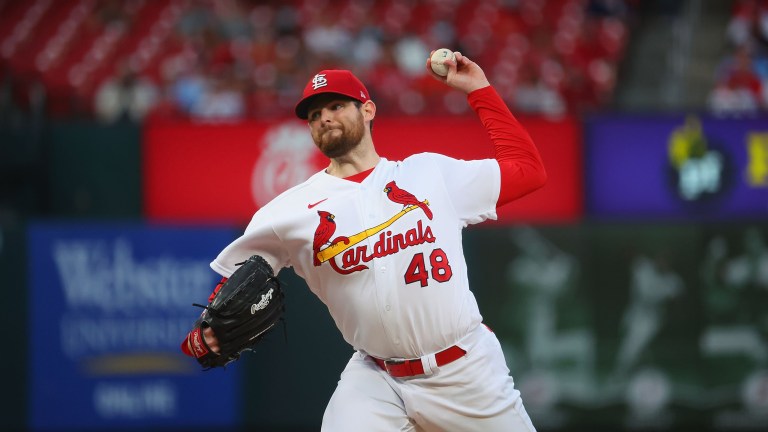 The Rangers made pitching a priority this offseason.
General manager Chris Young signed Jacob deGrom, Nathan Eovaldi, Andrew Heaney, and Will Smith and re-signed Martín Pérez for a total of $265.15 million. In the process, he completely redesigned his team's starting rotation – and added a pretty good closer too. If everything went according to plan, the Rangers could have had the best pitching staff in the American League.
Unfortunately, deGrom only made six starts before his UCL got the better of him. Pérez and Heaney have struggled, posting a combined 4.81 ERA and 5.26 FIP. Smith has been everything Texas could have hoped for (and more), but the bullpen needed another dominant arm. The Rangers rank 13th in the AL with a 4.83 bullpen ERA.
Thus, the Rangers pitching staff hasn't lived up to its preseason potential. They rank eighth in the AL in FanGraphs WAR and tenth in ERA.
But Chris Young isn't going back to the drawing board. Instead, he's doubling down and making even more additions to the staff. Aroldis Chapman is a Texas Ranger. Max Scherzer is a Texas Ranger. And now, Jordan Montgomery and Chris Stratton are Texas Rangers.
On Sunday evening, the Rangers agreed to send reliever John King and prospects Thomas Saggese and Tekoah Roby to the St. Louis Cardinals in return for Montgomery, Stratton, and an international bonus pool slot.
Montgomery and Stratton are both impending free agents, so it was all but certain they'd be dealt before the deadline. The Cardinals are currently 13 games below .500 and 11 games back in the NL Central. In Saggese and Roby, they get a couple of new top-10 prospects in exchange for two veteran pitchers whose days in the organization were numbered.
The Rangers, for their part, add certainty to their pitching staff. Over the past few years, Montgomery and Stratton have been two of the most dependable pitchers in the game.
Montgomery has made 93 starts since 2020, tied for ninth-most in the league. He has a 3.72 ERA and 3.69 FIP in that time. Meanwhile, Stratton ranks second among relievers in innings pitched dating back to 2019. He boasts a 4.19 ERA and 3.62 FIP over the last five years.
With deGrom already lost for the season, Nathan Eovaldi dealing with a forearm strain, and Scherzer an injury risk himself, Montgomery will inject the rotation with some much-needed consistency. Stratton will slot into the bullpen as one of the higher-ranking right-handed arms.
Now, with their needs on the pitching side addressed, expect the Rangers to add a bat in the next 36 hours. They already have the best offense in the American League, but this team is clearly going all in. The Rangers aren't just trying to end a seven-year playoff drought – they're trying to win it all.
Cody Bellinger looked like a great fit for Texas, but with the news that the Cubs have pulled him off the market, the Rangers could pivot toward Tommy Pham of the Mets or Lane Thomas of the Nationals. Alternatively, Chris Young might be inclined to call John Mozeliak right back to work out a deal for Dylan Carlson or Tyler O'Neill.