Analysis
Paul Goldschmidt Is Slugging His Way to an MVP in 2022
Cardinals first baseman Paul Goldschmidt has been the best hitter in the National League in 2022, and he has his sights set on the NL MVP.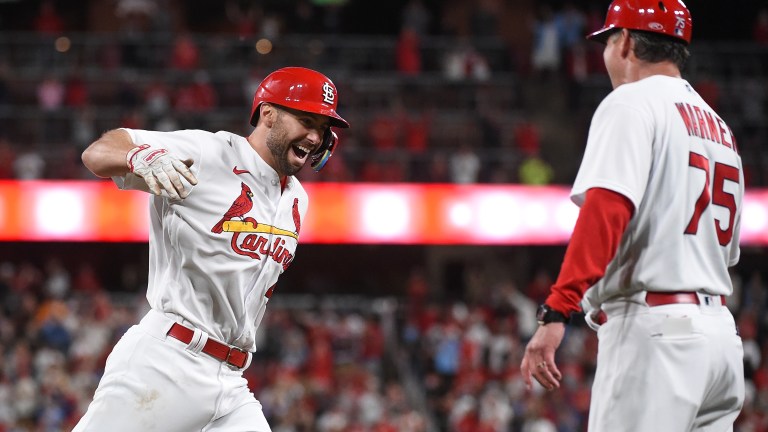 Paul Goldschmidt is pretty good at baseball.
He has been a big league ballplayer since 2011. In that time, he has made seven All-Star teams and has won four Silver Slugger Awards. He has been the MVP runner-up twice and has received votes in eight of the past nine seasons.
The Cardinals first baseman is already on his way to a Hall of Fame career, and now, in his 12th year of Major League Baseball, he is having his best season yet. Is this the year Goldschmidt finally wins the coveted NL MVP trophy?
Let's take a look at his case.
Paul Goldschmidt Is Out-Slugging the Competition
Goldschmidt has been the best hitter in the National League this season, and it isn't particularly close. There is no shortage of talented sluggers in the NL – Freddie Freeman, Austin Riley, Pete Alonso, and Juan Soto are all having excellent seasons – but Goldschmidt is head and shoulders above the rest.
Until recently, he was leading the league in all three triple slash categories: batting average, on-base percentage, and slugging percentage. Juan Soto has since taken a slight lead in OBP, but Goldschmidt still holds the lead in OPS. His 1.026 OPS is nearly 100 points higher than the next best hitter.
While he does not lead the league in home runs, RBI, or runs scored, Goldschmidt is the only NL hitter to rank in the top five in each category. He also ranks in the top five in walks, hits, total bases, and extra-base hits.
According to metrics like wRC+ and OPS+, which attempt to quantify a player's total offensive value compared to league average, Goldschmidt ranks first by a mile. He also ranks first in Win Probability Added (WPA), which measures how much a player impacts his team's chances of winning with each plate appearance.
Goldschmidt has been the best hitter in the National League this year. It's pretty cut and dry. If he can keep this up, the MVP is within his grasp.
Showing No Signs of Slowing Down
Goldy seems to be the MVP frontrunner right now, but of course the season doesn't end in mid-August. Can he maintain this level of production as the year goes on?
If recent performance is any indication, he'll be just fine. Over the past 30 days, Goldschmidt is slashing .324/.410/.746 with a 1.156 OPS. He leads the league in home runs, OPS, and wRC+ over that span.
Even more impressive, he is hitting this well lately despite a low batting average on balls in play. In other words, he isn't benefitting from an unusually high number of batted balls falling in the right place at the right time.
Goldschmidt is making high quality contact and earning every hit he gets. Over his last 50 PA, he has hit the ball harder than at any other point this season. He is already the best hitter in the league, and he might be getting even better as the year continues.
Paul Goldschmidt Against the Rest
Currently, Goldschmidt has the advantage over other bat-first MVP candidates like Freddie Freeman, Austin Riley, Pete Alonso, and Juan Soto.
On the other hand, he still faces some stuff competition from talented defenders like Nolan Arenado, Mookie Betts, and Francisco Lindor. Those three aren't quite at Goldschmidt's level with the bat, but they are still excellent hitters in their own right. The NL MVP voters might prefer to award a player who contributes on both sides of the ball.
Throughout his career, Goldschmidt has been a good first baseman, winning four Gold Glove Awards. Unfortunately, the defensive metrics aren't so kind to him this season. His .999 fielding percentage is pristine, but he has been worth -5 Outs Above Average per Statcast. And of course, first base just isn't nearly as valuable a position as third base, shortstop, or the outfield.
As things currently stand, Goldschmidt is trailing Arenado by a few decimal points for the NL lead in WAR, on both FanGraphs and Baseball Reference. On Baseball Prospectus, he is trailing Betts for the league lead in WARP. However, he is the only position player to rank in the top three in each type of WAR. Every version of WAR uses different methods to calculate defensive value, but they can all agree Goldschmidt has been the best hitter in the National League.
Goldschmidt looks like the NL MVP favorite right now, but it's going to be a close race, and a lot can change over the final stretch of the season. He'll have to keep hitting like he has been to stave off sluggers like Freeman, Riley, Alonso, and Soto, and he might have to kick it up a notch to beat out all-around talents like Arenado, Betts, and Lindor.
With so many stars in contention, the NL MVP race is going to be a battle until the very end. Is 2022 the year Goldschmidt finally takes it home?