Analysis
Why Mets' Slugger Pete Alonso Should Get MVP Votes in 2022?
Pete Alonso may not have the traditional MVP case, but what he has done leading the Mets deserves to be recognized by fans and voters alike.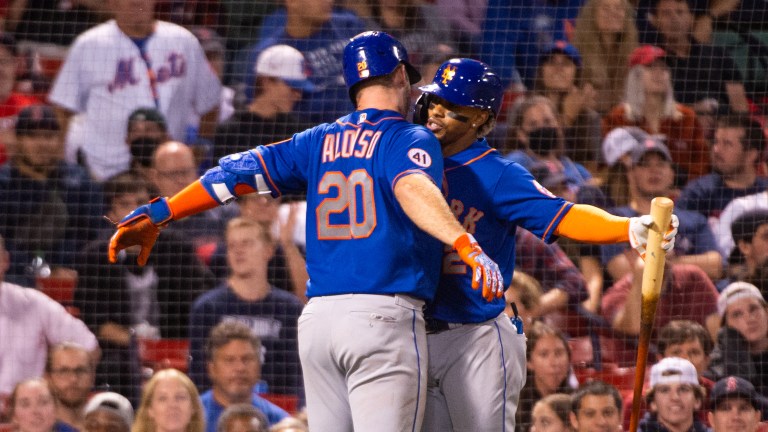 The New York Mets have been atop the NL East all season, but this past weekend, they fully announced themselves as legitimate threats to win the World Series.
Max Scherzer and Jacob deGrom started consecutive games to close out a five-game series victory over the Atlanta Braves in dominant fashion, illustrating just how dangerous this team could become in October.
While the pitching will certainly be thrust into the forefront with those two future Hall of Famers headlining the rotation, the Mets offense was just as much a driving force in dismantling the Braves again, improving their season record to 8-4 against their chief division rival.
Since Daniel Vogelbach was first inserted into the starting lineup on July 24th, the Mets are 13-2 and have the top offense in the sport, leading the league in wRC+, wOBA and Offensive Runs Above Average (OFF).
While Vogelbach has been great, instantly becoming a fan favorite with his heroics at the dish and more importantly on the basepaths, it is the man who is hitting in front of him that deserves more recognition.
There are few players that have been more consistent this season than Pete Alonso. The first baseman has become one of the game's top run producers as the main engine driving the Mets offense. The 27-year-old has been leading the National League in RBIs all season and is keying in on setting the Mets single-season franchise record as well.
After his first All-Star campaign back in 2019, Alonso took home some hardware, winning the Rookie of the Year Award. Now Alonso could be in line for an even greater award, thanks to his play leading the Mets this season?
All stats are courtesy of Fangraphs and came prior to play on August 8th.
Why Alonso Should Garner MVP Votes
If this was 20 years ago, Pete Alonso would probably be the frontrunner for MVP because the game used to be a lot simpler. Back in the times when pitcher's wins held great merit in the Cy Young conversation, the RBI was king when it came to MVP voting. Alonso pacing the league in RBIs by 11 would have held much greater significance than it does today.
Now we look at a player's wRC+ and can clearly see that Paul Goldschmidt has been 35% better than Alonso offensively, making him the statistical front-runner for the award. Goldy gets on-base at a .415 clip, which is over 50 points better than Alonso, while still giving similar power production.
Goldschmidt is playing on a worse team than Alonso, which can explain the discrepancy in counting stats like the RBI. Still, that does not mean we should disregard these stats entirely, as putting runs on the board is still the name of the game and Alonso is fantastic at it.
Over the weekend, Alonso racked up seven more RBIs to bring his season total up to 95. He now has 10 RBIs in the month of August, ensuring yet another double-digit RBI month for the "Polar Bear", who has been feasting on rib-eye steaks all year. One look at his month-by-month totals shows how consistent Alonso has been for the Mets, playing in all but one game this season.
| | | | |
| --- | --- | --- | --- |
| Month | RBI | Home Runs | wRC+ |
| April | 17 | 4 | 114 |
| May | 30 | 9 | 173 |
| June | 22 | 9 | 171 |
| July | 16 | 4 | 124 |
| August | 10 | 3 | 225 |
On a team that has scored the third-most runs in baseball this year, Alonso has driven in nearly 20% of their runs himself (19.1%). Alonso and Francisco Lindor have been the best run producing tandem in the sport with 179 RBIs between them.
Hitting behind speedy on-base threats like Brandon Nimmo and Starling Marte is certainly helping in that department, but their ability to cash in during the clutch situations should not be overlooked.
In situations Fangraphs deems as high-leverage, Alonso is hitting .367/.436/.833, leading the league with four home runs and 23 RBIs. He has a 224 wRC+ in those spots, which is the third-best mark in the NL, 21 points ahead of Lindor who has the fifth-best mark.
Whether it is hitting for power with his 29 home runs, or shortening up in RBI spots, Alonso has done everything he can to lead the Mets offensively and that is sure to continue over the final 50+ games of the season.
Making a Second Half Push for the Award
Since the All-Star break, there is only one hitter on the planet who has been hotter than Pete Alonso and he plays in the other borough, while also being the frontrunner to win the AL MVP. Aaron Judge has 10 home runs since the break, bolstering his MVP case, but Alonso has been the top man over in the National League.
In his first 16 games of the second half, Alonso hit .390/.486/.746, with an NL-best 237 wRC+. His 17 RBIs also led the NL during that span and his five home runs trail only Goldschmidt and Hunter Renfroe.
When it comes to fWAR and wRC+, it will be hard to catch the top players when it comes to Alonso's statistical case to be the league MVP. The way it could happen though is if he can lead the league in RBIs by such an astronomical amount that it sways voters to reward him and the Mets for their great season.
Alonso's top RBI month was back in May when he drove in 30 runs. He is currently at 10 this month. If Alonso can somehow drive in an additional 50 runs before season's end and get close to 150 RBIs, maybe he has a chance surprise us as a dark horse to win the MVP.
Even if not though, Alonso has been the most valuable cog to this Mets offense. For a team that has not made the playoffs since 2016, he has been as good as anyone could have hoped for this season, rising to the task of being the face of the franchise on this surging team.