Analysis
Paul Blackburn's Changes Leading To Success for Oakland
Showcasing an improved repertoire, Paul Blackburn is making the most of his opportunity to start every fifth day in the Athletics' depleted rotation.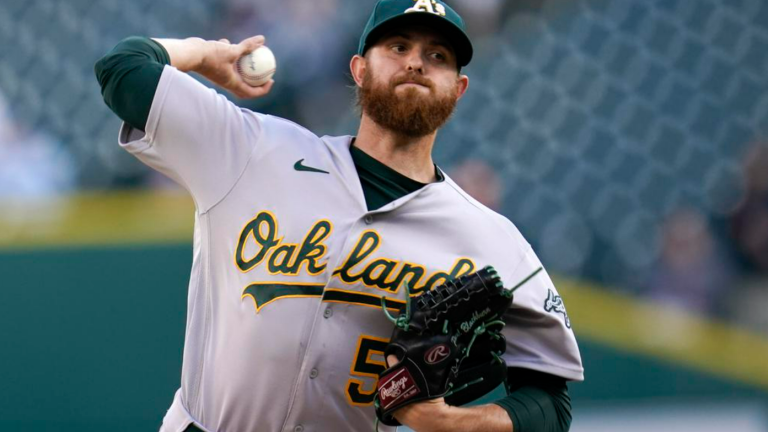 Rebuild. A term so familiar in Oakland, it has become some newborn's first words. After a successful 2021, the Athletics disassembled their team leaving few notable names. Perhaps the most notable being starting pitcher, Frankie Montas.
While Montas has pitched fairly well to start the season, a different A's pitcher has stolen the show, 28-year-old Cali kid, Paul Blackburn.
Blackburn was origanly selected in the first round of the 2012 draft by the Chicago Cubs before heading to Seattle in the Daniel Vogelbach trade. A few months later, on November 2016, the Athletics acquired Blackburn for Danny Valencia.
Blackburn debuted in 2016 starting 10 games and pitching to the tune of a 3.22 ERA. Since then, Blackburn has bounced up and down from the minors without much success, until this year.
Through seven starts, Blackburn has a 1.67 ERA (4th in AL), 2.31 FIP, 0.90 WHIP, good for a 207 ERA+. Before you ask, no he has not just faced an easy schedule. In games against the Angels, Rays (twice), Giants, and Blue Jays, he's allowed six earned runs in 26 innings.
So, how exactly did Paul Blackburn go from a fringe roster guy to pitching at an All-Star level?
Improved Pitch Movement & Mix
Baseball Savant provides incredible data and does wonders for the baseball community. At times, the numbers can be overwhelming and confusing. The simplest understanding: the darker the Red, the better it is. The darker the blue, the worse it is.
Now is the perfect time to compare 2021 to 2022 for Paul Blackburn. In 2021, Blackburn threw 38.1 innings and he currently sits at 37.2 innings, making the sample size comparable.
From the graph below, you can see the changes in each pitch from last season to this season. Blackburn's curveball drop has increased from last season and so far has made a significant difference. Batters are currently 1-for-22 good for a .045 batting average on the curveball. He's also throwing it more at 16%, up from 12% in 2021.
While this video is now a few weeks old and the numbers have slightly changed, the point remains the same. Blackburn throws his sinker more than any other pitch at 36%, down from 42% in 2021. Is the curveball helping the effectiveness of the sinker? I'd say so.
| | | | | | |
| --- | --- | --- | --- | --- | --- |
| Paul Blackburn | BA | SLG | WOBA | Spin | Whiff % |
| 2022 Sinker | .197 | .246 | .219 | 2025 | 11.8% |
| 2021 Sinker | .354 | .615 | .439 | 1992 | 6.2% |
Stats from Baseball Savant
Depending on how closely you looked at the first graph, you might have noticed a a major difference in one line from the two seasons. This season, Blackburn has brought back a slider, a pitch he abandoned in 2021.
From 2017-2020, Blackburn used a slider but it was a much different pitch.
| | |
| --- | --- |
| Slider | Inches of Drop |
| 2022 (37.2 innings) | 52.5 |
| 2020 (2.1 innings) | 36.6 |
| 2019 (11 innings) | 35.5 |
| 2018 (27.2 innings) | 33.4 |
| 2017 (58.2 innings) | 36.4 |
Stats from Baseball Savant
The slider has been elite, and used only 5.7% of the time but 40% as the put away pitch. Batters are slashing .111/118/.333 of this pitch and a 42.9% whiff rate.
Better Command
Ok, take a breath after all those charts and percentages. This will be fairly simple; Blackburn is walking less batters and keeping the bases empty.
In 2022, Blackburn has walked half as many batters as he did in 2021 in about the same amount of innings. His BB/9 is 1.19, down from 2.35 last season. Currently, Blackburn sits in the 92nd percentile in walk percentage in all of baseball.
It is also worth noting, Blackburn has only walked more than one batter in a game once this season, May 14th when he walked two batters. He's not the type to unravel and put runners on putting his team in a bad position.
While Blackburn has been a great story on a team without playoff aspirations, the question becomes can he keep up this level of play?
I think the changes he's made will allow him to continue to have quality outing after quality outing and continue to position the A's with a chance to win his starts, regardless of the opponent.
Blackburn is arbitration-eligible after this season, so Oakland still has him under control for three more seasons after 2022. Considering the likelihood of Montas being dealt at the deadline, Blackburn may be the closest thing Oakland has to a fixture in their rotation moving forward.