Analysis
Oakland Athletics Trade Deadline Guide
While the Oakland Athletics have been consistent sellers over the last few years, they are thin on assets that can be moved at the deadline.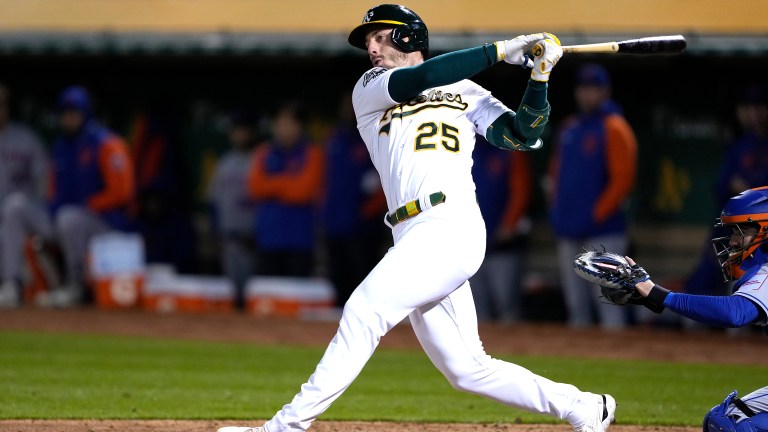 As if Oakland Athletics' fans did not have it hard enough, the trade deadline is nearly here. You know the drill, your favorite player? Gone. The jersey you bought on Opening Day for your kid? That player is now a Brave, Dodgers, or (insert 90% of teams). As much as we all hate to see players constantly moved, it makes more sense now than ever.
With Vegas in the near future, I would not be surprised if the front office wants to stock pile as many prospects as possible. But enough about the process we are all too familiar with. Let's dive into some names who could be on the move.
| | | | |
| --- | --- | --- | --- |
| Player | Age | Free Agent | 2023 Contract |
| Paul Blackburn | 29 | 2026 | $1,900,000 |
| Trevor May | 33 | 2024 | $7,000,000 |
| Brent Rooker | 28 | 2028 | $725,000 |
| Seth Brown | 31 | 2027 | $730,000 |
| Ramon Laureano | 29 | 2026 | $3,550,000 |
| Jace Peterson | 33 | 2025 | $4,500,000 |
| Aledmys Diaz | 32 | 2025 | $6,500,000 |
Pitching Options
The deadline is pretty strange this year. Less and less teams look like sellers at this point, and the teams that are struggling do not have the same big names available that we are used to. With the starting pitching market looking thin, Paul Blackburn becomes a more attractive option than he would in a normal year.
Blackburn is a number five on a good team. A guy who can hover around a 4.50 ERA, eat some innings, and occasionally give you a surprisingly good start. He's not going to be in a playoff rotation, but helps get you to the post season.
A $1.9 million option with team control makes him a reasonable fit for most contending teams. The return will not shoot the A's up farm system rankings. Maybe, in some systems, a fringe top-10 prospect. More likely a top 20-25 with another flier prospect. Regardless of the return, I don't see Blackburn as part of the long-term plan. Capitalize on a weak market.
Unfortunately, the A's do not have a lockdown bullpen option to trade. That's what happens when your bullpen is built off the waiver wire. The one veteran with a track record good enough for potential interest is Trevor May. His overall numbers won't jump off the page, but he's been much better recently. Since coming back in late May, he's pitched in 16 outings allowing a run in only three outings. Again, not a guy who will bring back much in return but worth a flier prospect before letting him hit free agency after the year.
Position Players
Brent Rooker, the A's lone All-Star, was one of the best stories early in the season. In March and April he hit nine home runs, cut down on strikeouts, and looked like a different player. Well, he's come back down to earth, batting under .200 with only two home runs in each May and June. The strikeout issues returned, and at this point he's looking like a platoon/bench DH who can run into a ball. Someone will be interested, and the return could be a top 20 prospect from a system, which might be best case scenario.
Jace Peterson and Aledmys Diaz fall into the same category for me. Two veterans who can play all over and have been valuable bench bats in the past. Both have struggled at the plate, and that extra year on their contract at a relatively steep number for their production could keep them in Oakland.
The last two options are fan favorites Seth Brown and Ramon Laureano. Both come with years of control and a track record that makes them options for contenders. Brown can play a few positions, is on a cheap contract, and could serve as lefty power off the bench.
Laureano, well, 2019 was a long time ago. He has a cannon of an arm but has not been the same defender that made him a fan favorite. He strikes out out a lot, doesn't hit for much power or average. In my eyes, he's a platoon or bench option. There's no guarantee he's tendered a contract after this season. I do think a change of scenery would make him a better player.
Conclusion
Simply put, the A's do not have many options. Giving somewhat big contracts to Diaz and Peterson was a headscratcher, and now they do not even have much, if any, trade value. The A's had an opportunity to sign a one-year deal and flip a player, and there either wasn't interest or the front office elected not to.
In a year where the team has failed on the field, ownership has failed the fans, the front office is looking like it will fail at the deadline. With few players who can truly bring back impact prospects, it feels more and more like a wasted season.