Analysis
Oakland Athletics Trade Deadline Outlook
Frankie Montas and Sean Murphy are the final pieces left for the Athletics to sell as they complete their roster overhaul from the offseason.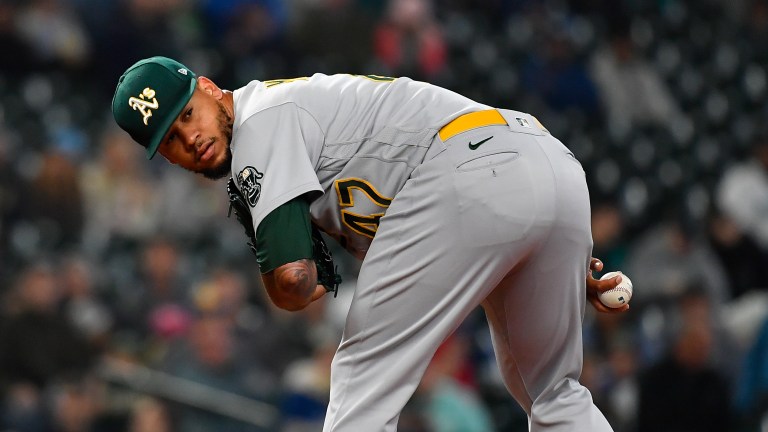 Last July, the Athletics found themselves on the buyers side of the deadline. Adding Andrew Chafin, Starling Marte, Yan Gomes, and Josh Harrison to solidify their roster for a playoff push. They finished the season 86-76 and on the outside looking in of a postseason spot.
During the offseason, the front office elected to trade key contributors and begin a rebuild. The result this season has been a fall from grace when it comes to the standings, as the Athletics currently sit in last place in the AL West, with the worst overall record in the American League.
Obviously that means Oakland will be selling at again at the deadline, with a few key pieces available that could fetch a hefty return of prospect to aide their rebuild. Here are some of the trade assets who could be on their way out of Oakland at the deadline.
All stats were taken ahead of play on July 13th.
Frankie Montas – SP
2022 Stats: 3-9, 3.26 ERA, 1.09 WHIP, 96.2 IP, 100 SO
Potential Fits: Red Sox, Blue Jays, Twins, Cardinals, Dodgers
Just Baseball's No.1 ranked deadline asset is almost guaranteed to be moved by the end of the month. The seven-year veteran has established himself as a top of the rotation arm that can help take a team from good-to-great. Montas finished sixth in Cy Young voting in 2021 and has a lower ERA in 2022. He's currently holding batters to a .224 average while striking out 9.31 batters per nine.
Montas, like Luis Castillo, see their values increase due to their contract situation. Each is under team control through 2023 making them more than just a rental. Entering free agency at 30 years old, Montas will be in place for a significant pay increase. The Athletics will have there fair share of offers from several teams across the league.
In terms of returns, I would expect at least one top 100 level player. Two would not shock me. A package with two organizational top-five talents plus a secondary piece would do wonders for Oakland.
Sean Murphy – C
2022 Stats: .240/.307/.413, 9 HR, 36 RBI, 107 wRC+
Potential Fits: Guardians, Giants, Cardinals, Padres
Sean Murphy is the type of catcher you build a pitching staff around. The rare ability to hit at a high level (relative to catchers) and provide elite defense behind the plate does not come around everyday. Murphy will not draw many walks, but he also only strikes out 21.7% of the time. His 11.2% barrel rate ranks in the 75th percentile, while his pop time to second and framing behind the plate both surpass the 90th percentile.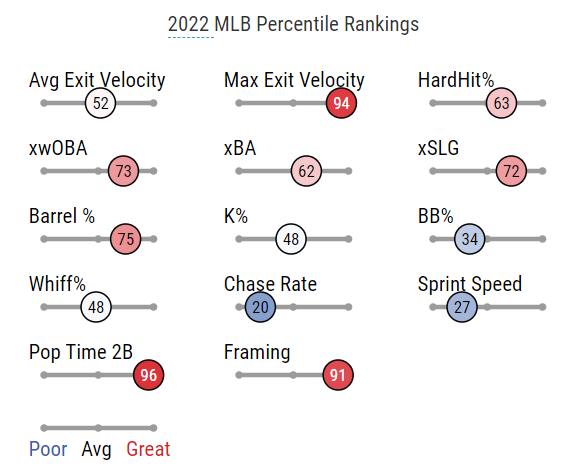 In addition to his high level play, Murphy comes with an attractive contract situation. Murphy is under team control through 2025, his age-30 season. Any acquiring team would be getting a plus offensive catcher and an elite defender for a minimum of three plus years.
So, why would Oakland trade him?
The Athletics drafted catcher Tyler Soderstrom in the first round of the 2020 draft. This past offseason they added Shea Langeliers, a catcher who is MLB ready. Oakland's farm system is weak, and Murphy can bring back a substantial haul to help reload the farm.
Ramon Laureano – OF
2022 Stats: .239/.329/.397, 7 HR, 9 SB, 115 wRC+
Potential Fits: Padres, Marlins, Yankees, Phillies
After breaking onto the scene in 2019, making impossible catchers and hitting 24 home runs, Laureano looked to be one of the top centerfielders in the American League for years to come. His bat didn't reach the next level, and a PED suspension held him out for the beginning of this season.
Laureano, Just Baseball's No. 14 trade asset, provides some power to a lineup with the ability to play all three outfield spots. While he makes highlight reel plays from time-to-time, he does not grade well as a defender. Laureano as an ranks in the 12th percentile for outs above average (22nd percentile in 2021) and has been worth -6 defensive runs saved.
He's shown the ability to be a plus defender in the past and could get back to that level. His bat plays regardless. Under team control through 2024, which should help drive up his price for interested teams. The return will not be cheap, lesser than Montas and Murphy but should include a legit prospect and then some.
Elvis Andrus – SS
2022 Stats: .226/.296/.363, 6 HR, 23 RBI, 93 wRC+
Potential Fits: Rays, Phillies
Elvis Andrus is no longer the base stealer he once was in Texas. In fact, Andrus is overpaid for a player with a career .695 OPS. His 2022 wRC+ of 93 is his highest since 2017 (107). While he only strike outs 14.5% of the time, his 3.5% barrel rate does not lead to many extra base hits.
Why would anyone want Andrus?
Andrus could be attractive to a team that needs a spot starter and middle infield depth. The Rays make sense due to Wander Franco's injury and the lack of production from their middle infield options. A trade for Andrus would be a bit more complicated.
In his contract is an option for 2023. That option is currently a player option for $15 million and becomes guaranteed once he hits 550 plate appearances this season, or 1,100 plate appearances from 2021 and 2022 combined.
A trade would likely require the Athletics to pay a large portion of that option. For a team pinching pennies, any relief from the $15 million would be a plus. The return would likely be a flyer prospect or bullpen arm. Any asset and any money off the books for Oakland is a win.
Seth Brown – 1B/OF
2022 Stats: .217/.273/.404, 10 HR, 38 RBI, 7 SB, 94 wRC+
Potential Fits: Phillies, Guardians, Brewers, Orioles
If Seth Brown could make more contact, or have a better eye for the zone, he could really improve his value. He ranks in the 65th percentile or higher in hard hit percentage, expected slugging, barrel percentage, and max exit velocity. He hits the ball hard, he just doesn't hit it often.
Brown would be a fallback option for contenders at the deadline. If they miss out on their main targets or need a cheaper piece to fill out the roster Brown is an option. A lefty bat off the bench with some pop is often a team need. His base salary for 2022 is only $705,000 and he comes with team control through 2026.
Brown is 30 years old and will not factor into the future of the Athletics. The priority should be playing younger players with more upside. If you can get a similar return to Andrus, you might as well pull the trigger and have more darts to throw at the board.
Sam Moll – RP
2022 Stats: 2-0, 2.00 ERA, 1.29 WHIP, 27 IP, 33 SO
Potential Fits: Mets, White Sox, Astros
Sam Moll is not a name most common MLB fans will know. However, Moll is having a tremendous 2022 season. He's striking out 11 per nine but also walking 5.33 per nine. His ability to limit hard contact and rack up K's has lead to his success.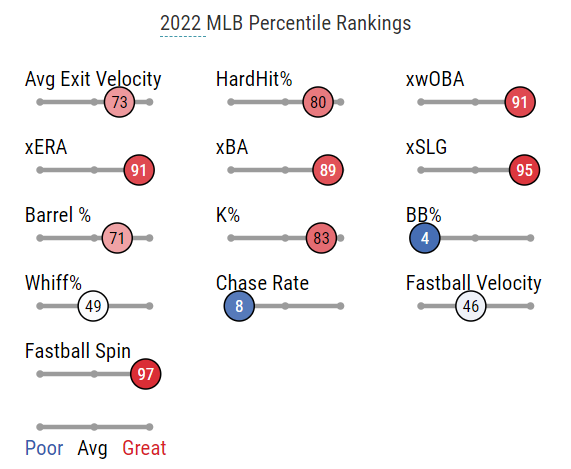 Every deadline a contender needs bullpen help, especially lefty bullpen help. Moll's salary for 2022 is only $700,000 and is under team control through 2027. An acquiring team would not have to give up top prospects to acquire a lefty who's pitched well all season.
Even if Moll is a secondary option for some teams, he's worth the middle-to-lower tier prospect he would cost to acquire. An extra lefty in the bullpen or organizational depth can help come October.
We know how the offseason trades went. The Athletics return was focused on undervalued, "older" prospects who could blossom in a new opportunity. Will the front office focus on similar players or go for younger options they can develop in their own system?
Either way, Oakland needs to nail the returns for Montas, Murphy, and Laureano if they plan on being competitive in the next five years.