Analysis
Nick Yorke Is Proving the Red Sox Right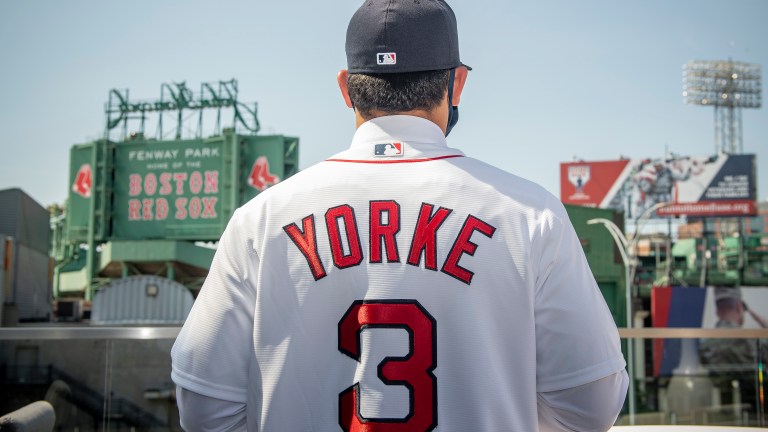 Leading into the 2020 MLB Draft, it's probably safe to say that Red Sox fans did not have their sights set on Nick Yorke with their first round selection. I mean, how could they? Yorke wasn't being talked about like Robert Hassell, Zac Veen, or even Ed Howard. The second baseman wasn't even included in mock drafts; Baseball America and MLB Pipeline ranked him 96th and 139th respectively in his draft class.
As we know, mock drafts rarely line up with the real thing in any sport. It's too hard. Teams play close to their vest and even put out smoke screens. That said, we rarely see a player ranked outside of the top 100 draft prospects go in the first round. The Red Sox didn't care, taking Yorke 17th overall out of Archbishop Mitty High School.
What is more than clear to this point is that everyone overlooked the Campbell, California native. Everyone, but the Red Sox. On top of the pick looking like it was a good one for Boston outright, York's lack of prospect status allowed the Red Sox to sign him for nearly $1 million under slot. The only teams to save more on their first round picks were the Orioles (Heston Kjerstad) and the Indians (Carson Tucker). The savings allowed the Sox to snag Blaze Jordan in the third round for $1 million above slot.
Why Was He Overlooked?
The Red Sox reportedly viewed Yorke as a top 20 player in his draft class, but even they have to be a pleasantly surprised by his performance in his first pro season. The 19-year-old is slashing .326/.413/.510 with 11 HR, 30 XBH, and 149 wRC+. All of this production from Yorke is coming with just a 14% K-rate and an impressive 12% walk rate.
Whether a team viewed Yorke as a third round guy or a first rounder, the consensus on him was that he had a phenomenal feel to hit. Many evaluators struggled to find a tool that they could get excited about beyond Yorke's feel to hit. As we see year after year, high end athleticism and tools gets teams dreaming, welcoming the typically increased risk.
It's not that scouts didn't think Yorke had a good chance to be a solid ballplayer, but there were too many subtle questions around him in the eyes of many. In his senior season, Yorke was recovering from shoulder surgery, and exclusively served as the team's designated hitter. Concerns with the health of Yorke's shoulder had teams wondering where he would wind up positionally. The other concern was how much impact Yorke could make in the power category. Adding overall strength after rehabbing his shoulder, Yorke reportedly started showcasing more pop in the early parts of the 2020 prep season. Unfortunately, the season was cut short due to COVID-19, ending the opportunity for him to demonstrate his improvements on a larger scale.
It is a bit understandable that teams could be skeptical in a situation like this. If Yorke's shoulder continued to be a problem or the power output did not develop, the 6-foot, 195 pound infielder is not necessarily a burner, with closer to average speed. Of course, none of that matters now because the Red Sox top middle infield prospect has mashed his way to a High-A promotion behind an elite hit-tool and a power stroke to go with it.
A Pure Hitter
As I watch at bat after at bat of Nick Yorke, I struggle to find any reasons as to why the hit tool can't be 70-grade. His takes are easy, his barrel control is impressive, as is his body control, generating now above average power with little effort; the easy backspin and carry Yorke is able to generate is ironic given the questions scouts had about his power potential.
Yorke handles the bat like a veteran. He is okay taking pitches in the strike zone that he may not be able to do much with because of his comfort with two strikes. The equation for a hitter like Yorke is simple: limited body movement and a short, compact, quick swing leads to confidence in making late decisions. Hitters who have more time to decide are of course more likely to make the right decision, which Yorke has done well (14 K%).
It's not a total surprise that the 19-year-old has a good feel to hit, but I am really impressed at how easily he has been able to generate more power without adding effort to his swing. All Yorke needs is a small weight shift into his back hip as he gets his hands slotted. A short stride allows him to stay back on off-speed, and his body control allows for his great feel for the barrel to shine through. Many young hitters struggle to control their lower half, resulting in barrel drag or timing issues, but Yorke's limited movement allows him to repeat his swing well and be on time.
The teenager's ahead-of-his-years approach may be best demonstrated by his spray charts. Even when Yorke is fooled by off-speed, I often saw him still able to keep his hands and weight back despite his foot being down early, and shooting the ball the other way. The spray charts for Yorke are picturesque; his pull rate is 35%, while driving the ball up the middle 31% and going the other way 34% of the time. Just watch this at bat below.
Future Value
Yorke seems to have found a permanent home at second base. His arm has looked solid and healthy, which of course was the biggest question when it came to his defense. At 19-years-old, Yorke could make major strides defensively, especially at a position like second base where much can be aided by just footwork improvement. Regardless, Yorke is likely to be a bat first second baseman, but a darn good one. While the hitting styles are quite different in terms of set up, a Dustin Pedroia type of outcome in terms of production is a feasible best case scenario. Yorke's doesn't quite boast the glove or speed of Pedroia, but his feel to hit and burgeoning power give me reason to believe that he is capable of becoming the Red Sox second baseman of the future if all works out.