Analysis
Red Sox Trade Deadline Outlook
If the Red Sox want to make the playoffs in a competitive AL Wild Card race, they are going to have to make a splash at the trade deadline.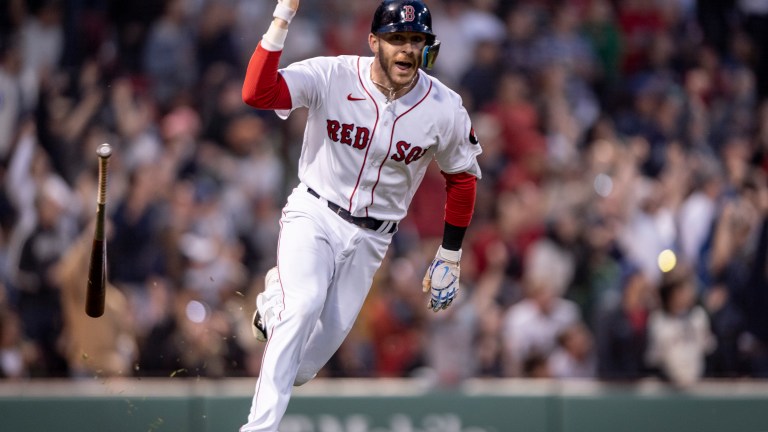 The Boston Red Sox have officially been swept in a four-game series by the Tampa Bay Rays and now sit tied with the Blue Jays for third place in the AL East, as well as the third Wild Card spot. The vibes surrounding the Red Sox have hit lowest lows and the highest highs this season.
They have a +26 run differential since June 1st and are a team capable of beating anyone, but are also very sloppy. They desperately need to get healthy before their playoff position is taken from them and looking to the trade market for reinforcements could be the answer rather than relying on rookies to bear the load.
The Red Sox currently have 12 players on the Injured List, nine of which are pitchers. They have battled their way through the last 20 games, going 9-11 in that span, with rookie starters Kutter Crawford, Brayan Bello, Connor Seabold and Josh Winckowski making starts in 10 of those games. Relying on Triple-A starters to win pivotal games in one of the most contested AL Wild Card races in a long time is not a recipe for success and there will need to be change going forward.
On the bright side, Chris Sale made his season debut in a return of a rib injury on Tuesday night against the Rays and boy did it instill confidence that he is back being to an ace. His fastball averaged 95.1 MPH, up 1.5 MPH from last season and he topped out at 96.6 MPH. His slider looked as nasty as ever and got a ton of called strikes.
Nathan Eovaldi is set to return on Friday night against the Yankees and Garrett Whitlock is also returning this weekend, so the Red Sox will finally have their top guns back.
The All-Star Break could not have come at a better time for a team that is also missing Michael Wacha, Rich Hill, Tyler Danish and Kiké Hernandez. The Red Sox front office will be busy during the break as they crunch the numbers and decide which prospects are expendable.
Fangraphs released their farm system rankings today and ranked the Red Sox at No. 5, so despite a top heavy system headlined by Triston Casas, Marcelo Mayer, Brayan Bello and Nick Yorke, they have plenty of depth to trade from too.
Looking Back at the 2021 Deadline
The Red Sox needs are quite straight-forward and not so surprisingly similar to last year's. A power-hitting first basemen with an ability to get on-base, a high-leverage reliever (or two), and possibly a frontline starter if they are to really splurge.
If last trade deadline gives us any signal into Chaim Bloom's approach, it's that he wants to acquire high upside talent without sacrificing elite prospect capital. He traded Aldo Ramirez for Kyle Schwarber to fill the gap at first base in 2021. Ramirez has yet to pitch this season as he continues to recover from elbow soreness, but pitched well in Low-A in 2021.
Regardless, that was a small price to pay for Schwarber, who was coming off of the IL and went on to have a .957 OPS for the Red Sox down the stretch.
In the reliever department, Bloom made deals for a couple reclamation projects: Hansel Robles and Austin Davis. For Robles, the Red Sox sent RHP Alex Scherff to the Twins, who has a 3.76 ERA in Double-A this season. Robles has been a disaster this season and owns a 5.84 ERA and has blown six saves. For Austin Davis, the Red Sox sent 1B Michael Chavis to the Pirates. Davis, unlike Robles, has been the best lefty reliever in the Sox pen this season and owns a 2.48 ERA.
First Base Targets
Franchy Cordero has emerged as a reliable swingman, playing both right field and first base and looks poised for even more success in the second half. While Franchy's numbers don't look incredible on paper, his 47% hard hit rate and .356 xwOBA signal some bad luck playing into his lackluster .702 OPS. It's the depth beyond Cordero that's the problem.
Bobby Dalbec finished the 2021 campaign strong with a 141 wRC+ in September. He possesses 70 grade raw power and in his first two MLB seasons, had a .268 ISO, which is well above league average. Dalbec has always been able to offset his high strikeout numbers with light tower power, but that power has disappeared this season. His barrel rate and home run per fly ball rate are down 12% from last season and his ISO sits at a lowly .130 through 243 plate appearances.
The Red Sox don't have time to waste waiting for Dalbec to figure it out while in the middle of a playoff push. At the still young age of 27, there is a chance for Dalbec to be a valuable contributor at the major league level, but it's likely that will have to be for another team.
It makes a lot of sense for Dalbec to be on the move in a deal for the Red Sox to acquire either another first baseman or reliever and despite his struggles, there should still be interest in the young righty slugger who can also play third base.
Josh Bell – Washington Nationals – 1B
The Red Sox traded for Kyle Schwarber from the Nationals last season and could look to go back to the well again this season for switch-hitting first baseman Josh Bell. Bell has improved on a 27-homer campaign in 2021 to deliver a .304 average and 143 wRC+ this season. He's also cut his strikeout rate by more than 4% and is hitting more line drives than ever. He would slot in nicely to the five hole of the Red Sox lineup.
Bell will cost more than Schwarber did last year since Bell is healthy currently, but I would not expect the Red Sox to have to deal anyone in their top 10 to acquire Bell and as mentioned, could ship out Dalbec in any potential deal. Bell is likely at the top of the Red Sox list and a recent slump could potentially drive his price down.
Trey Mancini – Baltimore Orioles – 1B
The Orioles have emerged as a surprise team in the AL Wild Card race after winning 10 in a row and 15 of their last 20 games, so it'll be interesting to see how they go about the deadline with a ton of young emerging talent. Mancini has a mutual option for $10 million next year, but will likely opt out and test free agency if not traded, so the Orioles would be wise to trade Mancini and recoup some prospect capital if they don't plan on signing him to an extension.
Mancini is an underrated first basemen with 25 home run power and a consistently high average. Consistency is the name of his game and he's currently in the middle of one of his best seasons of his career at the age of 30.
He has a 120 wRC+ this season and could be in for an even bigger second half. His xwOBA ranks seventh among first basemen and is higher than Paul Goldschmidt's xwOBA of .384. The return for Mancini will likely be similar to the return for Josh Bell, but it remains to be seen if the Orioles will decide to part ways.
Relief Help
The Red Sox bullpen, despite being second in blown saves with 18, has been quite good. Red Sox relievers have combined for a 3.64 ERA, which is 13th-lowest in baseball. Surprisingly, the bullpen has a good amount of depth, but the biggest need will be acquiring a key setup man.
John Schreiber has given up just two earned runs in 30 innings and was snubbed from the All-Star Game. Tanner Houck has a 2.86 ERA out of relief this season after stepping back from a starter role and taking over closing duties.
Garrett Whitlock is making his return from the IL this weekend and is slated to step back into a high-leverage role. Matt Strahm and Austin Davis have earned Alex Cora's trust over Jake Diekman, who has skated by with a 3.66 ERA, but is walking more than seven batters per nine. Since June 1st, Ryan Brasier has a 3.38 ERA and 1.80 FIP and has also gained praise from Alex Cora.
Beyond them, Hirokazu Sawamura, Kutter Crawford, and Philips Valdez have provided much needed depth. Josh Taylor is also set to to return after the All-Star Break. Taylor had a 3.40 ERA last season and will add to the lefty depth in the pen. The Red Sox also have more potential bullpen reinforcements in the minors in Kaleb Ort and Darwinzon Hernandez. Depth is not an issue for the Red Sox, but acquiring an elite arm that will not flounder in high-leverage spots will be key.
Daniel Bard – Colorado Rockies – RHP
Hello, old friend. Bard was drafted in the first round of the 2006 draft by the Red Sox and made it to the bigs as a flame thrower out of the Red Sox pen from 2009 to 2012. In 2013 he lost his feel for the strike zone and eventually stepped away from baseball. He made an incredible comeback in 2020 though and produced a 3.65 ERA in 24.2 IP.
He won Comeback Player of the Year honors in 2020 and is now delivering the best performance of his career at age 37. It makes all the sense in the world for the Red Sox to get Bard, who has a 2.08 ERA and 2.07 xERA in 2022. An ERA that low is impressive anywhere, but for a guy that pitches half of his innings in Coors Field, that's immaculate.
David Robertson – Chicago Cubs – RHP
Hello, old enemy. The ex-Yankees reliever is still striking out more than 30% of hitters in his age 37 season. If you were wondering, his curveball is still freaking nasty and has held opponents to a .073 ERA this season.
Robertson is as consistent as it gets and holds a career 2.89 ERA. He shouldn't command a super high price tag as a rental reliever from a bad team.
Michael Fulmer – Detroit Tigers – RHP
The once top prospect traded from the New York Mets in a deal to acquire Yoenis Cespedes has turned from a starter to a high-leverage reliever and has excelled. He has a 2.62 ERA in 103 innings between 2021 and 2022.
The Tigers will certainly part ways with the 29-year-old free agent to be. The market for Fulmer will be strong and it would be shocking if the Red Sox were not one of the teams in on him.
Starting Pitching Options
The Red Sox rotation coming into the season was seen as a weak spot, but has really held on throughout much of the season. Red Sox starters as a unit have combined for a 3.98 ERA, which ranks 17th in baseball. With Chris Sale and Nathan Eovaldi returning though, that should improve.
With that being said, the Red Sox could aim to make a splash for one of the three pitchers on the market with control beyond this season. The Red Sox rotation as it stands looks like this:

Chris Sale
Nathan Eovaldi
Nick Pivetta
Michael Wacha
Rich Hill
Kutter Crawford
Josh Winckowski
Michael Wacha and his 2.69 ERA have been a blessing, but that kind of success backed by a 4.61 xERA and 3.96 FIP cannot last forever, so it's clear the Red Sox need a fourth arm that they can rely on heavily down the stretch.
Frankie Montas – Oakland A's – RHP
Montas left his July 3rd start after just one inning, citing shoulder soreness as the reason for a drop in velocity. His velocity topped out at 94.5 MPH in the outing, way down from his season average of 96.4 MPH.
The injury could not have come at a worse time for Montas, who holds a 3.26 ERA and has been one of the most consistent pitchers in the game. The Red Sox will likely have concerns about his durability especially after Montas threw a career-high 187 innings last season. He had never thrown more than 96 innings in his career, so it's fair for Red Sox to question his ability to stay on the field down the stretch.
If the A's don't find the right offer, they can opt to wait till the offseason to deal Montas, who will be a free agent after the 2023 season.
Luis Castillo – Cincinnati Reds – RHP
This pitcher pool is filled with shoulder issues. Castillo himself missed the first month of the season working back from a right shoulder strain. It hasn't seemed to bother his performance though as he holds a 2.77 ERA and just two-hit the deadly New York Yankees. He's walking less batters than ever and still boasts one of the best changeups in baseball.
The asking price for the All-Star will be quite high and acquiring Castillo will likely cost the Red Sox at least one of their top prospects.
One possible offer I have put together involves trading Nick Yorke, Alex Binelas, Bryan Mata and Bobby Dalbec for Castillo. Nick Yorke is one of Chaim Bloom's prized possessions, but with the emergence of Trevor Story at second base, the Red Sox can be happy moving on from Yorke for an ace like Castillo.
Yorke has struggled so far this season, hitting just .237 with five home runs in 45 games. It's not fair to Yorke to read too much into those struggles as he's been on and off the Injured List with turf toe. He's proven he can hit and should still be valued as a top 50 prospect in baseball.
There will be a massive bidding war for Castillo and I have my doubts that the Red Sox will be willing to shell out one of Casas, Duran, Mayer or Bello for the Reds ace.
Tyler Mahle – Cincinnati Reds – RHP
Replace Nick Yorke with Jeter Downs and you may have a trade proposal for Tyler Mahle, who is a couple tiers below Luis Castillo, but finds himself as a top 40 pitcher in baseball. Mahle, who is a fly ball pitcher, has never found success in the hitter friendly confines of Great American Ball Park. He sports a career 3.87 ERA and 3.52 FIP on the road though and this season has a 3.83 ERA and 2.82 FIP on the road.
Great American Ball Park has a park factor of 111 meaning there is 11% more scoring in Cincinnati than league average. Fenway Park has a park factor of 109, so it's not too much better than Cincinnati in terms of being friendly to pitchers. The Red Sox will be better of acquiring a pitcher that induces ground balls rather than fly balls. Regardless, Mahle would be a good option for the Red Sox at a cheaper price than Castillo.