Feature
Farewell, Miguel: Top Moments of Cabrera's Hall of Fame Career
The greatest hitter of a generation, Miguel Cabrera is set to retire this week. Let's look back at the best from Miggy's illustrious career.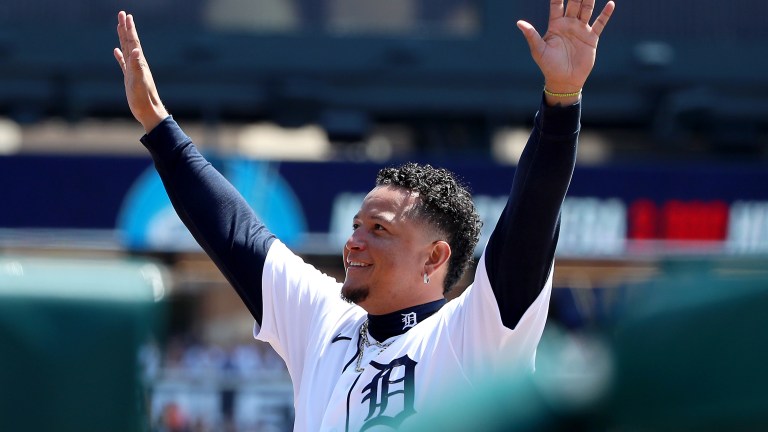 The Miguel Cabrera Appreciation Tour has made many stops in 2023. The former Marlin and current Tiger announced in spring training this year would be his last.
Naturally, the recognition of a storied career has been made well-known. It's hard to fully comprehend his place in the long history of baseball. But when your accomplishments are shared with only Willie Mays and Hank Aaron, you've done something special on the diamond.
What a Debut! – June 20, 2003
Cabrera will finish with over 3,165 hits. Only 15 major leaguers have more. It can safely be said that No. 1 is, well, his No. 1. At a mere 20 years, two months, and two days old, he debuted for the Florida Marlins. Cabrera was retired in each of his first four at-bats before getting a chance to make real good when the game reached the bottom of the 11th.
The winning run stood on second, but he instead drove everyone in when he sent a pitch to straightaway center. It sailed over the Pro Player Stadium fence. Could it get any better than this?
It got even better for Cabrera, and the Marlins, later in the year.
Go-Ahead Single – 2003 NLDS Game 4
Cabrera waited a whole three-and-a-half months for his first postseason trip. The Marlins won 91 and secured the lone NL Wild Card spot, matched up with the San Francisco Giants in the opening round. Florida advanced as Iván Rodríguez held onto left fielder Jeff Conine's throw on a home-plate collision with J.T. Snow for the final out, but it was the rookie who gave them the chance to protect a lead. Cabrera had been hitless in nine at-bats before going 4-for-5 and driving in three runs, including a go-ahead two-RBI single with two outs in the eighth.
First Postseason Home Run – 2003 NLCS Game 4
Cabrera upgraded his contributions in the opener at Wrigley Field. The Cubs took a 4-0 lead in the first, only to have the Marlins respond with five runs and three homers in the third. After Rodriguez went deep, he was shortly followed by a solo blast from the second-youngest player to hit a home run in postseason history. The Marlins held on to win, 9-8, and thanks to contributions on (and off) the field, defeated the Cubs in seven games.
Classic Home Run off Clemens – 2003 World Series Game 4
Very little had rattled the 20-year-old Cabrera up to this point. So homering off the seven-time Cy Young Award winner came as little surprise when it happened.
It was also a home run when the Marlins really needed one. Down in the series 2-1, Cabrera fouled off a couple of offerings from a pitcher more than twice his age, then sent one to the opposite field with a man on. That long ball got the evening started for Florida. It ended with the Marlins winning in extra innings. They won the next two after that to take their second title.
Intentional Walk? Miggy'd Rather Take a Single – June 22, 2006
There was actually a time when a pitcher had to throw four balls before an intentional walk was granted. Without that rule, we'd never have this brilliance.
Hanley Ramirez was at second base in the 10th inning, a baserunner who was not a ghost runner. The prudent move in this situation, with first base open, would be for reliever Todd Williams to put Cabrera on and set up the double play.
Except Williams tossed one too close to the strike zone. Cabrera pounced, swung at the lob, and drove a single into center field — scoring Ramirez in a game the Marlins went on to win.
The Triple Crown – October 3, 2012
It had not been done in 45 years. Cabrera was well ahead of the pack in the RBI chase, but his lead in both batting average and home runs was fairly close heading into the final week of the regular season. Cabrera locked up the crown during the series in Kansas City.
Mike Trout was unable to catch him for the batting title and Curtis Granderson fell just short in homers. So in the fourth inning of Game 162, Tigers manager Jim Leyland removed Cabrera to a well-deserved standing ovation from the visiting fans at Kauffman Stadium.
Oakland Ouster – 2013 ALDS Game 5
Justin Verlander stole the show with his clutch performance in a winner-take-all contest and Cabrera provided all the offense he would need. Rookie Sonny Gray's dominance of the Tigers ended once Miggy connected on a high fastball in the fourth inning. The future Hall of Famer erased his series struggles with the two-run blast over the left-field fence. Detroit went on to a 3-0 victory.
Venezuela's Finest – May 16, 2015
Without question, there has been no better major leaguer from his native country. Cabrera fully confirmed that by the time he hit his 400th home run. Not only did the long ball off St. Louis lefty Tyler Lyons get him to a nice even number, but he surpassed Andrés Galarraga for the most home runs by a Venezuelan-born player.
Nearly six years later, hit 2,878 gave him the most in that category too.
500th Home Run – August 22, 2021
As Cabrera entered the back-end of his career, the milestone occasions naturally followed. In 2011, he discovered a power surge reminiscent of his glory years with Detroit. By August, 500 was well in sight. He got No. 499 at Comerica Park, but couldn't break through in the Motor City.
A week and a half later, the moment happened in Toronto. Cabrera's popularity with all fans and the proximity to Michigan made Rogers Centre feel a little like home.
3,000th Hit Puts Him in Rare Company – April 23, 2022
Hammerin' Hank and the Say Hey Kid were the only two who could claim 500 homers, 3,000 hits and a .300 lifetime batting average. One of those feats alone gives you a real good shot of getting to Cooperstown. Cabrera, batting .306 for his career entering the final weekend, will be the third immortal.
He checked off 3,000 hits with a sharp single to right field against Colorado Rockies' right-hander Antonio Senzatela. Add in two MVPs plus 12 All-Star appearances and you're looking at a sure-fire first-ballot Hall of Famer six years from now.