Miguel Cabrera: Hitting In Its Purest Form
Nearly two decades after his MLB debut, Miguel Cabrera puts the finishing touches on one of the greatest careers baseball has ever seen.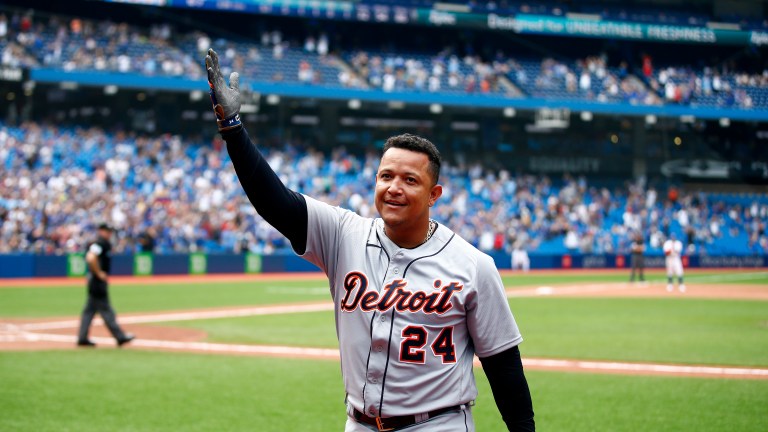 When a 20-year-old Miguel Cabrera made his way up to the Big Leagues for a surging Marlins team, the idea was that the youngster would help push Florida to its second postseason appearance in the franchise's young history. For most players, this would be a tall ask of a kid who still couldn't legally purchase a beer, but Miguel Cabrera is not like most players.
The World Series Run
Before his call-up, Cabrera was hitting .365/.429/.609 as one of the youngest players in Double-A. In his first MLB game on June 20th, 2003, Cabrera smashed a walk-off homer to dead center in the eleventh inning to bring the Marlins within three games of .500 for the first time since early May. After bringing Cabrera up, the Marlins went 56-32 the rest of the way, eventually winning the NL Wild Card, and of course, the World Series. A 20-year-old making an instant impact on a contending Big League team sounds unlikely, but his former teammate Jeff Conine explained on his podcast "Outside the Box with Jeff Conine" just how special Cabrera was at a young age.
"When I first got (to Florida) after the trade, I got to see Cabrera for a month before we got into the postseason," Conine said. "I was like, 'Holy crap, this might be one of the best right-handed hitters I've ever seen.' He still is one of the greatest right-handed hitters I have ever seen."

Jeff Conine on Miguel Cabrera from his podcast "Outside the Box with Jeff Conine"
Like many others, Conine had his belief in Cabrera solidified after his famous home run off of Roger Clemens in the World Series. After a fastball from The Rocket up and in, Cabrera jumped right back into the box to work a deep count and eventually shoot a home run over the wall in right field.
Prolific Production
From 2004-2016, no hitter in baseball was more consistently dominant. Across those 13 seasons, Cabrera slashed .323/.402/.566 with 434 home runs and a 155 wRC+. Cabrera's 2012 and 2013 seasons are up there with any we have any seen. In 2012, Cabrera became the first player to win the Triple Crown since Carl Yastrzemski did it 45 years prior. Cabrera almost became the first player to win back-to-back Triple Crowns the next season, leading the American League with a .346 batting average, but trailing only Chris Davis in home runs and RBI.
Not only would Cabrera have been the only player to repeat the Triple Crown, but he would've joined Rogers Hornsby and Ted Williams as the only players to win the title multiple times. Cabrera was also one of just four players to reach 1,000 career RBI before his 30th birthday, joining Hank Aaron, Lou Gehrig and Albert Pujols.
The power production that Cabrera has been able to generate without compromising his enviable ability to consistently make contact is a combination that we have rarely seen in the history of the game. There's only five players in MLB history with at least 500 home runs and a .310 career batting average: Ted Williams (.344), Babe Ruth (.342), Jimmie Fox (.325), Manny Ramirez (.314) and Miguel Cabrera (.311). Assuming Miggy is able to preserve his .311 career batting average, that is an exclusive club that may never welcome another member.
Having Fun With It
Nearly 19 years after Cabrera took Clemens deep, he is still having as much fun on the field as he did when he was one of the game's most dominant forces. If you are an opposing player, you just know you're in for a little prank or some laughter when you meet Miguel Cabrera at first base. Miggy has welcomed the next generation of ballplayers with open arms. Whether it's messing with Shohei Ohtani on first base, or mentoring young teammates, Cabrera's positive impact on the game cannot be ignored.
Cabrera has been intentionally walked 235 times in his career, good for 9th on the all-time list. That number would be 236 if it weren't for one of my favorite Miggy moments ever. Tie ball-game, and Hanley Ramirez on second base, so obviously the Orioles wanted nothing to do with Miguel Cabrera. Too bad he had other plans.
Few players would even give something like that a shot. That's why Miguel Cabrera's quiet confidence was unmatched. He played aggressively, but controlled. Fearless, but surgical. As Cabrera told the Miami Herald when he was 21-years-old in 2004, he was not going to back down from any player or situation.
"I only fear death, nothing else. You can't do anything in fear. You have to be tranquil and believe."

Miguel Cabrera via the Miami Herald (2004).
Next Milestones
Miguel Cabrera already has a ticket to Cooperstown, which is set to be redeemed five years after the Venezuelan slugger hangs up the cleats. There are still some noteworthy milestones for the 38-year-old to hit before he retires, however.
3,000 Hits: Cabrera stands just 45 hits shy of 3,000. It will be close in regards to Miggy hitting the 3,000 mark this season, but the expectation is that he will be back next season at least. Another elusive group, Cabrera would become the 33rd player in big league history to reach the plateau.
600 Doubles: Even fewer players have amassed 600 doubles than 3,000 hits. Sitting at 591, Cabrera will soon become the 18th player in MLB history to slug 600 two-baggers. Barry Bonds currently rounds out the 600 double club with 601 in his career.
1,923 RBI: Random number, I know. Currently sitting at 1,785 RBI, 2,000 is just not realistic for Cabrera given his age and production at this stage. 1,923 RBI would put Cabrera inside of the top 10 all-time in RBI, bumping the great Jimmie Foxx.