Feature
MLB Journeymen: Matt Stairs, The Pinch Hit Home Run King
In a career that spanned two decades and three continents, Matt Stairs played for a dozen teams and is the all-time leader in pinch hit homers.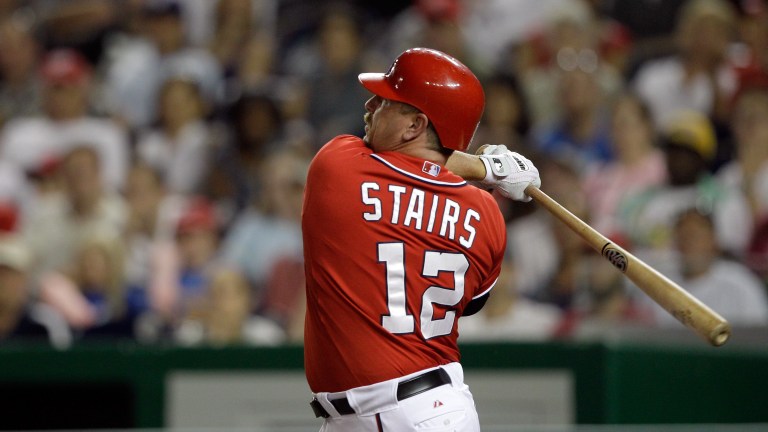 Throughout the rest of the offseason, as players land new homes, we'll look at some of baseball's well-traveled. Since the arrival of free agency, most major leaguers haven't stayed with one team. Some have changed franchises more often than others. We started with longtime shortstop Royce Clayton. Our next entry made a reputation as a slugging pinch-hitter.
He was on more teams than any position player. Stairs journeyed so far and so often he suited up for the same franchise under two different names — beginning with the Montreal Expos and ending with the Washington Nationals. In between, he also spent time on the Chunichi Dragons of the Nippon Professional Baseball league. Twenty seasons, thirteen franchises, three countries.
For someone who made so many stops, it's difficult to make a lasting impact. But Philadelphia remembers him very well.
The Phillies held a 2-1 edge in the 2008 NLCS on the Los Angeles Dodgers. Game 4 was knotted at five. With two outs and a runner on first in the top of the eighth, Stairs was called on to hit for starter Joe Blanton. The Dodgers brought on their closer, Jonathan Broxton. On 3-1, Broxton laid one over the middle of the plate. Stairs took a typically big swing…and did not miss.
The tremendous home run, which landed deep into the right-field seats at Dodger Stadium, capped a four-run rally. It propelled the Phils to more than just a win that night. They won the pennant from L.A., and eventually captured their first World Series in 28 years. For Stairs, it was his first ring after 17 professional seasons.
That blast captured Stairs' reputation for much of his career. He became the all-time leader in pinch-hit home runs with 23. His vicious upper-cut swing from the left side of the plate could do serious damage to a baseball – not to mention a pitcher's psyche.
Because he was not always a full-time player, his totals don't reflect his talent at the plate. He accumulated 265 home runs, drove in 899, and hit 294 doubles with an .823 OPS. But Stairs didn't tally more than 500 at-bats until his age=30 season. After recording consecutive years of 130 OPS+ or greater, he never got over 500 at-bats again.
Stairs began in his home country, yet couldn't have been more out of place. A native of Fredericson, New Brunswick, the Montreal Expos used him as an infielder in the minors. Although he made his way to the outfield by the time he reached the majors in 1992, Stairs played in just 19 games across two seasons before heading to Japan by 1994.
It was in Oakland that Stairs gained MLB footing and got the most playing time. He averaged 27 homers and 90 RBIs between 1997 and 2000. In '98, he drove in a personal-best 106 with a .370 OBP. The next year, Stairs had slugged a career-high 38 home runs and even received MVP votes at season's end.
Stairs' OPS+ dipped below league average in 2000. From there, he never played in more than 128 games: beginning with a one-year stint in the North Side of Chicago, followed by a year in Milwaukee, then came a season with the Pirates, two-plus seasons in Kansas City, less than a season with the Rangers and Tigers, up to Toronto from 2007-08 (where he became one of a handful of Canadians to play for both its country's franchises), to Philly for two World Series years, and finally San Diego and Washington.
Wherever he was, Stairs remained a dangerous hitter when called upon – averaging 16 round-trippers despite his part-time status, which makes him more unique than had he been an everyday player – one who is still famous around Canada and to certain segment of baseball junkies.
If the universal DH made its way to baseball during Stairs' playing days, his career could have been even better. Whenever and wherever he played, the unofficial motto, in his words, was the same:
"Swing like you live: hard."