Analysis
MLB Pitchers Stock Watch: Tarik Skubal Rising, Robbie Ray Falling
Plus, the Padres may need to hand their best starter a blank check this offseason.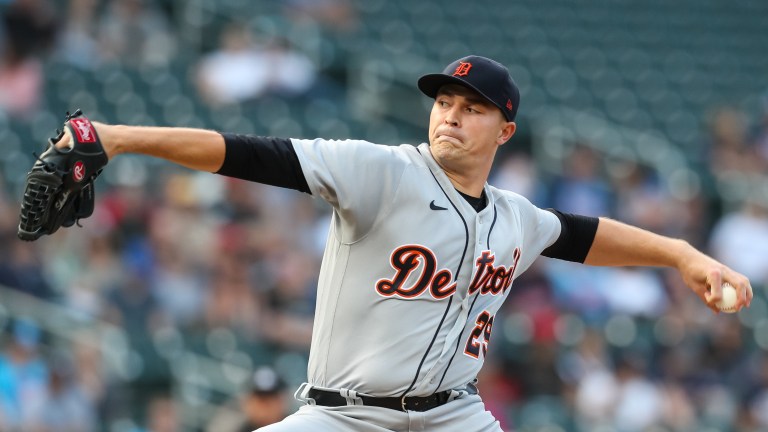 Every week, we will be checking in on hitters and pitchers whose "stock" is moving both positively and negatively at the big league level. Should you be concerned about a certain player's struggles or sold on their hot streak being a sign of sustainable improvement? We will be answering those questions every week!
To find the stock watch on hitters, click here.
Stock Up
Tarik Skubal – LHP – Detroit Tigers
2022 Stats: 39.2 IP, 2.50 ERA, 2.09 FIP, 45 K (28.3% K%), 8 BB (5.0% BB%), 1.5 fWAR
Of all of the young pitchers that Detroit was banking on succeeding, Tarik Skubal has quickly ascended above the rest.
While former No. 1 overall pick Casey Mize was sent back to the Spring Training complex in Lakeland following a shaky rehab start with Triple-A Toledo and top-10 pick Matt Manning was pulled from his rehab start with Toledo yesterday morning, the ninth round selection out of Seattle University has been the steady force in the Tigers' rotation as they fight to stay above water.
Skubal showed flashes of what could've possibly been around the corner last year, but the left-hander has put absolutely everything together this season. Through his first 36 career starts in 2020 and 2021, Skubal was sporting a K/BB ratio of 201/58 (3.47). Through seven starts in 2022, Skubal's 45/8 (5.63) K/BB Ratio blows that previous clip out of the water.
The other massive improvement for Skubal has come in severity of contact. Through Skubal's first two seasons of Major League Baseball, opposing hitters hit the ball out of the ballpark at a 5.7% clip (44 home runs in 768 plate appearances). This season, of the 159 hitters that Skubal's faced, only two have hit the ball out of the ballpark (1.3%). Point to whatever you want; Comerica Park, the deadened baseball. I guarantee that Skubal isn't putting asterisks next to fantastic numbers in the early goings.
Nestor Cortes – LHP – New York Yankees
2022 Stats: 40.0 IP, 1.35 ERA, 2.45 FIP, 49 K (32.5% K%), 11 BB (7.3% BB%), 1.2 fWAR
If 2022 has proved anything, it's that Nestor Cortes' finish to the 2021 season was only an indication of what's to come. The 27-year-old logged a 2.90 ERA in 93 innings last season, and has vastly improved in every category so far this year.
I think we're quick to chalk someone that looks like Nestor Cortes up as a one-hit wonder. I mean, the 5'11", non-superhuman build. The mustache. He's just a bit, right?
Much like Skubal, Cortes has taken strides in terms of limiting damage. In a hitter-friendly ballpark, Cortes has allowed just three home runs in 151 plate appearances, despite the average exit velocity of batted balls against him being the highest of his career at 89.1 miles-per-hour.
The biggest change that Cortes has made is within his arsenal. In 2021, Cortes was throwing his four seam fastball 43% of the time and relying on a mix of a slider, curveball, and changeup. This season, he's tinkered with his main secondary offering. Cortes has abandoned his curveball and opted for two speeds and shapes to his slider; one that he sharpened and sped up a bit to profile as more of a cutter (that he's throwing 41% of the time), and another that plays as a true "sweeping" slider, seven miles-per-hour slower than last year and with five more inches, on average, of horizontal movement.
By varying looks and mimicking shapes of pitches with drastic enough differences, Cortes is playing blitzball with a regulation baseball. And, it looks like it.
Joe Musgrove – RHP – San Diego Padres
2022 Stats: 45.0 IP, 2.20 ERA, 2.70 FIP, 47 K (26.7% K%), 6 BB (3.4% BB%), 1.3 fWAR
I know that this is somehow a hotly-contested topic in the modern baseball thinking community, so place as much stock as you want in this; Joe Musgrove is 4-0 on the year, and has logged a quality start (six innings or more, three earned runs or fewer) every time he's toed the rubber this season.
Musgrove has proven to be a true workhorse, and he's done so by staying in at-bats without fail. Much like Kevin Gausman, Musgrove is peppering the strike zone without walking hardly anyone, resulting in the best K/BB Ratio (7.83) in the National League to this point. Last season, Musgrove had an incredibly effective season, throwing to a 3.18 ERA and walking fewer than three hitters per nine innings. This year, he's cut his walk rate in more than half, and is issuing just 1.2 free passes per nine innings.
The changes in his pitch mix have been marginal, but still something to consider. From 2021 to 2022, Musgrove has slightly cut his cutter and curveball usage, and replaced that with more sliders and four seamers. His fastball is a great one; he leads all starting pitchers in fastball spin rate, sitting north of 2,500 RPMs. With the feel for the arsenal and his ability to throw deep into games every fifth day, Musgrove is setting himself up for a monster payday this winter.
Stock Down
José Berríos – RHP – Toronto Blue Jays
2022 Stats: 41.0 IP, 4.83 ERA, 4.73 FIP, 28 K (15.3% K%), 13 BB (7.1% BB%), 0.1 fWAR
José Berríos is simply pitching with a massive lack of confidence at the moment, and you can see it as clear as day by looking at which pitches he's throwing. The pitch that's gotten hit the hardest over the course of his career, naturally, has been his fastball. In 2021, opponents hit .275 against it, compared to .203 against his curveball, .233 off his sinker, and .154 off his changeup. This season, opponents are hitting a whopping .404 off his fastball, and he's throwing it eight percent more often!
Common thinking would tell you that if one of your pitches is getting obliterated, you should turn to something else. The problem is, his changeup (his best pitch) is missing the zone more than ever before, and by a wide margin; 17.6% of his changeups this season have been thrown in the strike zone this season, compared to 26.2% last year.
OK, so more fastballs. Counteract the lack of command of off-speed pitches. He's throwing strikes with the pitch, but they're bad strikes.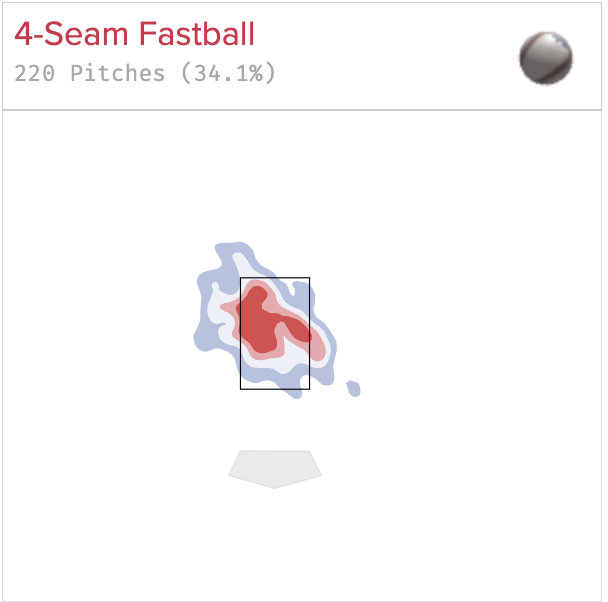 I'd be selling this stock, and selling it quickly.
Germán Márquez – RHP – Colorado Rockies
2022 Stats: 38.0 IP, 6.16 ERA, 4.76 FIP, 32 K (18.9% K%), 11 BB (4.1% BB%), 0.2 fWAR
It's been an absolute nightmare of a season for Márquez to this point. The easiest way to contextualize; he's allowed 47 hits in 38 innings. Opponents are hitting .303 against him, which is the highest clip of his career by nearly 30 points.
Much like Berríos, we can point to location with Márquez, on both his fastball and secondary command. This first image showcases his four main offerings during the 2021 season.

Now, the locations of those same four pitches this season.
Roughly, he's throwing them in the same location. The main difference here is the consistency of his spots. He was much more consistent in placement of his off-speed offerings in 2021, which is allowing hitters to sit on his fastball this year. And, it's working for them; opponents are hitting .381 off his fastball, compared to .263 last year.
Robbie Ray – LHP – Seattle Mariners
2022 Stats: 48.2 IP, 4.62 ERA, 4.15 FIP, 50 K (25.0% K%), 18 BB (9.0% BB%), 0.5 fWAR
We're beginning to see a reversion to the pre-Cy Young version of Robbie Ray. You know, the one that was struggling mightily to find the strike zone?
During his Cy Young campaign last season, Ray enjoyed the best season of his career command-wise, sporting a 6.7% walk rate despite never being below 9% in his career. This season, the walk numbers are starting to creep back up, in large part because his percentage of pitches that are called strikes is dropping.
He's not doing himself any favors early in counts, which is hurting his ability to challenge hitters with great stuff in fortuitous counts. In 2021, he was earning called strikes on 20% of pitches thrown early in counts (0-0, 1-0, 0-1, or 1-1). This season, that percentage has dropped by nearly five points.
The other area of concern seems to be in his lack of owning a "taste-breaker" of a pitch. Last year, he mixed in a changeup or curveball 10% of the time to break hitters out of a hypnotic fastball/slider combination. This season, the combination of changeup and curveball usage has dropped from 10% to 6%, allowing hitters to pounce on poorly-executed sliders. Opponents' wOBA against Ray's slider has jumped from .235 to .308 from 2021 to 2022.