Analysis
MLB Pitchers Stock Watch: Mackenzie Gore Shines, Hunter Greene Struggles
Plus, another Yankees starter is validating his ludicrous start to the season.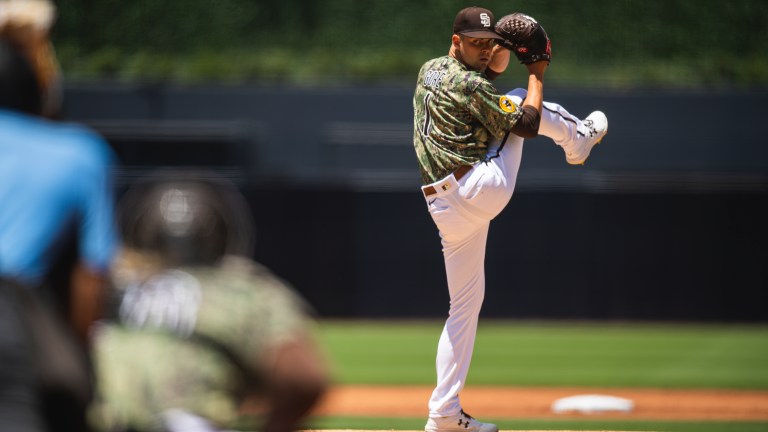 Young arms lead the way in this week's stock watch, where we validate either the good or the bad in pitchers and hitters around Major League Baseball. While one left-hander may look like a favorite for National League Rookie of the year, a flame-throwing right-hander is still trying to gain traction.
Stock Up
MacKenzie Gore – LHP – San Diego Padres
2022 Stats: 42.0 IP, 1.71 ERA, 2.36 FIP, 47 K (28.3 K%), 14 BB (8.4 BB%), 1.4 fWAR
Coming into 2022, no one knew what to expect from Gore. Back in 2020, he was ranked as the #3 prospect in all of baseball by MLB.com behind Wander Franco and Adley Rutschman, and was coming off of a 2019 season in which he had a 1.02 ERA in 15 High-A starts. The expectation was for Gore to rise quickly to the bigs and become the Padres' next ace.
The wheels came off the bus for Gore in 2021 though, as he pitched just 50.1 innings across four levels and struggled with command, walking 24 batters in 34 innings between High-A, Double-A, and Triple-A. The command struggles can be attributed to Gore tinkering with his delivery. In turn, he lost feel for all of his pitches and was experimenting in live games; not a recipe for success by any means.
Gore has brushed off any and all concerns lingering from 2021 and has dominated in the big leagues to begin this season. When Blake Snell and Mike Clevinger returned from injury to join the Padres rotation, Gore was thrown back into the bullpen for one appearance, but shortly after returning, Clevinger finds himself on the IL once again. This has given Gore the opportunity to return to the rotation, and it seems he won't ever leave it again.
In the two outings since, Gore has allowed just one run over 13 innings, striking out 15 and walking five. For a pitcher to come up at 23 years old and show the conviction with his fastball location that he has, we may be watching a blossoming ace before our very eyes. Gore's four-seam fastball grades out as the number one fastball in terms of Baseball Savant's Run Value statistic, and hitters have a .453 OPS against it.
Pair the fastball with a slider inducing 40% whiffs and a .185 batting average against, as well as a changeup that he's starting to get more comfortable with, you have the makings of a top-of-the-rotation arm. As of now, Gore is locked with Seiya Suzuki as co-front runners to win the National League Rookie of the Year. A couple more good starts and those odds could heavily favor Gore before long.
Luis Castillo – RHP – Cincinnati Reds
2022 Stats: 26.2 IP, 3.38 ERA, 2.92 FIP, 28 K (26.7 K%), 8 BB (7.6 BB%), 0.7 fWAR
Castillo didn't make his 2022 debut until May 9, recovering from a right shoulder strain that kept him on the IL to begin the year. He wasn't exactly dominant in his first two outings, giving up three earned runs to both the Brewers and Pirates. Most concerning, his velocity was down around 95 MPH.
In his three starts since, he's dazzled, giving up four runs over 17 innings with 21 strikeouts and four walks. His velocity has returned too, and has averaged 96.5 MPH over his last three starts; a return to normalcy for a pitcher that averages over 97 MPH on his fastball last season.
Castillo was my No. 12 pitcher coming into 2022 and through five starts, has shown that he is a top-end arm sporting one of the best changeups in baseball. With his velocity where it should be, Castillo should be one of the most sought-after arms at the trade deadline.
Jameson Taillon – RHP – New York Yankees
2022 Stats: 58.2 IP, 2.30 ERA, 44 K (19.2 K%), 5 BB (2.2 BB%), 1.6 fWAR
Jameson Taillon put up a 4.30 ERA in 2021 in his first year with the Yankees, and many feared the Yankees had badly lost the trade that sent top pitching prospect Roansy Contreras and three other prospects to the Pirates.
Taillon is starting to put those fears to rest, as he took a perfect game into the eighth inning against the Angels on Thursday night. Despite lackluster strikeout numbers, Taillon gets batters out by limiting hard contact (74th percentile) and free passes. His walk percentage of 2.2% is the lowest in baseball among qualified starters.
Taillon has drastically decreased usage of his four-seam fastball and has adopted a cutter and sinker to give him a full six pitch mix that keeps hitters on their toes. The Yankees rotation with Cole, Severino, Cortes, Taillon and Montgomery challenges the Dodgers and Astros for best in baseball.
Honorable Mention:
Tony Gonsolin – RHP – Los Angeles Dodgers
Gonsolin has a 1.59 ERA and 2.49 xERA through 10 starts. Gonsolin has battled injuries the last few seasons and is finally settling in at 28 years old.
Stock Down
Hunter Greene – RHP – Cincinnati Reds
2022 Stats: 48.0 IP, 6.19 ERA, 64 K (29.1 K%), 24 BB (10.9 BB%), -0.4 WAR
As it turns out, it's very hard to succeed as a starting pitcher with only two pitches in your arsenal. The shocking thing, though, is how poorly Greene has faired with the highest fastball velocity from a starting pitcher in the league. You would expect a fastball that regularly reaches above 100 MPH to be flat-out nasty, but the opposite is the case. Greene has allowed a .521 wOBA against his heater, which ranks third-worst, ahead of only Nick Martinez and Carlos Hernandez.
Looking at the heat map above though, it's clear why the pitch has failed despite a whiff rate of 25%: He leaves it middle-middle far too often.
Take this 2-2 pitch to Ian Happ. This is not a spot for a get me over fastball, but Greene leaves it right down the middle and pays for it. Aside from developing his changeup, which has a 5% usage this season, Greene must learn to locate his fastball up in the zone if he is going to limit the home run ball.
He has yet to turn 23 years old and has the makings of an ace, but for now he is learning on the fly in the big leagues and is going to continue to make mistakes down the stretch. He's still striking out 29.1% of batters, which is credit to a slider with a 41% whiff rate and .124 batting average against. Expect big things from him in 2023 once he develops a third pitch and improves his fastball command.
Trevor Rogers – LHP – Miami Marlins
2022 Stats: 45.0 IP, 5.80 ERA, 38 K (19.2 K%), 21 BB (10.3 BB%), -0.1 fWAR
Speaking of young pitchers struggling with fastball command, the 24-year-old Rogers has not been able to build upon a fantastic 2.64 ERA in his rookie season. Rogers gave up six home runs in 133.0 innings last year, but has already allowed eight home runs through 45.0 IP in 2022, and all but one has been off of his fastball.
Notice anything familiar from this to the Hunter Greene video in the last section? No, Trevor Rogers does not throw 100 MPH. He does love leaving fastballs right down the middle though and it's been his downfall this season. By Run Value, Rogers' four-seamer was the 10th most valuable four-seam among starters last year. If last year Rogers was Dr. Jekyll then this year he is Mr. Hyde, allowing a .333 average and .645 slugging percentage against his fastball.
Roger's changeup is still getting the job done, but without fastball command, Rogers has failed to miss as many bats, leading to a 19.2% strikeout rate. Quite the drop off for a pitcher that struck out 28.5% of batters last season.