Analysis
MLB Injury Report: Rangers Lose Max Scherzer
Max Scherzer, the Rangers' big addition at the trade deadline, will miss the rest of the season and is "unlikely" to pitch in the playoffs.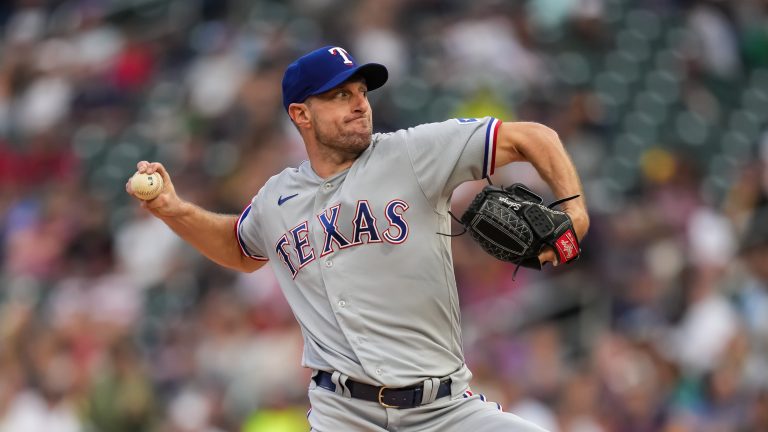 Two and a half weeks left, folks.
The playoffs are creeping ever closer, and with roughly 15 games to go, division and wild card races are still up for grabs.
But as of this week, some of the teams in contention were dealt some major blows.
Let's get into this week's injury report.
Max'ed Out: Scherzer out indefinitely with teres major strain
Man, the Rangers can't catch a break.
Since June 1, they're 45-44 and have lost their stranglehold on the AL West. Not only that, but they're only 1.5 games up in the Wild Card standings. 
Adding injury to insult, if you will…
News broke Wednesday afternoon that the Rangers' major trade deadline acquisition, Max Scherzer, won't pitch again for the rest of the regular season and is "unlikely" for the playoffs with a teres major strain in his throwing shoulder. The good news is, he expects he won't need surgery.
Scherzer suffered the injury here:
For those who don't know, the teres major is a muscle that basically sits behind the armpit, connecting the scapula to the humerus. Scherzer initially felt a triceps spasm on the mound, and that's what forced him to leave the game.
He spoke to reporters about the diagnosis on Wednesday.
It's been a weird year for the 39-year-old future Hall of Famer. Overall, he's pitched to a 13-6 record, with a 3.77 ERA and a 1.12 WHIP. He's struck out 174 batters in 152.2 innings, and opponents are hitting just .231 against him. Solid.
At the same time, by Max Scherzer standards, it's been a down year. His 28.0 K%, 8.5 Barrel%, 36.9 HardHit% and 88.5 average exit velocity against are his worst single-season numbers ever recorded by Statcast.
But it's still Max Scherzer, and obviously, the Rangers would rather have him than not, especially after losing their first ace, Jacob deGrom.
Entering Thursday, the Rangers, Astros and Mariners were separated by just one-and-a-half games. It's going to come down to the wire. You just know it will.
Fish Hooked: Marlins' ace Alcantara officially diagnosed with UCL sprain
One hundred forty-six games into the season, and the Marlins….yes, the MARLINS…are still in the NL Wild Card hunt. But the last two-and-a-half weeks just got a lot harder. While Sandy Alcantara had already been on the IL for about a week, Wednesday afternoon provided some clarity on his prognosis.
Initially, it was diagnosed as a right forearm flexor strain. Now we know Sandy is officially dealing with a sprain in his ulnar collateral ligament. Here's some more information from Marlins reporter Kelly Saco:
You can see it in the video; Sandy is back to throwing a ball. That would make you believe there's at least hope he can get back on the bump before the end of the year. Manager Skip Schumaker called it "progress."
The team hasn't announced how severe the sprain is. But of course, any time you're talking about the UCL, there's going to be at least some cause for concern. Best case scenario, he's back in the next week or so. Worst case scenario, he's done for the year and his UCL injury is much worse than we originally thought.
Either way, it's impossible to overstate how important this man is to his team. While he, too, was having a down year, last year's NL Cy Young looked like he had officially turned up of late. He just finished an eight-inning, two-run performance, lowering his ERA to 3.29 since July 2.
We know Sandy's 'under-the-hood' numbers don't fly off the page. For example, his K% sits at only 19.8%. But when he's at his best, he induces weak contact and eats innings like none other.
Right now, the Fish are relying on a rotation of youngsters (plus Johnny Cueto) to get the job done. Entering Thursday, they are 75-71, just 0.5 games back of the Diamondbacks and Reds for the final NL Wild Card spot. You've got to imagine their biggest fish would like to get back in the water for the last 16 games.
Soroka Shut Down: Braves' righty dealing with forearm inflammation
The Braves have had a helluva season. They're the World Series favorites for a reason.
An underrated part of the season was getting to see Michael Soroka – who's been on the IL for the past two years recovering from back-to-back Achilles tendon tears – get back on the mound in a big league game.
He wasn't great. He pitched to a 6.40 ERA and 1.49 WHIP in 32.1 innings. But overcoming the obstacles of the past two years was something to celebrate in and of itself. That said, the Braves announced Soroka's season is over after finding inflammation in his right forearm. The silver lining is he will not require surgery.
Allow me to remind everyone that before his injury in 2020, he was a young star for the Braves. He finished second in NL Rookie of the Year voting and sixth in Cy Young voting in 2019. He pitched to a 13-4 record, 2.68 ERA, 1.11 WHIP and struck out 142 batters in 174.2 innings. He was so good, he was named the team's Opening Day starter for 2020.
Hopefully – as we now head for 2024 – the inflammation can die down, and Soroka can get some rest and focus on getting back in top shape for spring training.
Dominguez Down for the Year: Yankees' starboy out into 2024 with UCL tear
The New York Yankees have truly had one of the most bizarre seasons I have ever seen. It's been truly bingo-esque with the number of injuries, oddities and tragedies.
The ONE bright spot for the Bombers came in the form of their farm system. A crop of talented rookies injected a ray of sunshine into an otherwise stale and gloomy lineup.
The leader of the bunch was a soft-spoken, smiley, confident 20-year-old kid from the Dominican Republic named Jasson Domínguez. In one week, he clobbered four home runs, stole a base, led the team to a road sweep against the Astros and introduced himself to the Bleacher Creatures with one of the most unique acknowledgments to date.
It was exactly what the fanbase wanted to wash the sour taste of a disappointing season right out of their mouths. And then, it happened. The team announced Monday the rookie phenom needs surgery to repair a torn UCL.
Right now, there are two options on the table. The first is the traditional Tommy John surgery, which comes with a 12-14 month recovery time. The second is the internal bracing procedure – similar to what Trevor Story had – which brings a shorter recovery time. By how much, it's not certain. From what I understand, it could be a scenario where the procedure is determined by what the doctor sees when they go in there.
What is a sure shot is that Domínguez is done for the rest of the year and likely the first third to first half of next season. If you want more in-depth analysis of what he did in just eight games, I wrote about it here.
But if you're like me, you just want to forget this season even happened.
P.S. Jonathan Loáisiga is also done for the year with elbow inflammation. No word yet on what is specifically wrong, but the team does believe he has avoided a major injury.
Siri on the Shelf: Rays lose another key piece before the playoffs
As much as Yankees fans would like to complain, it's possible their rivals to the south have had an equally, if not more frustrating season when it comes to injuries. It feels like every starting pitcher in the organization has had some kind of injury. Remember Jeffrey Springs and how electric he was in April?
The Rays got stung again Tuesday, when Jose Siri told reporters he had a hairline fracture in his right hand. He sustained the injury Monday night when Dylan Floro hit him with a pitch. Siri is now done for the regular season.
This is a fairly big blow for the Rays. While he's only slashing .222/.267/.494, he has slugged 25 home runs and is an outstanding defensive center fielder. According to Baseball Savant, his 10 outs above average tie him with Harrison Bader for fifth among centerfielders.
After Wednesday's win, the Rays are 90-57, two games behind the Orioles in the AL East. They also hold an eight-game lead for the top Wild Card spot. Provided they take care of business and advance to the ALDS, they'll likely have their defensive stalwart roaming centerfield again.
Two AL Central outfielders get injury updates
Quick update here on two AL Central outfielders: Riley Greene and Byron Buxton.
First Greene, who's been on the shelf since he dove for a ball on September 2. Officially, it's been diagnosed as right elbow inflammation.
You can watch what happened, and Greene's conversation with reporters, here:
Wednesday, it came out that Greene "can't have enough opinions" on his injured elbow. He's gone for second and third opinions from doctors outside the organization, wanting to make sure he knows exactly what's going on in there. Greene has suffered three injuries in the past two years, forcing him to sit out several games. In 2023, he missed 34 games with a stress reaction in his left fibula.
Now, to Buxton.
He hasn't played in a game since he injured his hamstring in August. Then, he felt soreness in his knee during his rehab assignment, and it certainly seemed like a significant setback. But Buxton received a cortisone shot and will start to rehab with an eye on the postseason.
We don't have to get too deep in Buxton's injury history. It comes down to this. When that man's on the field, he's a beast. It looks like the Twins will hold on and win the AL Central. If and when they do, hopefully they'll have #25 waiting for them in October.