Feature
New York Yankees' Top Prospects Could Promise Bright Future
The New York Yankees waited long enough, but the decision to call up the organization's top prospects has paid instant dividends.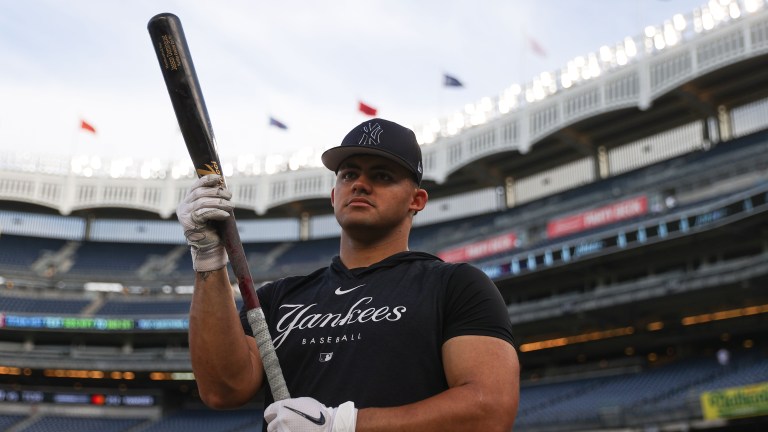 Mark Twain may have said it best.
"History doesn't repeat itself, but it often rhymes."
Maybe you're not a poet. But if you are a baseball fan, you've undoubtedly noticed, over the years, just how often the game of baseball mimics itself.
Don't believe me? Let's go back in time.
August 10, 2016.
The New York Yankees — sitting at 56-56 on the season —were in Fenway Park to take on the Boston Red Sox. To the plate, in a 6-4 ball game, stepped a rookie phenom named Gary Sánchez. On a 2-0 pitch, Sánchez swung hard and launched the ball deep into the Boston night.
That majestic fly ball was the first home run of Sanchez's career and kickstarted what may go down as the most dominant start to a career ever. From August 10 through 27, a span of 15 games, Sánchez became the fastest player ever to 11 career homers.
That home run was also the start of a movement.
Three days later — August 13 — two more rookies arrived in the Bronx. First baseman Tyler Austin and some guy named Aaron Judge (wearing low socks) hit back-to-back home runs in their first ever big league at bats.
It was official. The Baby Bombers were born and the baseball world was on notice.
Starting that August, the 2016 Yankees were able to stave off what would've been the franchise's first losing season since 1992. That 60-game span also set the stage for a dramatic 2017 run to the American League Championship Series. It catapulted the young Yankees into contenders.
Sound familiar? It should.
Fast forward the time machine seven years to 2023. It lands in Houston, Texas on September 1, alongside an unidentified flying object. Out of the foreign spacecraft and onto the ball field steps a 5-foot-9-inch, 20-year-old kid named Jasson Domínguez.
And how would the Martian make his presence felt on Earth? You guessed it…
A home run in his first ever big-league at bat, just like Judge. But Domínguez wasn't the only youngster to burst onto the scene deep in the heart of Texas. Fellow rookies Everson Pereira, Austin Wells, Oswald Peraza and Anthony Volpe all played major roles in New York's first sweep over their rival Astros since 2013.
The Baby Bombers officially gave way to the 'Yankee Yutes.'
The name is corny, but it is quite funny how similar the juxtaposition is between September 2016 and September 2023. The teams were almost certainly out of a playoff spot, but still played a rejuvenated brand of baseball that's a bit too little, too late.
However, the kids — both then and now — re-energized everyone around the organization – the front office, the manager, the veteran players and of course, the fans.
This year's iteration of 'The Call' gives people hope for what 2024 — and beyond — can bring.
If nothing else, the Yankees' influx of youth provides energy that's hard for a statistic to quantify, yet almost everyone can see with their own eyes. It's the jumping around in the dugout. It's the 'ET Phone Home' acknowledgment to the Bleacher Creatures.
It's the jump throws, and first-to-thirds and extra stuff between the white lines that we've not seen from this stale lineup of 30-year-olds for 135 games.
There's also something to be said about a balanced lineup. Domínguez and Wells provide left-handed power. Now I axe ya (I'm keeping the 'My Cousin Vinny' thing going) when was the last time the Yankees had any left-handed bats, let alone impact bats? And no, Billy McKinney, Willie Calhoun, Jake Bauers and Greg Allen don't count.
Balance makes the opposing pitcher's life harder and left-handed power turns the short right-field porch into a legitimate home field advantage. The great Yankees teams of the 90s (Williams-Martinez-O'Neill-Posada) and the World-Series winning team in '09 (Teixeira-Canó-Posada-Damon-Swisher-Matsui) had left-handed power up and down the lineup.
But there are also numbers to back up the un-measurables. The first one is the most important. Since Pereira and Peraza made their debuts on August 22, the team is 9-5. Since Domínguez and Wells got the call, they're 4-0.
Individually, there are things to be excited about too.
Domínguez has two home runs in four games, one against future Hall of Famer Justin Verlander and the other off Christian Javier. He's hit all different pitches, not just fastballs. He's hit them hard too. A 14.3 barrel percentage, 42.9 sweet spot percentage, and an average exit velocity of 91.8mph are all above league average. While he hasn't walked yet, he's only struck out three times in 17 plate appearances. It's pretty impressive.
Wells, in just 12 at bats, has also handled himself well. He lined a very professional single to right field Friday night against Verlander and then laced a double to the right-center gap off José Urquidy. Not to mention, he's also got a professional looking mustache.
Pereira has struggled, admittedly. But he's picked it up of late now that there are other youngsters to share the limelight with him. After starting 4-for-35 (.114 BA), he has hits in three of his last four games, and just looks more comfortable at the dish. His 14.8 barrel percentage, 48.1 sweet spot percentage and 63.0 hard-hit percentage are all higher than Domínguez. He's also walked at a 7.4% clip, which is solid.
The problem is he strikes out too much. Right now, that's at 40.7%, way above league average. And that's, at least in part, because of the sheer number of breaking balls he's seen to start his career. They give him trouble.
If he can cut that down and keep hitting the ball hard, there's certainly something there.
I won't touch much on Peraza, because I feel like fans know what they're getting with him – a slick-fielding, defense-first infielder with a hit tool that will have to mature with age. I'll say this, watching him turn double plays is fun.
And now we get to the eldest statesman of the group, if you will. Anthony Volpe.
Nobody came into the season with more eyes on him than #11. He turned heads in the spring, when he outperformed his middle infield counterpart in Peraza and earned his way onto the big league roster. But much like the Yankees' season as a whole, Volpe's first season in The Show has not been a smooth ride.
He struggled mightily to start, hitting .222 in April and .174 in May. His .216 on-base percentage in May had some even rooting for him and Peraza to switch places. Then Chicken Parm Gate happened (thank you, Austin Wells) and Volpe had his best month in June, slashing .256/.343/.426 for the month. The second half of his season has been much like his first — up and down — but the process has looked much better in that time.
Even if you're underwhelmed by the .217/.295/.405 full-season slash line, there is so much to be excited about in Volpe. His unique power and speed combo has been on display all year, helping to make him the first Yankees rookie ever to go 20-20.
And his defense, while clumsy at times during the routine plays, has been near the top of the class all year. According to Fangraphs, Volpe has 15 defensive runs saved on the year. Dansby Swanson and Wander Franco are the only shortstops ahead of him, with 16 apiece.
Not for nothing, he looked a little like somebody we used to know with this play.
Obviously, there's still a ton of growth in Volpe's future. But I think it's fair to say the Yankees finally have a big league shortstop on their hands. And that's not something they've been able to say since Didi Gregorius left.
Maybe Mark Twain was right.
Maybe history doesn't necessarily repeat itself. Maybe it just rhymes. But if the Yankees of 2023 rhyme with the Yankees of 2016, then don't be surprised to see how far the Yankee Yutes can go in 2024.