News
MLB Injury Report: Judge's Toe Still Cause for Concern
The reigning AL MVP is dealing with a torn ligament in his right big toe, and the Yankees' offense is suffering without him.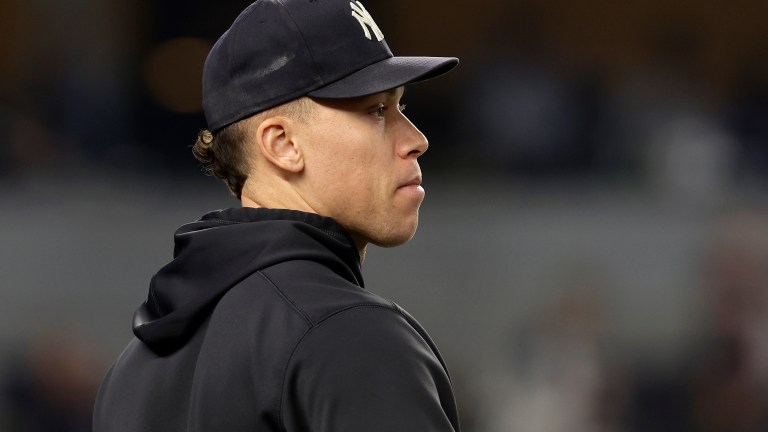 I'm not going to say things have been all quiet on the injury front, but it's certainly been a slower week than what we've seen this season.
That said, we did get some pretty big updates on some pretty big players (you're getting where I'm going with this… right?)
So, let's get into this week's injury report.
A Judgian Blow: Yankees star's injury gets new diagnosis, updated timeline
I think I speak for the entire Yankees fanbase when I say, "What in the world is going on here?"
And I don't mean this in any way to knock Aaron Judge for being hurt. That's ludicrous. He quite literally put his body on the line to make the play. It kind of comes with the territory. If you'll remember, the former Captain did that a time or two. But again, that's not what this is about.
This is about what kind of feels like a very intentional distortion of the truth by the Yankees organization.
Right after Judge crashed into the Dodger Stadium right field gate, we all knew he wasn't in great shape. He didn't play in the next game, and we found out he had a contusion and a sprain in the ligament of his right big toe.
Right away, Manager Aaron Boone said there was no timetable for his return. It's a message he, Yankees' general manager Brian Cashman and Yankees owner Hal Steinbrenner have repeated ad nauseam, after they've fielded question after question about the matter.
Then Saturday happened.
The Yankees Captain told reporters himself the ligament in his toe is TORN and that he still feels pain when he walks. He also said he didn't know if he'd be back in August, saying he would have to "knock out his rehab" before he could put a timetable on anything.
Here's a better breakdown from Meredith Marakovits:
The guys from Jomboy Media asked Boone about it on their weekly conversation. And they bring up a pretty good point:
I understand the "no timeline" aspect of the diagnosis. The organization doesn't want to be wrong and give anyone false hope. But what's the problem with explaining right away the ligament is torn and that he's going to be out for an extended period of time? Also, for what it's worth, a torn ligament is the highest grade of sprain. So Boone's not necessarily wrong to say that. Just misleading.
It seems like the Yankees are playing some kind of PR game with the truth.
As for what the injury is? People around baseball say it's similar to turf toe but in a different area of the foot.
A turf toe injury, which is what Jazz Chisholm suffered earlier this year, usually comes with a 6-to-8-week recovery time. For Judge, that would mean a week or two after the All-Star break.
Jon Heyman breaks that down here:
There's still one more aspect to this injury that I haven't gotten to yet. Funny enough, it's the most important part of Judge's injury – the on-field impact.
The Yankees' offense is truly, otherworldly horrific as we speak. The stats are so mind-boggling that it feels like they're trying to be this bad in the batter's box.
Here it is through 79 games:
Record-wise, the team is 45-36, good for third place in the AL East. They are 9.5 games out of first. Currently, they're a half-game ahead of Toronto for the second wild card slot.
Since June 4 (the day after the kick heard 'round the world), they're 10-11, sporting THE WORST on-base percentage in baseball. Yes, worse than the A's and the Royals. A mid-week series against the A's sort of took the sour taste out of fans' mouths. But don't let that distract you from the most obvious point – this team is going nowhere without #99.
But again, it is not all bad news in the Bronx.
Carlos Rodón, who's yet to throw a pitch in pinstripes thanks to a cranky back, is making great progress in his rehab assignment. In his last start, he threw roughly 50 pitches, striking out four batters in four scoreless innings. He's set to make one more rehab start before he rejoins the rotation on July 5 against the Orioles.
Tacking on the good news, Nestor Cortes is set to throw off a mound for the first time since he hit the shelf about a month ago. He told Marakovits Thursday he "feels better than he has felt all season long." He said he's hoping to get back with the team shortly after the All-Star break.
Hoping for Takeoff: Trio of Astros starting rehab
From one MVP candidate to another, Yordan Álvarez is finally making some progress in his recovery from an oblique strain. Manager Dusty Baker told reporters his star slugger did some work in the batting cage and some running and throwing drills.
Álvarez has been out roughly two weeks, and the Astros lineup has missed him dearly. The original diagnosis was four weeks, which would be just past the All-Star break. But still, any progress is great news.
Sticking with the 'Stros, Jose Urquidy is finally back throwing off a mound. He threw a 25-pitch bullpen session Tuesday, sitting 92-93 mph with his fastball. He called it "a big step" in his recovery from his right shoulder injury. Currently, he's set for one more bullpen session before he progresses to facing live batters.
We've got one more Astros update for those interested. Outfielder Michael Brantley hit in the cage and did some outfield drills Wednesday. He hasn't played in a game since last August, fighting his way back from season-ending surgery. While he still doesn't have a timeline for his return, seeing him on the field is a step in the right direction.
Dodgers Down Bad: Los Angeles' injury report grows even longer
The Dodgers have been one of MLB's unluckiest teams.
They currently have 16 players on their injury report, including Alex Reyes and Gavin Lux. As we know, those two guys are down for the year.
But a few more injuries just recently popped up for the NL West's third-place team.
A cortisone injection couldn't save Chris Taylor's knee. He was placed on the IL, backdated to last Wednesday, his last pinch-hit appearance in Anaheim. That's a tough break for the do-it-all utility man, who's really been disappointing for a year and a half now. So far this year, he's slashing just .206/.275/.455.
Perhaps more alarming for the Dodgers, ace Clayton Kershaw is banged up yet again. He left his Tuesday start against the Rockies early with what he called a "cranky" shoulder.
Here it is from the horse's mouth:
He's hoping to play catch Friday but doesn't know yet if he'll be able to. And we won't know either, until he tries to wake up his sleepy shoulder.
But like the Yankees and Astros, it's not all gloom and doom.
Julio Urías, who hasn't pitched since May 18 thanks to a hamstring strain, is set to make his return Saturday against Kansas City. He made just one rehab start down in Single-A, striking out eight across four innings of one-run ball. Hopefully, once he toes the slab again, he can turn around what's been an unusually off year.
YASSSS: Giants set to get Yastrzemski, Cobb back this weekend
I couldn't help myself with the heading here.
This is a nice shot in the arm for the Giants, one of the NL's most surprising teams.
As it stands, it looks like outfielder Mike Yastrzemski will make his return from a hamstring injury either Sunday or Monday. He's been on the shelf since he pulled up lame going into third base against the Padres. Here's a look at it:
Even better news, the Giants will likely get Alex Cobb back Friday against the Mets. That's a very quick turnaround from his oblique injury, which as we all know, can be a bit of a tricky one. Cobb's had a helluva season to start, and he looks to get back on track against one of MLB's most disappointing lineups.
Cannonball Incoming: Pirates' Hayes out with back problems
It's been a wild couple of weeks for the Bucs, particularly on offense. Before sweeping San Diego this week, they had been 1-12 in their last 13 games. At one point, the combination of Jack Suwinski, Austin Hedges, Rodolfo Castro and Ji-Hwan Bae was a combined 1-for-their-last-92. Like I said, wild.
That lineup took another blow on Wednesday, when the Pirates placed third baseman Ke'Bryan  Hayes on the IL with lower back inflammation. The team says it'll be a brief stint on the shelf, but it's an injury Hayes has dealt with before (although he played through it in 2022). There's always a bit of caution to be had there.
As good as Hayes has been with the glove is as bad as he's been with the bat. So far in 2023, he's slashing just .254/.290/.397. Still, his absence is a loss for a Pirates team already missing their star shortstop in Oneil Cruz and best all-around player in Bryan Reynolds.
Speaking of which, Reynolds – dealing with his own back issues – took BP on the field Thursday and could be back on the field in the coming days.