Analysis
The Atlanta Braves' Rotation Depth is Being Tested
With so many injuries hitting the Braves rotation, Atlanta has become the NL leader in starting pitchers used this season.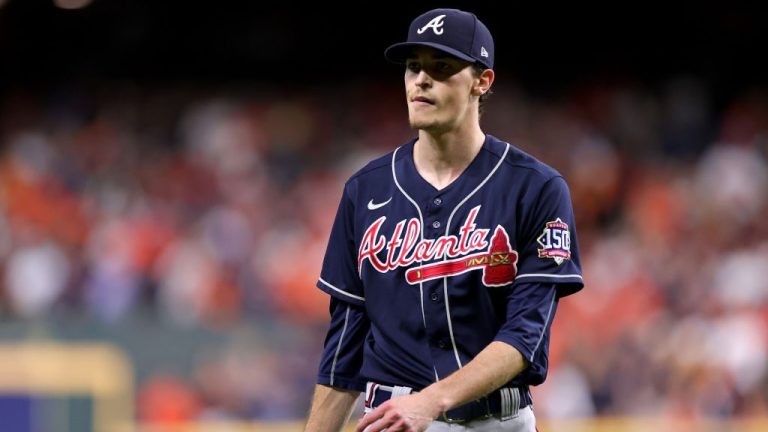 No team in the National League has used more starting pitchers this season than the Atlanta Braves.
Despite having 12 different pitchers toe the rubber in the first inning, Atlanta's rotation has performed relatively well. It ranks fifth in MLB in ERA (3.93), ninth in FIP (4.13) and fourth in strikeout rate (24.2%). However, it also ranks 14th in innings pitched with 357.0 and 25th in walk rate (9.2%).
So while Braves starters have done a good job of preventing runs, they haven't managed to work deep into games all that often, putting some extra stress on the bullpen — which has also been solid in 2023.
Coming into the year, Spencer Strider, Max Fried and Charlie Morton were the known commodities, with spring training darlings Jared Schuster and Dylan Dodd earning the final two spots in the rotation while Kyle Wright was injured.
With Schuster and Dodd struggling and Fried getting hurt in his first start, Atlanta has been searching for options ever since.
As we dive into just how the Braves' depth has stepped up this season and helped them to the best record in the National League, let's break the 12 arms that have started a game into five different categories.
Consistent Contrubutors
Spencer Strider, Charlie Morton, Bryce Elder
Before his two most recent starts against the New York Mets and Detroit Tigers, Strider had been arguably the most dominant pitcher in baseball this season.
Boasting an MLB-best 40.3 strikeout percentage with a .193 batting average against, Strider looked like a potential runaway favorite in the NL Cy Young race before the Mets and Tigers ballooned his ERA to over 4.00.
While his numbers will surely recover from two bad starts, it may be worthwhile to keep an eye on his workload going forward. The 24-year-old threw a professional career-high 131.2 innings in 2022 and had never gone more than 94.0 innings in a season.
Nonetheless, Strider's importance to Atlanta's rotation can't be overstated.
With Fried, last year's Cy Young runner-up, spending the majority of the season on the IL thus far, having Strider step into that No. 1 role has given the Braves some stability as they work through the bottom of their rotation — while remaining atop the National League.
Yes, Strider did show in his outstanding rookie campaign that he was capable of leading a pitching staff, but not having the safety net of a proven ace in Fried has made Strider's performance all the more integral.
Speaking of integral performances, how about what Elder has done in 2023?
Pitching to the third-lowest ERA in the National League (2.69), Elder didn't open the season on the Opening Day roster but was recalled after Fried's hamstring strain in the first game of the year and has been a lock in the rotation ever since.
Of course, Elder's peripherals suggest he may be benefiting from some luck in his early season performance, as indicated by his xERA, FIP, xFIP and SIERA, all falling between 3.75 and 4.01.
With that said, Elder has actually done a good job of limiting barrels and generating ground balls. He holds a 55.7% ground ball rate — the sixth-best mark in all of baseball — and a 6.8% barrel rate, which falls in the top 20.
He's struggled in his last two starts, allowing nine runs in 11.1 innings, but like Strider, his season-long results have helped Atlanta stay competitive while going through so much rotation churn.
The final member of the Braves rotation to take the hill each turn through the rotation so far has been Morton.
After finishing 2022 with a 4.34 ERA and a near career-high 1.47 HR/9, the 39-year-old righty has found a way to keep the ball in the yard more often in 2023.
He's now throwing his curveball 46.2% of the time, the most he's ever thrown a pitch during the Statcast era, and the results have been fantastic.
The offering has returned a .151 average against with a .245 slugging percentage and .218 wOBA. By run value, it has been the single best pitch in baseball, returning a -16 mark.
As far as consistent presences go, Morton has proven to be a pitcher you can rely on to give you around 175 to 190 innings with a mid-3.00s ERA. Many teams would love to set that type of arm in their rotation.
But his 2023 184.0-inning, 3.60-ERA pace may be even more appreciated in Atlanta this season.
On the IL
Max Fried, Kyle Wright
In early June, the Braves moved Fried to the 60-day IL after initially going on the 15-day IL in May with a forearm strain.
David O'Brien of The Athletic reported on Friday that Fried has been throwing flat-ground sessions that have gone well.
Fried made four starts following his trip to the IL after leaving his Opening Day start with hamstring tightness. The 29-year-old southpaw had been brilliant all year up until his final inning in that May start.
He's the owner of a 2.05 ERA through his five starts and was seemingly only building on his career-best 2022.
In terms of the age-old "when we get 'insert injured player here' back, it'll be just like a trade deadline addition," there may be no better example of that than Fried for Atlanta this year.
Wright himself was moved to the 60-day IL on May 15 with a shoulder injury. After missing the beginning of the season with shoulder soreness, there is more concern that Wright will be out longer than Fried due to it being a second injury to the shoulder, sending him to the IL.
The 27-year-old righty had not been following up on his career-best 2022, allowing two or more runs in four of his starts and currently holds a 5.79 ERA.
Fried and Wright's absences have been the leading cause of Atlanta's rotation shuffle, leading to the different strategies and options being deployed throughout the season.
Openers
Jesse Chavez, Dylan Lee, Collin McHugh
One of those strategies has been the use of various openers.
Each of Chavez, Lee and McHugh have gotten one open apiece and while using them to spearhead bullpen games was more out of necessity than preference, the trio all pitched relatively well in the outings.
Lee allowed just one baserunner over 2.2 against the Boston Red Sox on May 10 with three strikeouts, McHugh gave up three runs — none of them earned — over 1.2 against the Toronto Blue Jays on May 14 and Chavez went 2.1 against the Seattle Mariners on May 20, allowing just one hit and striking out three.
Unfortunately, Atlanta ended up losing all three of those games, perhaps part of the reason why they have turned back to trying out more traditional starters since its last bullpen game.
Up and Down
Dylan Dodd, Jared Shuster, Michael Soroka
Dodd and Shuster earned a spot in the Opening Day rotation after combining to allow just seven runs in 36.2 innings in the spring while striking out 38 hitters and only walking eight.
The regular season returns have been a mixed bag. Both have been sent down to Triple-A and been recalled — Dodd being sent back down to Gwinnett, where he has struggled to a 7.08 ERA.
In his five MLB starts, Dodd struggled to punch out hitters, striking out just 10.5% of the batters he faced. He has a very good walk rate but was getting hammered when he was in the zone.
Shuster, meanwhile, is back in Atlanta's rotation and has fared better since his recall on May 16. He has made five starts since, posting a 4.00 ERA over 27 innings with 16 strikeouts and 10 walks.
Like Dodd, Shuster also struggles to generate strikeouts, actually owning a near-identical number of punchouts (21) and walks (19) for the season. But one thing he has managed to do better is limit the number of barrels and home runs that he gives up. He has only allowed two home runs all season, which helps him get away with walking so many batters.
In an ideal scenario, Dodd and Shuster are likely both continuing their development in Triple-A while a healthy Braves rotation carries the load and the MLB level, but with so many moving pieces, Atlanta will take what it can get from its young pitchers right now.
In one of the more inspiring stories of the season so far, Soroka made his return to an MLB mound for the first time since 2020.
Overcoming two achilles tears and then elbow soreness on the comeback trail last year, the 2019 all-star started 2023 in Triple-A before making his return on May 29.
Soroka had a solid outing against the Oakland Athletics, outside of a four-run fifth, he allowed just two walks and two hits in the five scoreless that he threw.
His next start against the Arizona Diamondbacks went a bit sideways as he allowed seven hits, five runs, two home runs and four walks over 3.2 innings.
After Atlanta had generally sent the message that Soroka would only be brought up once he was ready to stay up, it was surprising to see him sent down following the rough outing.
Since the demotion, he's made one start at Triple-A, allowing just three hits, one run and two walks with six strikeouts over 6.0 innings.
AJ Smith-Shawver
The final category of Braves starters this season comes down to the most recent addition to the list.
Smith-Shawver has shot up through Atlanta's system after being picked in the seventh round in 2021. He was lured away from playing college football by a $1 million signing bonus and has thrived with baseball as his sole focus.
Across three minor-league levels in 2023, the 20-year-old posted a 1.09 ERA while striking out 45 across 33.0 innings.
Leading to his call-up to the MLB club, where he got his feet wet in a multi-inning relief role before making his first start against the Washington Nationals on Friday.
He went 5.1 innings and allowed three hits, two runs — none earned — and struck out two.
While it's only two outings of sample size, as the Braves continue to play "Spin-the-Wheel" to make starts every five days, perhaps the young righty will help Atlanta make it through the dog days of summer until help arrives for the stretch run.