Analysis
Milwaukee Brewers Trade Deadline Guide
If the Brewers wish to be legitimate contenders come October, they need to find ways to improve this roster at the deadline.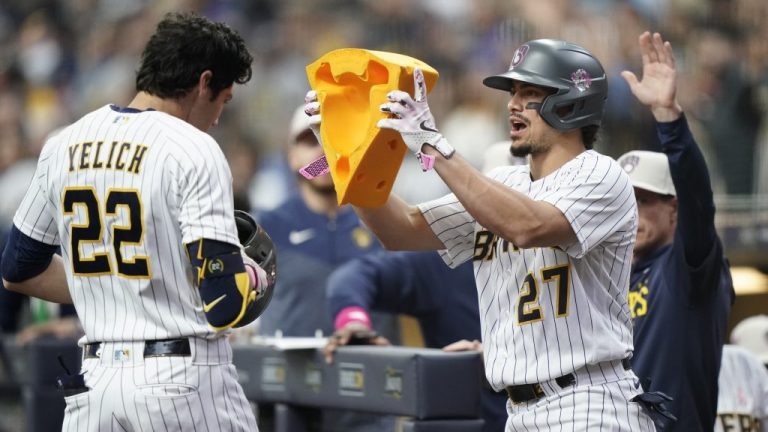 On the surface level, it's been a successful season for the Milwaukee Brewers. They've been near the top of the division standings from the get-go, and they have shown flashes of being a great team in 2023.
They've had several players step up and provide valuable contributions in both their starting rotation and their bullpen. Milwaukee continues to get the most out of their pitching staff, and it's provided the ball club with a dependable floor and a formula for winning games.
However, the shortcoming for this team is yet again the inconsistency of their offensive production. With the exception of Christian Yelich, who has put together a fantastic 2023 season, and William Contreras, who has become a much more well-rounded hitter, the Brewers have failed to find a consistent impact bat in their lineup.
Fortunate for Milwaukee, they play in one of the most winnable divisions in baseball.
As it currently stands, the Brewers and the Reds have separated themselves as the contenders in the NL Central. The time is now for Milwaukee to seize the opportunity and round out their roster in an attempt to make a playoff run.
Pitching Staff
| Starting Rotation | Bullpen | Potential Returns From Injured List |
| --- | --- | --- |
| 1. Corbin Burnes | 1. Devin Williams | 1. Wade Miley (Elbow Discomfort) |
| 2. Freddy Peralta | 2. Joel Payamps | 2. Brandon Woodruff (Shoulder Strain) |
| 3. Adrian Houser | 3. Elvis Peguero | 3. Aaron Ashby (Shoulder Surgery) |
| 4. Julio Teheran | 4. Hoby Milner | 4. Justin Wilson (Tommy John Surgery) |
| 5. Colin Rea | 5. Abner Uribe | |
| | 6. Bryse Wilson | |
| | 7. Trevor Megill | |
| | 8. J.C. Mejia | |
Milwaukee's pitching staff is not necessarily an area of concern as the August 1st trade deadline approaches. Much of that claim stems from the impending return of several key arms, but there is a plethora of talented pitchers on this roster.
Now, no contender could ever have too much pitching depth. And the Brewers have shown their desire to have as many reliable arms as possible to ease the workload of their A-team when necessary. So, let's take a look at the current status of Milwaukee's pitching staff, starting with their current bullpen construction.
Bullpen
As a team, Milwaukee's bullpen leads MLB in win probability added (6.70), and by a wide margin. They've been essential in Milwaukee's attempt to secure a division title, and the bullpen has been the highlight of their hot performance out of the All-Star break.
There is a palpable confidence from this group as of late, and it's becoming clear what Milwaukee's desired bullpen structure will look like come September.
The Brewers have established a three-headed monster of Elvis Peguero, Joel Payamps, and Devin Williams at the back end of the bullpen. The grouping is shaping out to be an eleectric trio, and they will be heavily relied upon to shut out ballgames in the second half of the season.
Hoby Milner, the lone left-handed pitcher in Milwaukee's bullpen, continues to thrive in high leverage situations this season. His unique delivery allows him to effectively neutralize hitters on both sides of the plate, and he excels at keeping the ball on the ground.
Milner leads the Brewers in appearances out of the bullpen this season, and he has only allowed one run since May 24th. He is Milwaukee's Swiss Army Knife out of the bullpen, as he is used to combat left-handed batters, inherit base runners, and be a bridge to other high-end relievers around him.
Abner Uribe, the organizations No. 9 prospect, is a flame-throwing righty who made his major league debut just before the All-Star break, and he has flashed electric stuff thus far. The 23-year-old features a wicked fastball that sits triple digits, which is paired with a wipeout slider that falls off the table.
Command issues have been Uribe's shortcoming in the minor leagues, so he will continue to refine the control of his arsenal as he works himself into a key bullpen role. Uribe is yet another immensely talented arm in the Brewers' bullpen whom Craig Counsell will utilize down the stretch.
With the potential return of southpaws Aaron Ashby and Justin Wilson in the final months of the season, it feels as if Milwaukee views these two arms as their key bullpen additions for the second half of the season. It's likely the Brewers lean on this group of players to carry them through the rest of the season.
Starting Rotation
There is no question that Milwaukee's biggest acquisition at the deadline will be Brandon Woodruff. Woodruff is slowly working his way back from a sub-scap strain that occurred earlier in the season, and the value of his re-addition to the Brewers' starting rotation cannot be overstated.
Woodruff is scheduled to make his first rehab start for High-A Wisconsin on Saturday. The Brewers won't be in the market for any of the marquee names at the trade deadline, but instead they will be patiently awaiting the return of their co-ace, who will be a significant addition to this pitching staff.
Milwaukee's starting rotation deserves an enormous amount of credit for their performance this season. They have an ERA of 4.02, which is the ninth-best in MLB. They also have the fourth-best opponent batting average (.234) and the league's seventh-lowest WHIP (1.22).
Considering Freddy Peralta has underperformed relative to many preseason expectations, and that Brandon Woodruff has missed a majority of the season, the starting rotation has certainly held its own and deserves to be recognized.
Colin Rea is pitching to a mid-four ERA in 17 appearances this season, and Julio Teheran has surpassed any and all expectations since joining the ball club at the end of May. They were thrust into starting rotation roles, and both have delivered thus far in 2023.
With that being said, it wouldn't surprise me if they made an addition to the back-end of rotation at the deadline.
Wade Miley has been Milwaukee's most consistent starter this season, but he recently hit the shelf with elbow discomfort, leaving the starting rotation a bit more susceptible. Coupled with the fact that Woodruff's timetable to return is still up in the air, adding another dependable arm to either hold down the back of the rotation or work as a swingman in the second half of the year would be beneficial.
An improvement in the margins could go a long way for this rotation. Ideally, the Brewers could acquire an arm who wouldn't require a large amount of prospect capital but can give them opportunities to win ball games come September.
Potential Options: Paul Blackburn, James Paxton, Michael Lorenzen, Rich Hill, Lance Lynn
Milwaukee's Lineup
| Staring Lineup | Bench | Potential Returns From IL |
| --- | --- | --- |
| 1. Christian Yelich – LF | 1. Victor Caratini – C | 1. Rowdy Tellez – 1B (Fractured Finger) |
| 2. William Contreras – C | 2. Jahami Jones – Utility | 2. Brian Anderson – 3B (Back Strain) |
| 3. Willy Adames – SS | 3. Blake Perkins – OF | |
| 4. Jesse Winker – DH | 4. Tyrone Taylor – OF | |
| 5. Owen Miller – 1B | | |
| 6. Ramiel Tapia – RF | | |
| 7. Andruw Monasterio – 3B | | |
| 8. Brice Turang – 2B | | |
| 9. Joey Wiemer – CF | | |
If the Brewers wish to be serious contenders come September, there are areas within the lineup that will need to be addressed.
I'm not talking about mortgaging the future for the likes of Shohei Ohtani or Juan Soto, but there are holes in the batting order that are leading to Milwaukee's inconsistent offense. The Brewers' farm system is as rich as it has been in recent years, and they could have some trade capital to work with if they wish to make improvements.
Roster Need #1 – Designated Hitter
Milwaukee's designated hitter position has been the worst in all of MLB, and by a decent margin. As a team, Milwaukee's designated hitter spot is slashing .195/.299/.244 to go along with baseball's worst OPS (.543) and wRC+ (57).
It has been a revolving door of designated hitters for the Brewers this season, and none of them have stuck. Jesse Winker was acquired in the offseason to hold down the position, but the experiment has been a failure. In 188 plate appearances, Winker is hitting just .196 to go with an abysmal slugging percentage of .247 and a wRC+ of 66.
Winker is set to be a free agent at the end of the season, and he is owed $8.25 million this year. Due to this, there isn't much the Brewers can do with Winker except hope something clicks at the plate. Truth is, an effective Jesse Winker is exactly the type of bat this lineup needs.
However, while he has put together a hot series or two, Winker has failed to produce even league-average numbers at the plate.
In turn, the Brewers have been forced to fill the role elsewhere and get creative with the lineup. With Victor Caratini being Corbin Burnes' primary catcher, William Contreras has been the team's designated hitter when Burnes is on the bump.
Contreras is hitting .326 with an OPS of 1.024 versus left-handed pitching this season, so he has seen some run at DH when Milwaukee faces a lefty starter as well. He has filled the void in the lineup when called upon, but the Brewers need another impact bat to compliment the lineup.
Now, the market to buy hitters will be rather sparse at this year's deadline. Milwaukee doesn't need to diminish their farm system to acquire an elite hitter, but there is room for improvement with an acquisition of a less-expensive bat at the deadline.
Potential Trade Targets: Ji-Man Choi, Patrick Wisdom
Roster Need #2 – Right Fielder
Milwaukee's lack of production from their right field position has been equally as concerning as their designated hitter spot. The constant shuffle between Ramiel Tapia, Blake Perkins, and Tyrone Taylor has left much to be desired from an offensive standpoint.
Tyrone Taylor has been borderline unplayable this season. In his 88 plate appearances, he is putting up an OPS of .394 and a wRC+ of just 1. Taylor has gone through two separate stints on the injured list with an elbow injury, so there's a chance he has been playing at less than full health, hindering his performance.
Ramiel Tapia and Blake Perkins have been thrust into holding down the right field position in the month of July. Tapia brings above average defense and great speed to the lineup, and Perkins has also served as a reliable defender while bringing switch hitting versatility to the batting order.
However, both players have an OPS under .620 on the year and are sporting a wRC+ under 75. While they might be fine bench options, neither player should be relied upon as a starting outfielder for a contending ball club.
Brian Anderson has seen a good amount of run in right field this season. However, he now finds himself on the injured list with back discomfort for the foreseeable future. Back issues led to Anderson missing a good chunk of the 2022 season with the Miami Marlins, so it's critical that Milwaukee is cautious with his injury.
After failing to make the Opening Day roster, it was wildly believed that top prospect Sal Frelick would work his way into the Brewers' outfield at some point this season. However, with Frelick spoting an OPS under .690 with Triple-A Nashville, there is creeping doubt that he is Milwaukee's answer to their offensive issues in 2023.
The Brewers have several replacement-level options to fill the right field position, but it might be necessary to look outside of the organization and add a hitter who can make an impact at the plate to provide more consistency for their offense.
Potential Trade Targets: Randal Grichuk, Connor Joe, Jurickson Profar, Brent Rooker, Tommy Pham
Roster Need #3 – First Base
First base is lower on the priority list for positions to address, but it's still worthy of discussion. The Brewers' first base position has an OPS of .649 and a wRC+ of 76 on the season, which are both the second-worst marks in baseball.
Rowdy Tellez, who has been the Brewers' primary first baseman, has greatly struggled in 2023. Tellez was hitting just .213 to go with an OPS of .672 and a 79 wRC+ on the year prior to hitting the injured list just before the All-Star break.
Tellez initially hit the shelf with forearm inflammation, but his timetable to return was extended due to a bizarre incident over the weekend. He was shagging fly balls Saturday afternoon when he fractured his left ring finger. In doing so, Tellez also suffered a nail bed injury that resulted in 17 stitches.
He will now be out 3-4 weeks, and Owen Miller will look to hold down first base in the meantime. Miller has put together a productive season this year, but his numbers are bolstered by a spectacular month of May in which he posted a .995 OPS and a wRC+ of 167.
It has been a work in progress defensively at first base for Owen Miller. He is still becoming comfortable with the position, and there will likely be growing pains that come along with that.
For a team that is looking to make a playoff run, the Brewers need to bring in a true first baseman and move Miller back to his utility infield role where he provides the most value. Miller has been a fine option at first base, but there may be available and affordable players who can bring reliable defense to the position, along with a bit more offensive pop to the lineup.
Potential Trade Targets: Seth Brown, C.J. Cron
Conclusion
I've said it before, and I'll say it again: this is a pivotal season for the Milwaukee Brewers.
Skipper Craig Counsell and key front office executive David Stearns are in the final year of their contract. Essential star players Corbin Burnes, Brandon Woodruff, and Willy Adames are set to hit free agency following the 2024 season, and all three are in line to receive luxurious contracts.
The Brewers cannot sit on their hands and hope things fall into their lap. They currently have the third-best record in the National League, and are the betting favorites to win the NL Central division.
At the same time, this lineup is far from perfect. They don't need to make a splash for the biggest names on the market, but they do need to address some holes in the lineup to become a serious contender.
They have a core that is good enough to win the division. If they make improvements in the margins, it can go a long way for their chances to make a playoff run in October.