Analysis
Five Potential Trade Landing Spots for Corbin Burnes
If the Milwaukee Brewers decide to trade their ace Corbin Burnes this offseason, which five teams are best-suited to swing a deal for him?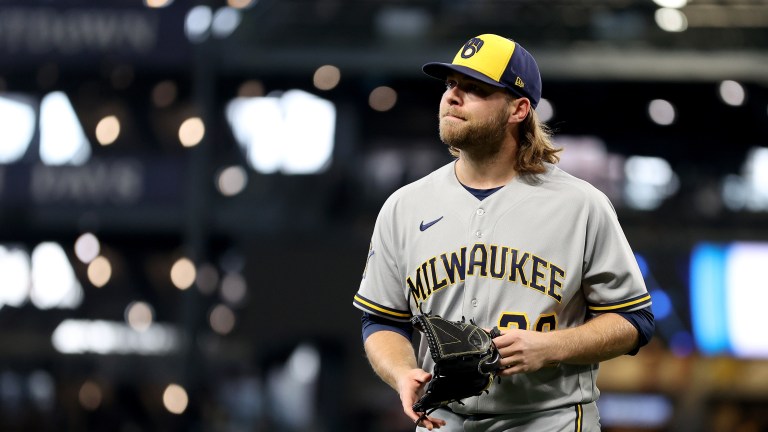 After the division-rival Chicago Cubs signed manager Craig Counsell away from the Milwaukee Brewers, the vultures are starting to circle American Family Field.
The Brewers had a disappointing first-round postseason exit in 2023, and are likely to be without RHP Brandon Woodruff for a majority or all of the 2024 campaign after he underwent shoulder surgery in October.
Without their manager and one of the better starters in the sport, you wonder whether the Brewers will see a path to contending next season. There's likely a slew of contenders hoping that general manager Matt Arnold decides to retool this offseason.
Of course, the most interesting trade candidate in Milwaukee would be former NL Cy Young Award winner Corbin Burnes. Burnes — who is 45-27 with a 3.26 ERA and 3.11 FIP in parts of seven seasons with the Brewers — can become a free agent after the 2024 season.
Burnes likely will command a contract in excess of $200 million, and there's no evidence in how the Brewers have operated historically that they will be willing to pay that price to retain the three-time All-Star. So an offseason trade might be the best solution for both sides.
Here's a look at five potential landing spots for Burnes, if the Brewers do indeed shop him this offseason.
Los Angeles Dodgers
It's actually amazing how pitching needy the Dodgers — coming off of a 100-win season — are. And while we've predicted that they'll sign two-way superstar Shohei Ohtani, he likely won't return to the mound until the 2025 season. Expect the Dodgers, a team built around Mookie Betts and Freddie Freeman, to make multiple big moves this offseason to address the starting rotation.
Walker Buehler returning to the mound after missing this past season with Tommy John surgery helps, as does the emergence of Bobby Miller. We've projected that they'll sign Japanese lefty Shōta Imanaga, but that would have to just be a start for president of baseball operations Andrew Friedman.
Even if future Hall of Famer Clayton Kershaw returns in 2024, he likely won't be ready to pitch until the summer after undergoing shoulder surgery in November. Tony Gonsolin will likely miss all of the 2024 season as he recovers from Tommy John surgery. And Julio Urías is a free agent whose MLB career may be over after a second domestic violence arrest.
Catcher Dalton Rushing, second baseman Michael Busch, RHP Gavin Stone and outfielder Josue De Paula are pieces in the Dodgers organization that could be part of a trade for Burnes. Landing Burnes would give the Dodgers a legitimate No. 1 starter, setting up a scary rotation in 2025 — if he signs long-term with the team — when Ohtani and Gonsolin are each ready to return to the mound.
The eventual World Series Champion Texas Rangers swept the Orioles in the ALDS, which will likely force general manager Mike Elias to make a significant move to upgrade the rotation this offseason.
For Elias, the good news is that he's done such an excellent job drafting that the Orioles have plenty of young talent that could interest the Brewers in a trade for Burnes. Just Baseball's Aram Leighton ranked a staggering seven Orioles prospects in the top 100 in the sport currently, and that says nothing of all the young stars that Baltimore has graduated to the majors in recent seasons.
Realistically, the Orioles probably have too many exciting young position players than spots for them to play at, making this the perfect time to cash in some of these chips.
Baltimore almost certainly won't trade former No. 1 overall pick Jackson Holliday, currently the top-ranked prospect in the sport by Just Baseball. However, shortstop Joey Ortiz, second baseman Connor Norby and outfielders Heston Kjerstad and Colton Cowser could all be needle-movers as the Brewers assess whether and where to move Burnes.
What would be really interesting is if the Angelos family would give Elias the resources to attempt to re-sign Burnes. It's a lot easier to part with a bounty of prospects if you think there's a legitimate chance to retain Burnes beyond 2024.
Atlanta Braves
The Braves have won over 200 games across the last two regular seasons, only to be upset by the division-rival Phillies in consecutive NLDS appearances. While that's led to debates about the current playoff format, it's clear that the Braves need to set themselves up better for October, and that starts with adding a top-of-the-rotation starter.
If Atlanta doesn't sign Aaron Nola away from the Phillies, trading for Burnes would be another way to bolster a rotation that's dealt with its fair share of major injuries in recent seasons. Led by a loaded lineup that includes Ronald Acuña Jr., Matt Olson, Austin Riely and Ozzie Albies, the Braves are already the favorites to win the 2024 World Series. Imagine if Burnes headlined a rotation with Spencer Strider, Max Fried, Bryce Elder and Charlie Morton.
The only thing that gives us pause is that president of baseball operations Alex Anthopoulos has typically liked to sign his stars to team-friendly extensions. But Burnes almost certainly isn't going to take a hometown discount.
Will the Braves be willing to pay a premium to keep him beyond 2024? And if not, would they push all their chips to the center of the table for just one year of him as their ace?
San Francisco Giants
Former manager Gabe Kapler certainly had his flaws, but it would be hard to argue he had enough talent to win over the last two seasons. Finding value at the margins is great and all, but only if that's supplementing your star players. And if president of baseball operations Farhan Zaidi doesn't acquire at least a couple stars this offseason, he may be looking for a new gig at this time next year.
To that end, we've projected that the Giants — an offseason after failing to lure in Aaron Judge and Carlos Correa for entirely different reasons — will sign Cody Bellinger this winter. But that can't be the only major move for the Giants, as they look to close the gaps in their own division with the Dodgers and reigning NL Champion Arizona Diamondbacks.
Landing Burnes in addition to Bellinger would be quite the offseason for Zaidi, and acquiring the former would also prevent another NL contender from doing so. Logan Webb is already signed to a team-friendly five-year, $90 million deal that runs through the 2028 season. That would make signing Burnes to a $200+ million extension an easier pill to swallow for the Giants.