Analysis
Max Scherzer Out 6-8 Weeks with Oblique Strain
Mets new ace Max Scherzer is heading towards a lengthy IL stint.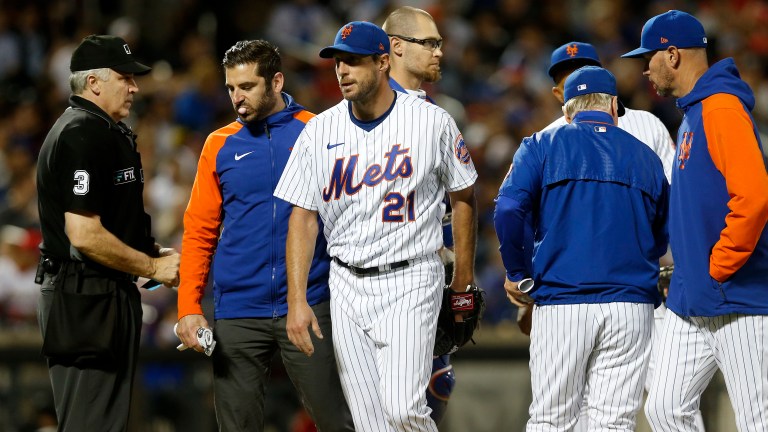 We are about to find out how good the New York Mets really are.
Last night, new ace Max Scherzer picked up his MLB-leading fifth win for the Mets, but nobody was talking about his performance on the mound. All the attention was instead directed towards how he left it, as Scherzer pulled himself during the sixth inning of his eighth Mets start.
Scherzer said after the game he felt a "zing' in his left side and was hoping he stopped pitching and caught it in time to avoid a serious injury. Unfortunately that is not the case, as the 37-year-old is heading towards a lengthy IL stint with a serious oblique strain.
Outside of a significant arm injury, this is about the worst possible injury Scherzer could have sustained. Oblique injuries are notoriously tough to overcome for any player, pitcher or hitter, as they are so easy to re-injure and can linger for a very long time.
Six weeks would already put Scherzer out through June, more likely he is on the shelf until after the All-Star break. This is a similar timeline that many had pegged for the Mets other ace, with Jacob deGrom already on the IL due to a stress reaction in his right scapula.
DeGrom went on the injured list prior to the start of the season and is still not back to throwing off the mound. His injury is however healing up nicely, the Mets are just being extremely cautious in building him back up to face MLB action. At this stage deGrom is probably closer to making a return than Scherzer, but don't expect to see either until July at the absolute earliest.
If the Mets rotation depth wasn't already being tested enough, just last week, Tylor Megill hit the IL with biceps tendinitis after he had filled in so admirably for deGrom in the first month of the season.
So far in 2022, the Mets starting rotation is 18-5 with a 3.23 ERA. That is second in the NL to only the Dodgers in both starting pitcher wins and ERA. Now what has been the bedrock of this team is about to tested, as half of their top six starters are on the IL.
Mets Internal Rotation Options
The Mets are very happy they made that trade to acquire Chris Bassitt this offseason. The 33-year-old impending free agent has been invaluable to the Mets so far this season, pitching to a 2.34 ERA through his first seven starts.
Bassitt now becomes the de facto ace of this team, which is a role he served in his last stop in Oakland.
Other than Bassitt, the Mets currently have Carlos Carrasco and Taijuan Walker still entrenched in their rotation. Carrasco has had two bad starts, but has been better more often than not, currently sporting a 3.73 ERA with a 1.12 WHIP through seven starts.
Behind Bassitt and Carrasco is where the question marks begin in this depleted Mets rotation.
Walker is just getting his sea legs under him at this stage in the season, having previously spent time on the IL with a shoulder injury. In three starts since returning from the IL, Walker has pitched to a 5.06 ERA.
The Mets entered spring training with eight capable starting pitchers on their depth chart, so as of now, there decision should be simple. Recall David Peterson from Triple-A and keep Trevor Williams inserted in their rotation.
Williams started the first game of the Mets doubleheader against the Cardinals on Tuesday in place of Tylor Megill. The 30-year-old pitched four scoreless innings and threw 65 pitches.
He has filled the swingman role so far this season, pitching to a 4.20 ERA across 15 innings (six games, two starts). Now Williams likely will be stretch out to remain in the rotation. A seven-year veteran, Williams has made 111 career starts and has pitched to a 4.41 ERA across 640.2 innings.
Peterson, who is now clearly set to enjoy a lengthy stay in the big league rotation, has been the odd man out this season. The left-hander has a 1.89 ERA with a 1.11 WHIP over 19 innings pitched.
Assuming the Mets can remain healthy from here (which is obviously a big assumption), they can roll with a rotation of Bassitt, Carrasco, Walker, Peterson and Williams and buy time for one of their other starting pitchers to return. If one of those back-end starters struggles though, the Mets have really run out of good internal options to replace them.
Jose Butto and Thomas Szapucki are the only other starting pitchers currently on the Mets 40-man roster. Butto is one of the Mets top prospects, currently pitching in Double-A. The 24-year-old has a 3.18 ERA through seven starts, with 39 strikeouts in 29 1/3 innings pitched.
Szapucki is a former top prospect who has dealt with plenty of injuries throughout his career. He made his MLB debut last season, where he gave up six runs in 3 2/3 innings pitched. This year, the left-hander is pitching to a 3.00 ERA in Triple-A.
One last name of note, fellow left-hander Mike Montgomery is currently pitching in Triple-A Syracuse. Montgomery does have the edge over Butto and Szapucki in experience, having over 500 MLB innings under his belt, but he has pitched to a 5.52 ERA this season and is not on the 40.