Feature
Just Baseball Highlight Reel: Joc Pederson's Three Homers Lead Giants in Insane Bay Thriller
All of the highlights you have to see from Tuesday's MLB action.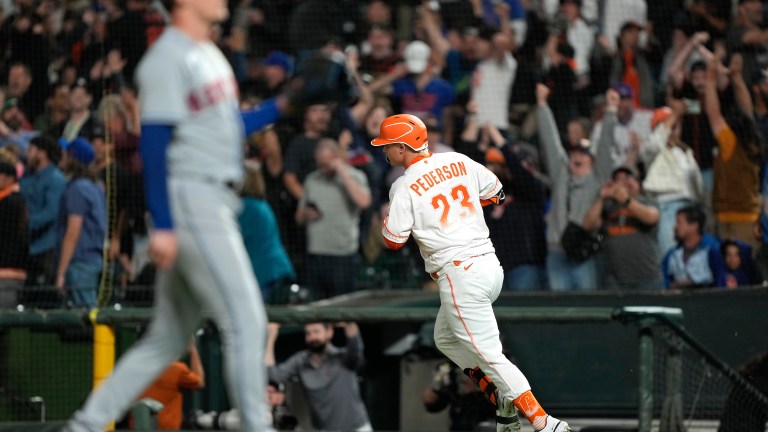 No time to waste on a night with this much action. Some insane games, walk-off finishes and four multi-home-run games, including a three-homer game! We start by The Bay in what may have been the craziest game we will see all season.
Giants 12, Mets 11
I would have stayed up all night watching this game if I had to. I have never used more than four videos for a game in one of these reels but this will easily surpass that. Absolutely elite television and just incredible baseball. This entire game could be its own highlight reel, with 22 runs and 33 combined hits!
It is not like these are not two teams that pitch poorly, but the offense was on another level Tuesday. The Giants went ahead 1-0 in the first, before the Mets tied it in the second. Then Joc Pederson began an epic night with his first home run to make it 3-1 in the third.
In the fifth, Pederson stepped up and we saw that familiar no-doubter pose for the second time Tuesday. It put the Giants up 8-2 and they seemed to be smooth sailing towards an easy victory.
Not so fast. The Mets chipped away with two in the seventh, then faced Tyler Rogers down 8-3 in the eighth. The wicked right-hander has struggled this season to the tune of a 6.68 ERA after an epic meltdown in this one. He allowed seven (!) in just a third of an inning and gave away the lead. The Mets took a 10-8 lead on a bases-clearing triple by Francisco Lindor, who came around to score to add on another.
If you thought it could not possibly get any more dramatic, you were completely wrong. If anything, that was the least dramatic it got in the last three innings!
The Giants got two on with two outs in the eighth for who else but Pederson. He separated himself from the other multi-homer games on the night with an absolutely epic game-tying blast. This one was the 94th splash hit in the history of Oracle Park and tied the game 11-11.
Outrageous, right? Just you wait. Dom Smith tripled to lead off the ninth and was then lifted for a pinch runner, Travis Jankowski, who scored on a Brandon Nimmo sac-fly to give the Mets back the lead.
There is still another twist!
The dominant Edwin Díaz entered looking to get the final three outs. Wilmer Flores led off with a single and you could tell something was just in the air. However, Díaz rolled a double play and put the Giants on the ropes with nobody on and two down. Mike Yastrzemski showed no fear, drawing a walk off Díaz then advancing to second on a single by Darin Ruf.
That set the stage for Pederson, who could have matched Willie Mays as the only Giant with a four-homer game in San Francisco. He did not quite reach that mark, but he did come through and tie the game with his fourth hit and eighth RBI of the night.
At this point you just kind of knew what would happen next. The Giants had first and second for Brandon Crawford, who shot one the other way into left field and brought Darin Ruf around. The play was close, but Ruf got in and San Francisco snapped their five-game losing streak in epic fashion. An absolute instant classic that has to be in the running for game of the year.
Rockies 2, Pirates 1
This game was pretty uninteresting until late in the game. The Pirates led 1-0 into the eighth and the most exciting thing that happened was me screwing up the video on a great catch by Cal Mitchell on the Just Baseball Twitter account. I eventually corrected my mistake and you can see the great catch below.
In the eighth the Rockies got runners on the corners for Ryan McMahon and he delivered the tying blow with an RBI single. The Pirates had a chance to walk it off in the ninth, but made a terrible base-running error and the game went to extras tied at one.
In extras, it was our guy, Connor Joe, coming through with an RBI single to give the Rockies a 2-1 lead. The Pirates did not put up much of a threat in their half, and Colorado took a comeback win on the road.
Cubs 11, Reds 4
This was a much-needed offensive explosion from Chicago led by Frank Schwindel.
Schwindel delivered a 3-0 lead with a two-run bomb in the top of the first inning, but had more to say in this one.
The Reds were able to get two right back in the bottom half, but the Cubs softened the blow of the Reds two-run first by getting both of those runs back in the third.
Then in the fifth, everything happened for the Cubs, including Schwindel again. He crushed his second homer of the game, this one a solo shot that jump started the inning.
The Cubs scored four more in that inning, adding one more in the ninth to make it 11. The Reds got one in the eighth and ninth, but it was far too little far too late. Marcus Stroman delivered a nice outing, striking out eight in five two-run innings.
Rays 4, Marlins 0
This one was pretty easy for the Rays. They got to Pablo López for four runs with all of them coming on homers. Kevin Kiermaier led off for Tampa with a home run of the inside-the-park variety, after a terrible miscue by Jesús Sánchez.
Harold Ramirez and Ji-Man Choi added on with balls that actually went over the fence to make it 4-0. Despite struggling with the long ball, López delivered seven innings and struck out eight. He was good, but Shane McClanahan was much better. He delivered six scoreless and nine strikeouts, dropping his ERA to 2.06. The shutout was preserved on another egregious error by a Marlin, that ended their biggest threat to score in the sixth inning.
Yankees 7, Blue Jays 6
This was another game that could have its own highlight reel. There was a ton of offensive action and the teams just kept going back-and-forth. I am going to try and fit everything in here but I know I will miss something important. We start with Gleyber Torres because he was a part of a major theme on this night: two-homer games. His first put the Yankees up 3-0.
The O's got it within a run, then Rougned Odor took some revenge on his former team with a three-run bomb to take a 5-3 lead.
After that it was Gleyber's second of the night to cut the deficit to a run. The shot made Torres the third player on the night with a two-homer game, and there were more to come.
After Torres cleared the stage, it was time for the true hero of the night to come through. After already clubbing a homer of his own, Jose Trevino tied the game up at five with an RBI single. He still had more heroics in store.
There are about four more highlights from now until the game-winning hit I could post as these teams traded punches. Aaron Judge seemed to have a walk-off homer in the 10th, but the dead baseballs killed that hope. Then with a runner on third, Estevan Florial grounded to Jorge Mateo who threw out Aaron Hicks at home to keep the Yankees off the board.
Baltimore took a lead in the 11th with a ball that went off Marwin González's glove, then Isaiah Kiner-Falefa tied it up in the New York half with an RBI single. That cleared the stage for Trevino, who officially made this the Jose Trevino game with a walk-off hit.
Dodgers 9, Nationals 4
The members of the Max Scherzer-Trea Turner deal were on full display in this one. I think it is safe to say the Dodgers won this one. Trea Turner went deep off his old team and he hit it off the guy he was traded for, Josiah Gray.
Gray's struggles against his old team would continue as he only made it through three innings. Mookie Betts contributed to those struggles after the Nats had taken a 3-2 lead with a three-run homer to put them back up 5-3.
Betts is quietly having a tremendous year, and of the guys already into double digits this season, his has by far been the most silent. This was his 11th homer of the season, as his excellence continues to feel incredibly normal.
Betts was not done as the Dodgers just poured it on the Nationals for the second night in a row. Chris Taylor hit a two-run homer in the third that put them up 7-3, then it was Betts doing it again to make it an even dozen.
This one put the Dodgers up 8-3 and each team would add another run before the night was over. Los Angeles has scored 19 runs against the Nationals in the first two games of this series.
Braves 6, Phillies 5
Lets skip ahead to the sixth inning of this one with the Braves trailing 3-2 after a two-run double by Bryce Harper. Matt Olson came through to tie it up with his fifth homer of the year, a rocket that doinked off the foul pole.
The Braves went ahead on a sac-fly by Ronald Acuña Jr., his second of three RBIs on the night. His third one would prove pretty important, but came only after a home run by Bryce Harper to give the Phillies a 5-4 lead in the ninth.
It seemed to be an epic MVP moment from Harper to give his team an epic victory. It came off Kenley Jansen on the road in the ninth inning of a one-run game. Regular-season drama of the highest order.
Then, the Phillies happened. The Braves got a runner to third for Acuña, who drove in his third run of the night with his second sac-fly. Then William Contreras came through with another big moment for Atlanta, walking it off with an RBI single. Both teams are now 20-23 on the season and continue to disappoint, though things feel a little more positive in Atlanta than in Philadelphia.
Twins 2, Tigers 0
The Tigers offense is flat out abysmal. There is no other way to put it.
They were shutout for the fifth time Tuesday and mustered up just five hits, walked just once and struck out 12 times. The Twins offense was not much better Tuesday, scoring just two runs on eight hits. They were 0-for-6 with runners in scoring position and left six guys on base.
There were no offensive highlights from this game, but that is okay because Byron Buxton's got us. He made this incredible diving catch which easily takes play of the night honors.
Blue Jays 8, Cardinals 1
Kevin Gausman is really finding his groove in Toronto and kept it rolling Tuesday night. He twirled a gem, six shutout innings with just four hits and two walks while striking out eight. Six of those strikeouts came on his signature splitter, including this one to Nolan Gorman. He showed the highly-touted prospect how much different life in the bigs is with this one.
While Gausman was dealing, the Jays offense piled it on the Redbirds. They scored one run in the first, three in the fourth, three in the sixth and one more in the seventh.
Danny Jansen blasted one up near Big Mac Land, but the highlight of the night on offense was Vladdy Jr. He blasted off for an epic moonshot, his eighth of the season and his first since May 5. Statcast says 438, but based on the force with which he hit this I'm going at least 600 feet.
Red Sox 16, White Sox 3
Trevor Story is getting back to the guy we all knew in Colorado after a rough start in Boston. He may be the hottest hitter on the planet right now, and he crushed another bomb to get this offensive outburst started. Just like that he has eight on the season, six of which have come in his last five games, and his OPS is up to .766.
It was part of a four-run first that began an absolute onslaught. They scored in each of the first five innings including two more in the second, one in the third, three in the fourth and six in the fifth to put the cherry on top. Christian Vasquez put the final touches on it with a three-run bomb that had them up 16-0 in just the fifth inning.
Astros 7, Guardians 3
Houston has slowed down just a bit from their crazy form a couple weeks ago, but they flexed their muscles Tuesday. After the Guardians took a 1-0 lead on J-Ram's 11th homer, Alex Bregman doubled in a pair to give the Astros a lead in the third inning.
It was a rough day at the office for Zach Plesac, who allowed seven runs in 4 2/3 innings on nine hits and a home run. Framber Valdez was solid, allowing three runs on seven hits in seven innings without allowing a walk, but he only struck out four. Kyle Tucker blew things open with his eighth homer of the season, a three-run shot to make it 7-1.
Angels 5, Rangers 3
This game was decided in the fourth inning, when the Angels put up four which was all they needed. The inning started with a double by Jared Walsh, who had another big moment later on. After taking a 1-0 lead, Tyler Wade brought a run across on the increasingly-rare squeeze play to make it 2-0, before two more came across in the inning. Walsh put them up 5-0 with his ninth homer of the season.
The Rangers would get three back, two on homers by Jonah Heim and Mitch Garver. Noah Syndergaard was great, vintage Thor in fact, throwing eight one-run innings and allowing just four hits and no walks with five strikeouts.
Meanwhile, Dane Dunning struck out eight in 6 1/3 innings, but allowed those five runs on 11 hits.
Diamondbacks 8, Royals 6
These two played another wild, desert baseball game Tuesday. It was not Zac Gallen's night, he allowed six runs on seven hits in 5 1/3, including a two-run homer by MJ Melendez.
Despite the rough night, Gallen's ERA is just 2.22 on the year as he continues to be one of the best arms in all of baseball.
The D-Backs tied the game up 3-3, then Melendez doubled in a run to give the Royals the lead back. They piled on two more in the inning and the lead grew to as large as 6-3.
Then the Diamondbacks had a response in a big, big way. They put two men on in the sixth for Jordan Luplow who tied the game with a three-run shot. Then Daulton Varsho, who already had a homer on the night, doubled to set up Pavin Smith for the winning moment. Two homers in three batters and just like that the D-Backs led 8-6 and never looked back.
Brewers 4, Padres 1
Corbin Burnes was lights out despite not racking up the strikeout numbers we have become accustomed to. He had five in six innings, but allowed just a run on five hits and two walks.
The Pads took a 1-0 lead in the first before the Brewers tied it in the fifth. The moment of the game came in the sixth with two runners on, when Tyrone Taylor deposited a hanger into the left-field seats to give the Brewers a 4-1 lead. The Brewers' pen continued their dominance, allowing just three hits in three shutout innings.
Athletics 7, Mariners 5
This game was like a prize fight. The teams exchanged blows back-and-forth all night before the A's delivered the knockout punch. The A's swung first, going ahead 2-0, before Ty France tied things with a two-run double.
The A's then went ahead 4-3, before J-Rod had something to say about it with a two-run homer to make it 5-4. That is when Elvis Andrus arrived to the game, tying it up before coming through with an even bigger moment later on.
An inning later Andrus came through with an RBI single to make it 6-5. Andrus came around to score on a double by Luis Barrera to make it 7-5, a lead they would not relent.
The Mariners have just a game advantage in the loss column on the A's, and have to be considered one of the biggest disappointments in the league to this point in the season.
Wednesday's action brings a full slate of games beginning at 12:35 p.m. with the Rockies and Pirates facing off in Pittsburgh.